As nurses, we always make sure to keep ourselves clean and looking presentable. Our hair says a lot about our character, and we should make an effort to find the hairstyle that fits us the best.
If wearing ponytails is already boring you, don't fret. The following is a list of eight of the best and trendy hairstyles for nursing clinicals:
#1: Flipped Ponytail
If you're always in a rush and don't have enough time to fix a fancy hairstyle for the day's shift, this is definitely the hairstyle for you. It is very simple and easy to do, but it also looks elegant. There are three basic steps to do it:
Tie your hair up in a regular ponytail with an elastic band, making sure that you don't do it too tight.
Just above the elastic band, divide your hair into two parts.
Hold the end of your ponytail and insert it in between the two parts. Pull the end back until it looks like a "flipped" ponytail.
Tip: You can pull up the end part of your hair into a bun to turn the ponytail into a lovely up-do!

#2: French Braid
If you learn to do this to your own hair, you're considered a very talented nurse. This is very easy and convenient, and you can wear this for your nursing clinicals as well. Learning this type of braid will allow you to fix your hair in many other French braid-based hairstyles. Before learning other more complicated hairstyles though, here's how to do the French Braid: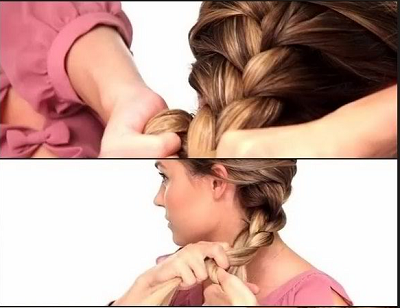 Make sure that your hair is free from tangles.
Start at the top and gather hair from the crown of your head. The section should extend from your temples up to the top of your head.
Split section into three parts.
Cross the left part over the middle part. Then, cross the right part over the part that is now the middle section, just like you would in a traditional braid.
Pick a small section of hair from the left side of your head and add it to the section that you are holding with your left hand. Cross this thicker section over the center part of your hair.
Repeat the same process, picking up a little extra hair as you go along with your braid, gather all the remaining hair into the braid.
Continue to braid up to the end part of your hair.
Secure with an elastic band.

#3: French Braided Pony Tail
Nurses with long hair of consistent length (not layered hair) could make a good use of a ponytail with a twist. This classy and chic hairstyle is very easy to do.
Tie your hair up into a ponytail, securing it with a tight elastic band.
Pull a small part of hair from the pony tail and start braiding it.
As soon as you finish the braid at least up to four inches, wrap it around the ponytail just until the end of the braided part, after which, you can continue braiding it with another small part of the ponytail.
Do this until the end of the ponytail is wrapped around with beautiful braids. Secure the end with a tigh elastic band.

#4: Top Knot Bun
The top knot bun looks very comfortable and fashionable yet it is very easy to do. This simple hairstyle can save you from your bad hair days.

Here's how to achieve this easy but definitely chic hair-do:
Pull your hair up into a high (on top of your head) ponytail.
Instead of tying your hair with an elastic band, start twisting your hair clockwise until it wraps around itself into a coil on top of your head.
Secure bun with an elastic band  or bobby pins.

#5: Hot Crossed Bun
Getting ready for an early shift? You should try this hairstyle out. You just need to have an idea how to do a French braid, and this would be very easy.
Divide your hair into three parts, making sure that the middle part is the biggest part, and the two other parts on both sides would have enough hair for French braids.
Tie the middle part up into a bun, holding it in place with an elastic band. You can add some bobby pins later.
French braid each side carefully, trying not to make it too tight. Secure one side with an elastic band before doing the other side.
After finishing the braids, pull the ends of both sides (French braids) together on top of bun, crossing them and making sure to tie the ends of the braids into the bun.
Secure with bobby pins to keep the bun from falling.

#6: Bow Bun
Isn't it simply adorable? Nurses who want to keep their cool and sassy side will love this hairstyle. It's quite simple to do, but very stylish and hip.
Tie your hair up to a high ponytail with an elastic band.
Make a bun, leaving out the ends of your hair just on top of your head.
Divide the bun in the middle. By now, it will look like a big bow on top of your head.
Pull the ends just right at the back of the bun.
Secure with bobby pins.

#7: Braided Bun
Nurses should never settle with just buns or ponytails. There are several fun ways to make your buns (and ponytails) classy and stylish. Let's check out the braided bun.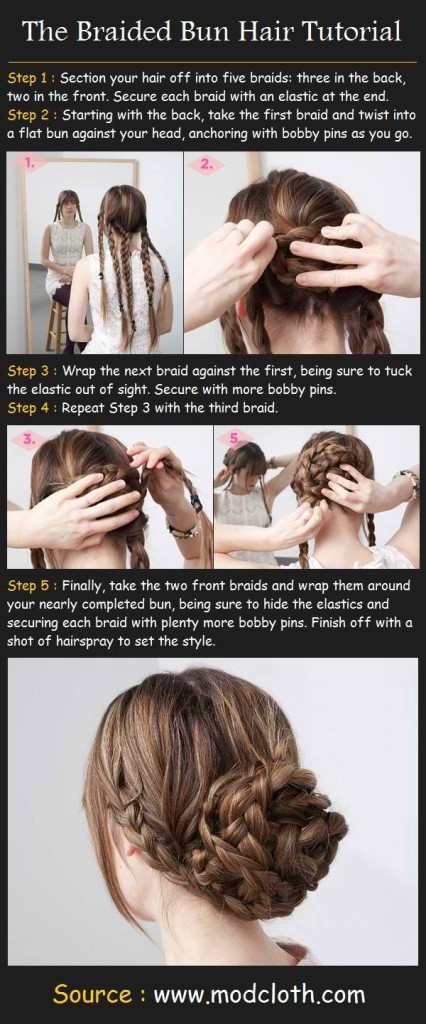 Part your hair on the side and start French braiding one side. Secure it with an elastic band.
Grab a small section of your hair on the other said and pull it back together with the braid.
Again, secure both sections with an elastic band before removing the elastic on the French braided section.
Next, gather all your hair and create a big braid. Twist the braid into a bun and secure with an elastic band and with bobby pins if needed.

#8: Fishtail Braid
Since there are already a lot of braids these days, it's just nice to be able to learn the more difficult ones. If you're ready to learn and go to your clinical rotation with a gorgeous hairstyle, here are the steps that you should follow.

Make sure that your hair is free from tangles.
Divide your hair equally into two large sections ending at the base of your head.
Each large section should be divided into another two parts. Hold both left sections with your left hand and both right sections with your right hand.
Look for the section that is closer to the front of your right side of your face, and cross it into the center. Incorporate that section of hair into the bottom left part.
The left section, this time, should be crossed into the center, then incorporated into the bottom right part.
Just repeat this process, crossing one side, incorporating that section with the other side, then crossing the other side and doing the same thing, until there's no more hair left to be braided.
Secure the end with an elastic band. Now your hair is gorgeous!
Whatever hairstyle you choose, just make sure to keep your hair frequently washed and brushed. Also remember to keep your hair away from your face as much as possible when you are on duty.
See Also: 10 Nursing Tips How To Strengthen Your Hair
Do you know other hairstyles for nurses? Share your ideas on the comment section below!