Whenever we have free time, watching movies would always be one of the best activities we can do. And of course, movies that we can relate to are the ones that can usually make us feel good about what we do.
Well, you better grab the popcorn and start holding on to your seats! Here are seven movies about Nursing that you must find time to watch:
Prison Nurse
If you want to see what Nursing was like back then, this is the movie for you. Released in 1938, this film is about a nurse who decided to work at a maximum security prison. Witness Judy and her friends as they're pushed to the limits after a typhoid epidemic breaks out and flood starts to threaten the state prison.
The Nun's Story
Based on a true story, this movie starred Audrey Hepburn who plays a nun and a nurse. Although the film is focused mainly on the life of a nun, it's still worth watching. The story focuses on a nun at the Sisters of Charity of Jesus and Mary who was forced to choose between being a nun and a nurse.
The Bag of Knees
This is a documentary about the lives of nurses in a number of hospital wards. It tells their stories, careers, experiences and backgrounds. Significant changes in healthcare are also discussed in this film. This is definitely a must-watch for those who want to make their movie experience a learning one as well.
One Flew Over the Cuckoo's Nest
If you want to know who Nurse Ratched is, you must check out this 1975 Oscar-winning film. The movie follows Jack Nicholson's stay at a mental institution. On the other hand, Louise Fletcher, who won an Oscar trophy for this film, plays the revolting nurse who makes Jack's stay noteworthy.
Wit
Emma Thompson plays a very demanding English literature professor who was diagnosed with cancer. During her stay at a hospital, it was recommended that she gets treated with an experimental and aggressive procedure. Nurse Suzie steps into the spotlight when she had to take care of the patient and when everyone had to know her final wishes.
The English Patient
If you are looking for a romantic drama, this one is for you. This 1996 film follows a nurse, a Sikh sapper, a thief, and a badly burned Englishman. The nurse takes care of the injured Englishman, who acquired his burns from a plane crash. You will definitely learn a lot from this movie.
Florence Nightingale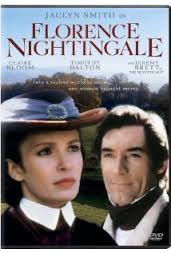 Jaclyn Smith plays Florence Nightingale and shows how the "Lady with the Lamp" became one of the most significant advocates of cleanliness and sanitation. If you love Florence Nightingale and want to know more about her, you must not wait another day to watch this movie.
There you go. Seven of the best Nursing movies ever produced. You should start watching now so you could finish all ten. Do you have other movies in mind that you want to share with us? We would love to hear from you!
About the Author: Mary Elizabeth Velarmino Francisco earned her Bachelor of Science in Nursing Degree from the Ateneo de Zamboanga University, Philippines. She is always happy to share her passion for writing and blogging. With coffee running through her veins, she enthusiastically battles each day, one article at a time.