Alabama is more than just a beautiful Southern state. Apart from the varied geography and friendly people, there's also a great need for effective healthcare in the region.
Alabama's need for highly educated nurses isn't declining. In fact, it's the other way around. Since 2014, the state has one of the highest rates of diabetes in the United States. Additionally, there's also a high infant mortality weight. These facts reflect Alabama's pressing need for more effective healthcare providers.
Requirements: How To Become An Alabama RN
How do you start working as a registered nurse in Alabama? The process involves several steps. Here's a quick breakdown:
Complete An Accredited And Approved Nursing Program
You have several options for this. You can get a nursing diploma or an associate degree (ADN). You can also choose to get a Bachelor's degree (BSN or LPN to BSN)
Schools, colleges, and private institutions have different sets of requirements for their programs. However, if you want to have an idea of what most of them ask from their students, here's a quick list:
An Alabama High School Diploma or its equivalent
A background and drug screening for future employment
790 or higher on the SAT or minimum ACT composite of 16
Additionally, applicants are also required to meet the minimum GPA requirement. It's also necessary to submit your ACT or SAT scores. Some institutions may require you to go through health screening tests as well.
The process of taking the exam involves several steps. Before you can actually take it, you need to register, pay the fee, receive the authorization to test and get scheduled. Showing the right identification is also required before you can take the exam.
Get A License
If you don't have one yet, you can secure a temporary permit. For someone who's obtaining it for the first time, a temporary permit is usually valid for 180 days.
Nurses are required to renew their licenses every two years. RNs are required to renew in even years while LPNs are required to do it in odd years.
Apart from those, you may also be required to pass a criminal background check and submit your fingerprints. To apply for your license, you need to submit the requirements to the Alabama Board of Nursing.
ADN Programs In Alabama
Like many states, there's a strong need for nurses in Alabama. This is one good reason why the state has around 20 private institutions and community colleges that can help you prepare to be a registered nurse through this route.
When looking for the best ADN program in Alabama, the first thing you need to check is the approval of the Alabama Board of Nursing. Once you know that your school of choice has been approved, you should check its accreditation next.
The Alabama Commission on Higher Education is a big help when it comes to determining which institutions are accredited. This makes your search for the best nursing program in Alabama easier and faster.
Taking a good look at your school of choice's record can also help you get an understanding of what it can offer. Considering that, try to find out any data reflecting the following before you enroll in a certain program:
NCLEX pass rates
The satisfaction levels of students and graduates
Percentage of graduates who were able to secure jobs successfully
LPN To RN Programs In Alabama
Many Licensed Practical Nurses are choosing to become registered nurses in Alabama because of the growing opportunities they're finding in the state. This route is much quicker since it applies an applicant's previous nursing coursework.
If you are thinking of taking this path, you need to prepare the following:
Immunization records
Background check
An active and current Alabama LPN license
Graduating from an approved LPN program
Copies of your transcripts
BSN Programs In Alabama
Alabama's BSN programs generally take 4 years to complete. It comes with summer sessions, distance education, and online classes.
If you are a BSN undergraduate, you can complete the full program in just 2 years. In case you are a registered nurse with valid ADN qualifications, you can enroll in a 2-year program to get your BSN degree.
To qualify for the program, you need to complete the admission requirements of your chosen school. Most universities require applicants to have a minimum composite ACT of 21 and a minimum of 3.0 GPA among other things.
When it comes to tuition and costs, the price may vary. The fees for nursing shoes, scrubs, and equipment can also increase the cost of securing a BSN degree in Alabama.
MSN Programs In Alabama
Earning a Master of Science in Nursing or MSN degree in nursing allows you to advance your career. You can take leadership roles, get into teaching, or become nurse practitioners and specialists.
If you are considering getting into an RN to MSN program, you need to have the following requirements:
An active and current RN license
Completion of all your prerequisite courses
Minimum GPA of 3.0
Resume documenting your clinical experience
Letters of recommendation
CPR certification
The length of the program will depend on different factors. Taking in online or in-person or doing full-time or part-time study can affect how quickly you can complete it.
Accelerated Nursing Programs In Alabama
Accelerated Nursing Programs are also called Direct Entry Programs. They are designed to allow students who possess a Bachelor's degree in a different major to pursue a BSN or an MSN degree.
As the name implies, accelerated nursing programs discuss a wide range of concepts in a really short amount of time. To get to that, classes are usually longer with no scheduled breaks.
In general, Accelerated BSN programs can take about 11 to 17 months. After getting the classes, applicants need to meet the required number of clinical hours and pass the NCLEX-RN to finally become licensed.
Best RN Programs In Alabama
A Closer Look At The Best RN Programs In Alabama
1. Auburn University
One of the best things about Auburn University is its student-to-faculty ratio. At 19:1, the low ratio allows students to learn more from their professors.
Its BSN program is divided into two parts. The first two years are considered as pre-nursing coursework while the remaining years are in the nursing program.
The university accepts applicants once a year (November). Take note that its School of Nursing has a different admission process and higher academic requirements.
2. Samford University
Samford University's nursing program is definitely one of the best. In fact, according to Wall Street Journal, it's one of the top schools in Alabama.
The high rating is probably due to two important things: its above-average job placement rate and high NCLEX pass rate. If you've been hunting for the best nursing program, you'd know how important those two factors are.
3. University Of Alabama At Birmingham
Compared with the other schools on this list, the University of Alabama at Birmingham is younger. However, despite being new, it's considered as one of the best young schools in the country.
Its traditional BSN program is designed not just for freshmen but also for transfer students and those who already have a Bachelor's degree in a different field.
The annual in-state tuition is around $8,000. You have the option to ask for financial assistance here.
4. University Of North Alabama
If you're already a resident of Alabama, you might find the University of North Alabama's program to be affordable. In addition to that, 1/3 of its students also receive financial aid from the school while others receive financial aid from the federal government.
Its traditional BSN program requires students to complete 125 semester hours of professional nursing courses and general education. Students spend their first two years learning about physical, biological, and behavioral sciences. The next two years include non-clinical and clinical nursing courses.
5. Jacksonville State University
Jacksonville State University is a perfect choice for students who like to be outdoors. Apart from the impressive nursing program, you won't run out of things to do in the area. The university is near state parks, museums, and other outdoor activities.
The university accepts applicants in the fall and spring. It also has this program for chosen high-school students that allows them to get into its nursing school even before the start of college.
6. Spring Hill College
Being a private school, Spring Hill College's nursing program is probably the most expensive one on this list. However, if you consider its impressive NCLEX passing rate and excellent job placement rate, you'll find its annual tuition worth it.
Now, like most schools and universities, SHC also offers financial aids. Freshmen can be considered for scholarships worth $2,000 to $10,000. To know about it, click here.
Its nursing program is considered to be one the best. It focuses on hands-on experience, personalized instructions, and getting insights from the medical experts in the region.
7. University Of Mobile
The University of Mobile is a Christian school. Anyone who wants to enroll in its program is required to meet its minimum academic standards.
The admission isn't easy since it also requires a complete background check. when you consider its NCLEX pass rate, you'll find going through the tough admission rate rewarding.
8. University Of South Alabama
The University of Alabama has an interesting accelerated BSN/MSN program. With it, you'll be able to finish your BSN or MSN program with your current bachelor's degree in 2 years.
Its traditional BSN program is equally interesting. About 90% of its graduates are able to find professional employment right away. This is probably the result of the university's focus on helping students attain excellent outcomes through team-based learning, advanced skill and simulation labs, and similar resources.
9. Auburn University At Montgomery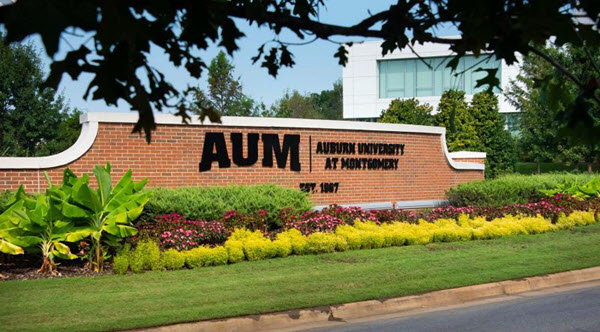 Auburn University has a small student-to-faculty ratio and most of its classes are small. This is actually a good thing since students are able to gain more knowledge and hone their skills.
You can get your degree through two options: an online RN to BSN or the traditional program. The latter is a 4-year-program with two components.
The pre-nursing component can take you up to 4 semesters to finish if you take it on a full-time basis. On the other hand, the nursing component involves 5 semesters.
Take note that there's a limit to the number of students that can be admitted to the program's upper-division.
10. The University Of Alabama
The university's program is made up of two courses. The lower-division courses consist of four semesters while the upper-division consists of 5 semesters of nursing school.
If you are thinking of enrolling in the program, you have to take note of the additional expenses you'll be required to pay. Apart from the tuition fee, you'll need to pay for your health insurance, CPR certification, clinical laboratory fees, vaccines, review materials, and standard assessment tests. You can find the full list here.