In California, the nursing shortage is severe. As a result, the state needs more nurses to step in and fill this need.
The high demand for nurses isn't the only thing that should make you consider pursuing your nursing career in this state. California is also one of the highest paying states in the country for nurses. There's also paid time off and health insurance.
Now, before you can apply as a nurse in this state, you need to find the best nursing program in California that can equip you with the knowledge and skills you'll need to be a successful nurse. Below is a guide to help you pick the right nursing program for you.
Requirements: How to Become An RN In California
Like most states, becoming a registered nurse in California isn't that easy. Here's a quick glance at the steps you have to take to become one:
Get Into An Accredited Nursing Program
In choosing a good nursing program, the first thing you need to check is its accreditation. Being accredited means that the school meets the best and highest standard for teaching its students.
Apart from that, you also need to consider the type of pre-licensure nursing program you need to take.
An Associate Degree in Nursing is offered at many community colleges and generally takes 2 to 3 years to complete. A Bachelor of Science in Nursing, on the other hand, takes 4 years. It prepares students to move into different settings and even leadership positions.
Pass The NCLEX
After graduating from an accredited program, you'll be qualified to take the NCLEX-RN licensure exam. Passing it is critical to earning your nursing license. Without it, you won't be able to legally practice nursing in California.
Obtain Your License
Nursing licensure in this state can be a time-consuming process. For your initial license, the processing time can take anywhere from 10 to 16 weeks.
The licensure takes so long because of the overwhelming number of applicants. Apart from that, college transcripts and fingerprinting can also slow down the process.
In California, there are two methods to obtaining licensure. The first one is Licensure by Endorsement and the other is Licensure by Examination.
You can find more details about these methods here and here.
Apart from the two, you also have the option to get a temporary license which is good for 6 months.
To get one, you'll need to complete the entire application packet the state requires while you wait for your college transcripts to be processed. Only then can you get a permanent license.
ADN Programs In California
This program prepares students for their entry to registered nurse positions in different health care environments. It teaches them to use their critical thinking skills to solve problems effectively, make proper decisions, and provide appropriate care to their patients.
There are more than 50 ADN programs in California so you have lots of options. The programs are accredited and evaluated through the Accreditation Commission for Education in Nursing or ACEN. In choosing the right ADN program for you, there are performance indicators you need to check first. The list includes the school's RN licensure pass rate, satisfaction data, rate of graduation, and job market statistics.
The admission requirements vary. Most schools require a GPA with a minimum of 2.5 (core sciences courses) and proficiency in languages apart from English. As an application, you may also be required to submit completed certificates or diplomas and applications for the program.
LVN To RN Programs In California
If you are a California licensed vocational nurse, you have a few options to become a registered nurse. There's the LVN to ADN program which you can complete in just 3 semesters. It'll help you secure an entry-level RN position.
You can also take the longer route which is the LVN to BSN program. It takes 3 years to complete.
The LVN to RN certificate program is one of the most recent methods to allow students to enter registered nursing. Compared with the traditional LVN to RN program, you won't be able to get a nursing degree from it. However, it allows you to take the minimum number of units required by the state to qualify for the NCLEX exam.
Take note that this program doesn't qualify students to get their licenses in other states. It may not also meet most employment qualifications. If you're planning on taking this program, it's best to do your research first to ensure that it'll help you meet your career goals.
BSN Programs In California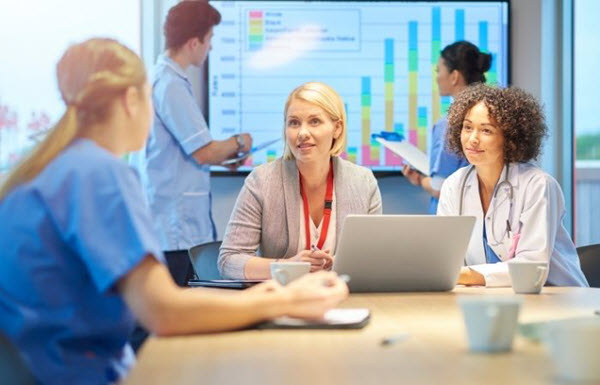 In California, BSN programs are offered at no less than 35 different locations. This allows students to find a program that meets their needs.
Now, with so many options, you have to know what to consider. First, make sure to pick a program that allows students to pick a specialization. Determine if the program can adequately train you for the area of concentration you want to pursue.
It's also important to know the program's NCLEX pass rates, faculty credentials, costs, and quality of clinical partnerships.
In general, BSN programs can take 4 years to complete. Most of them require the following:
Proof of up-to-date vaccinations
Minimum GPA of 3.0
SAT/ACT scores meeting the minimum requirement
Take note the list doesn't end there. There may be additional requirements depending on the school and the program.
MSN Programs In California
Getting an MSN degree can mean higher earning capacity, advanced roles, and more opportunities. If you are considering enrolling in an MSN program, you need to submit your official college transcript, letters of reference showing your clinical expertise, evidence of completing the prerequisite requirements, and a current RN license. Additional requirements may be asked depending on the institution.
Pursuing an MSN program can be considered as an investment for your future, but it will definitely leave a dent in your finances. College tuition is continuously rising around the country and the same goes for MSN programs in California.
Accelerated Nursing Programs In California
In the state, you'll find no less than 10 accelerated BSN programs. They can take 12 to 14 months to complete with full-time commitment.
The requirements will depend on the previous degree you've attained. As for the cost, it'll be determined by the program, the prerequisite courses required, and other costs that need to be factored in.
Best RN Programs in California
A Closer Look At The Best Nursing Programs In California
To come up with this list, a number of criteria were considered to make sure that only the best schools, colleges, and universities make it to this list. The factors considered include the NCLEX pass rates, acceptance rates, accreditation, reputation, and costs.
1. California State University, Bakersfield
California State University, Bakersfield is well-known for its comprehensive nursing program. Focus on empathic care and critical thinking, its BSN and MSN programs provide an excellent pathway for nurses who plan on advancing their careers.
A nationally recognized university, it takes pride in its high NCLE pass rate. With a feel of a college town, you won't be disappointed with the various options it offers its undergraduate students.
CSUB's BSN program aims to expose its students to a wide variety of patient populations and clinical settings to really hone their skills. Additionally, it also incorporates social, biological, and physical sciences into their curriculum to really prepare their students. Those are in addition to the in-depth training they provide in different specialties, like pediatrics and critical care nursing.
2. California State University, Fullerton
This institution offers several RN pathways to its students. Its two main options are the direct-entry BSN and the traditional BSN.
The first option is recommended for incoming freshmen. Its traditional BSN program, meanwhile, is for current students who desire to be registered nurses. Take note that this one's tougher since CSUF only accepts 5 to 10 students per year for the program.
For those who want to advance their career, the university also has an MSN program.
Candidates are required to have a minimum GPA of 3.0, and they need to pass both the university and Nursing program admission tests.
3. University of California, Irvine
As one of the top public schools in the country, the University of California, Irvine is popular for its high graduate employment. Accepting only 2.5% of applicants, you can consider yourself lucky if you get admitted here. This means that the school can help set you up for a successful nursing career in the future.
The university is considered a top research center as well. It investigates and researches topics concerning wellness promotion to health interventions.
4. California State University, Long Beach
Located at 1250 Bellflower Blvd, Long Beach, this is one of the best nursing schools in California due to their full national accreditation award given by the California Board of Registered Nursing and the Commission of Collegiate Nursing Education of the American Association of Colleges of Nursing.
California State University, Long Beach gives students access to its state-of-the-art nursing simulation lab, classrooms, teaching labs, and computer labs to prepare them for their chosen career. With the aim of being the premier nursing program, you can rest assured that you'll be getting no less than the best nursing education in California here.
The NCLEX pass rate of this university is quite impressive. The diverse BSN and MSN tracks it offers are designed to meet the different needs of its students.
5. California State University, Los Angeles
California State University, Los Angeles has a wide range of programs designed to provide students theoretical and practical training. Being close to various hospitals, students have a lot of opportunities to complete their clinicals here.
Out of all the nursing programs it offers, its accelerated BSN program for non-registered nurses is probably the most interesting. A student can complete it in just 15 months. Right after that, you can be qualified to take the NCLEX-RN and eventually obtain your license.
6. University Of California, Los Angeles
UCLA is a popular choice among students looking for the best nursing program in California. It's a recognized institution worldwide so thats' not surprising.
The UCLA School of Nursing offers a program that's designed to prepare students to excel in their chosen career. In addition to developing the fundamental skills and knowledge required for the job, the program will also give you the educational program you need to enter a master's program or to take on more advanced roles such as clinical nurse specialists or administrators in acute and primary care.
The school will also prepare you to take your career in your chosen area. So, whether you are planning on doing hospital- or community-based nursing, you'll be able to fulfill your role in an effective and efficient manner.
As a top nursing school in the state, it offers BSN and MSN programs. Compared with other state schools, UCLA's programs cost more. However, in-state students can enjoy the low-tuition rate.
7. California State University, Sacramento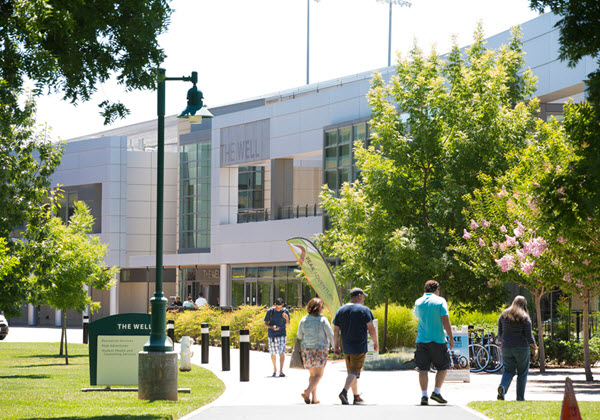 This university is considered one of the most diverse schools in the country. It has students coming not just from California but across the United State.
The university's BSN program is great for incoming freshmen who possess no nursing experience. If you are a current nurse who's thinking of completing a degree, you can enroll in its RN-BSN program.
California State University, Sacramento also has BSN and MSN programs in addition to its transfer and bridge programs for current registered nurses.
As part of its requirements, you'll be required to take the Test of Essential Academic Skills or TEAS. It's typically given any time before the application period ends. You need to get at least 75% or higher on the test to qualify.
8. San Diego State University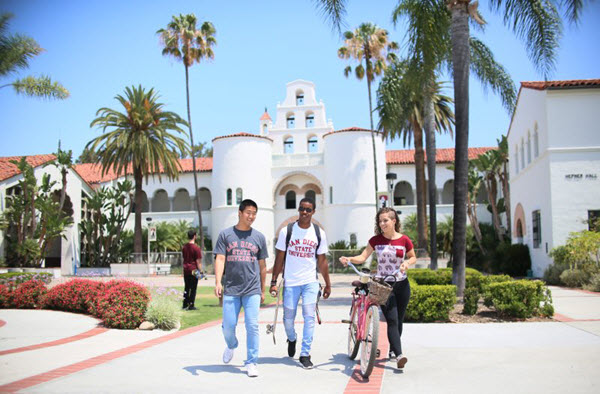 San Diego State University has options for transfer, returning, and new students. With one of the most notable nursing programs in California, you can expect to graduate as a highly competent healthcare provider here.
Its in-state tuition cost is low. Apart from that, its NCLEX pass rate is also high. Plus, it offers students the rare chance to study abroad, too. Considering all those things, it's not surprising why San Diego State University can be found on most students' lists.
To qualify for an undergraduate Nursing program, you must have a minimum GPA of 3.00 and a good transcript of records. You also need to submit letters of recommendation, undergraduate statistics class and personal essays.
9. University of California, San Francisco
This school is a top recipient of the National Institutes of Health that funds students and faculty to carry on with their researches and studies.
To get into their undergraduate school, you need to have at least a C in all the science courses. For transferring Nursing students, a GPA of 3.0 is required for cumulative and Nursing subjects.
UCSF's most intriguing nursing track is its accelerated MSN program. Offered to current holders of a bachelor's degree from any fiend, it can be completed in just 3 years.
If you are an out-of-state student, you'll be asked to pay higher fees. That's probably expected since the school is one of the best in the nation.
10. California State University, Stanislaus
California State University, Stanislaus has such a strong nursing program. It's particularly designed to help nursing students keep up with the demands of today's healthcare system.
The university offers numerous pathways. There's the LVN to BSN program, pre-licensure BSN program and so much more. Each pathway is designed to assist students not just in passing the NCLEX-RN exam but to be successful nurses who are capable of providing proper and excellent nursing care to their patients.