The demand for well-trained professional nurses continues to increase, particularly in Georgia. This means a lot of opportunities for registered nurses.
If you are in the state and you're planning on pursuing nursing, there are a couple of things you need to prepare to ensure your success in the field. One of them is looking for the best nursing program in Georgia.
To help you with that, here's a guide you can use:
Requirements: How To Become An RN In Georgia
There are different paths you can take if you want to become a nurse in Georgia. You can enter the workforce right after high school or work on getting an advanced degree by enrolling in an online nursing school.
Complete An Accredited Nursing Program
Accrediting institutions help ensure that colleges and programs can meet the educational standards of a specific field. For nursing, two of them are the Accreditation Commission for Education in Nursing and the American Association of Colleges of Nursing's Commission on Collegiate Nursing Education.
Pass The NCLEX
To make sure that your patients are protected, Georgia's Board of Nursing is requiring nursing aspirants to pass the NCLEX-RN. It's one of their conditions in obtaining a license.
The NCLEX-RN is designed to measure the readiness of a nurse to safely and effectively perform his duties and responsibilities. Overall, it involves 8 steps.
Apply for licensure with your state's board of nursing.
Register with Pearson Vue. You can do this via the internet, mail, or telephone. Take note that registration requires a $200 fee.
Receive your acknowledgment of Receipt. This will include your username and password which you can use on the Pearson VUE website.
Through the Pearson Vue system, the board of nursing will make you eligible to take the exam.
Receive your ATT or Authorization to Test letter. After receiving it, you need to take the exam within the validity dates.
Schedule your test appointment.
Take the exam on your scheduled date and time. Remember to bring your ATT letter and ID.
Receive your results. On average, they're released within 4 weeks of the exam.
Get Your Nursing License
You can get your nursing license in Georgia either by examination or endorsement. To apply, you need to complete an application form and pay the required fees. You will also be asked to present supporting documents such as your registration for the NCLEX-RN exam, a criminal background check, and fingerprints.
Apart from those, you may be asked to submit the following, too:
Official transcripts
Proof of graduation within the last four years, verification of employment or proof of
completion of a Georgia-approved reentry program
Current state license
ADN Programs In Georgia
One of the most common reasons why ADN programs are popular is that it allows quick entry to the field. Students can start working after about 2.5 years.
Additionally, there are more than 20 colleges that offer ADN programs in Georgia. These colleges have different admission requirements.
In general, however, most of them require the following:
Official transcripts submitted to the Admissions office
A personal statement
Up-to-date CPR certifications
Updated vaccination schedule
LPN to RN Programs In Georgia
LPN to RN programs in Georgia are relatively shorter than traditional RN programs. One good reason is that it takes into account the prior education of LPN students.
LPN to RN programs in the state require applications to have a current LPN license and be a graduate of an accredited and approved LPN program. Additionally, they also require students to have a passing grade in the prerequisite courses.
BSN Programs In Georgia
If you want more opportunities and flexibility, you should consider getting into a BSN program in Georgia. The majority of employers prefer applicants with a BSN degree these days.
BSN programs in the state are generally 4 years long. The total cost varies per institution but on average, they aren't cheap. Apart from the tuition, you'll need to pay for housing, nursing equipment, textbooks, and food.
MSN Programs In Georgia
MSN programs in Georgia are highly selective. This ensures that nurses are equipped and trained to work in highly specialized roles.
MSN programs take about 4 semesters. The admission requirements aren't the same for all institutions. The majority of them ask the following from applicants:
Transcripts of undergraduate studies
Professional resume
Reference letters
A personal interview
Accelerated Nursing Programs In Georgia
Across the state, there's a minimum of 6 known accelerated nursing programs. Most of them require full-time commitments but you can complete them in just 15 to 24 months.
Best Nursing Programs In Georgia
A Closer Look At The Best Nursing Programs In Georgia
With so many options, choosing the best nursing program in Georgia isn't easy. If you find yourself feeling confused with your choices, here's an overview of each school.
NCLEX pass rates, satisfaction level of both students and graduates, and post-graduation employment rates were careful considered in making this list.
1. Georgia Southwestern State University
One of the things that make Georgia Southwestern State University an attractive option for students is the variety of programs it offers. Plus, it has an impressive NCLEX pass rate, too.
Located in Statesboro, Georgia, this university has two admission cycles- spring and fall. To be accepted, you'll need to be enrolled as a pre-nursing student. This will allow you to satisfy its core curriculum requirements. You also need to take note of its program admission requirements which you can find here.
2. Emory University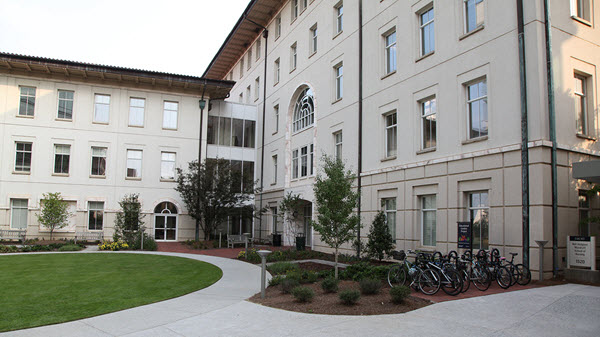 Emory University's School of Nursing has a low student/teacher ratio. This enables its faculty to really focus on honing its students to become competitive, caring, and efficient nurses.
There are 2 high-tech simulation centers where students can acquire great clinical skills. One is the Wesley Woods Graduate Simulation and Skills Facility for its graduate students. The other is the Charles F. & Peggy Evans Center for Caring Skills which is designed for undergraduate nursing students.
The school offers financial assistance which you can get through loans, grants, and scholarships. There are forms you have to fill out if you want to qualify for one. To know more about your options, click this link.
3. Georgia State University
Georgia State University's nursing program is fully accredited by the Commission on Collegiate Nursing Education. It's also fully approved by the Georgia Board of Nursing.
Its traditional BSN program is designed for 9 semesters of four years. It requires 123 credit hours.
In addition to its BSN program, GSU also offers an RN to BSN program. It's shorter since it only requires 30 credit hours online. You can complete it in three semesters. To apply, you can check out the complete list of application requirements here.
4. Mercer University
Located in Macon, Mercer University is a moderately-sized private school. It's quite popular in the area because of its high NCLEX pass rates.
Since it's a private school, its tuition is a bit high. However, students can reach out and receive some form of financial help to ease the burden.
Mercer University's prelicensure BSN program requires 57 hours of general education core. Students need to complete them before they can be accepted into its nursing program.
Apart from the prelicensure track, the university also offers an accelerated BSN program and graduate programs such as Master of Science in Nursing, Doctor of Nursing Practice, and Ph.D.
5. Augusta University
Augusta University is a public school located in the city of Augusta. It's a large research school that's quite popular among nurses who are thinking of pursuing a DNP or an MSN degree.
Its BSN program is quite strong, too. However, before you can enroll in it, you need to complete pre-nursing majors. You can complete the program on either the Augusta or the Athens campus.
Learn more about the application process here.
6. University Of West Georgia
The University of West Georgia has a high NCLEX pass rate. Even though it's not as popular as the other schools on this list, its nursing students don't fall behind in terms of the skills and knowledge they can get from its program.
The University offers two tracks to its BSN degree- the pre-licensure BSN program and its RN to BSN program.
The first track prepares students for the NCLEX-RN exam. Meanwhile, the second track is designed to help registered nurses who are planning on returning to school to finally complete their BSN degree.
7. Columbus State University
Even though Columbus State University offers a traditional program, its strong point lies in its non-traditional nursing programs, particularly the online RN-BSN program.
Graduates of this program have an impressive employment rate. Plus, students can complete it faster, too. The degree can be completed in a year.
8. Kennesaw State University
Kennesaw State University has a 13,000-square-foot nursing simulation lab, computer labs, seminar rooms, and an auditorium. Apart from its facilities, the school also has a program designed to help prepare nurses who are able to meet the growing demands of health care at the local and global levels.
After mastering basic nursing skills, you'll be able to do your clinical rotations in the Tanner Medical Center, Forsythe County Schools, Wellstar Health System, and other popular health care facilities in the area.
The school offers financial aids to eligible students. Each scholarship, however, requires a separate application process. To find out more about those processes, you can check out this link.
9. Georgia College & State University
The Georgia College and State University offers a great opportunity for nursing students who want to gain practical skills and a solid foundation in nursing which they can use to succeed in their career.
Georgia College's RN-BSN program is fully online. It is flexible and enables nurses to develop good clinical reasoning which will help them in creating a plan and providing coordinated nursing care in different organizations and institutions.
10. Georgia Southern University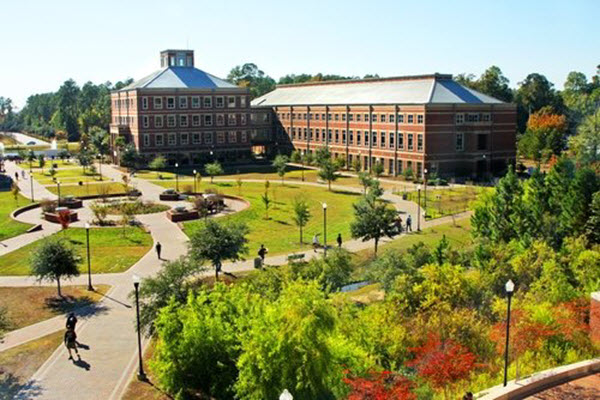 No matter where you are in your nursing career, Georgia Southern University can definitely help you out. It has a pre-licensure BSN program, an Accelerated BSN program, and an online RN-BSN program to fit your needs. Its graduate programs, on the other hand, will make you eligible to become a family nurse practitioner, psychiatric mental health nurse practitioner or an adult-gerontological acute and primary care nurse practitioner.
Its BSN program is a 126-credit hour program where students have to go through rigorous academic education, clinical experience, and simulation labs. The courses have to be complete in 3 consecutive calendar years.
To see the complete details regarding BSN admission, check out this link.