Opportunities, salaries, and growth are just some of the things you can enjoy once you become a registered nurse in Hawaii. The state is working hard to strengthen its healthcare system so it's paying close attention to its workforce and that includes nurses.
If you are planning on pursuing nursing, picking the best nursing program in Hawaii is critical to your success. With that, here's a handy guide to help you in becoming a registered nurse in this state.
Requirements: How To Become An RN In Hawaii
Hawaii, like most states, has a set of processes aspiring nurses need to go through if they want to practice nursing legally in the state. Below is a quick overview of each step:
Complete An Accredited Nursing Program
In general, there are three kinds of pre-licensure nursing programs available in Hawaii.
One is the ADN or Associate Degree in Nursing. This program generally takes 2 to 3 years to complete. It's offered in a lot of community colleges in the state. ADN programs equip students with the basic knowledge and skills they need to provide proper nursing care in a variety of settings.
Next is the BSN or Bachelor of Science in Nursing which takes 4 years to complete. Several State Universities and a few private colleges in Hawaii offer them.
For those people who already possess a baccalaureate degree, an Entry Level Masters Program in Nursing is a common choice. It can be completed in about 1 to 2 years. This will depend on the number of nursing course prerequisites you've completed.
Pass The NCLEX
After graduating from an accredited program, you'll be eligible to take the NCLEX-RN licensing examination. It's designed to gauge a nurse's readiness to work in the field and provide care to patients in different settings.
Get Your Nursing License
Once you've successfully passed the NCLEX-RN, you'll be able to apply for your license. For this, you will be required to pass a criminal background check, meet educational requirements, and provide other documents the Board of Nursing requires.
ADN Programs In Hawaii
As mentioned, ADN programs in Hawaii can be completed in just 2 years. This allows aspiring nurses to start their careers early.
Since there's a lot of ADN programs in the state, you have to be extra careful when choosing. Make sure that the program you're considering is accredited. In Hawaii, the accreditation is done by the Accreditation Commission for Education in Nursing and the American Association of Colleges of Nursing.
Other factors you have to consider include:
NCLEX pass rates
Employment opportunities
Satisfaction level of both students and graduates
LPN To RN Programs In Hawaii
LPN to RN programs can be completed faster than the traditional RN program. In fact, some students are able to finish their studies in less than a year by taking the LPN to ADN route. If you prefer to obtain a bachelor's degree, expect to spend a longer time to complete the program.
BSN Programs In Hawaii
The admission requirements for BSN programs in Hawaii vary. However, in general, students are required to provide the following:
School transcripts
Record of vaccination records
GPA of 2.75 (or higher)
Proof of successful completion of program course requirements
Complete background check
As mentioned earlier, BSN programs in Hawaii take 4 years to finish. That's equivalent to 8 semesters.
Even though they're longer, a lot of students prefer this route. As more employers prefer nurses with a BSN degree, that doesn't come as a surprise.
In addition to that, a BSN degree also prepares students not just for bedside care but management roles, too.
MSN Programs In Hawaii
If you want to assume specialized roles in the future, then you should consider enrolling in an MSN program. In Hawaii, your options are limited since there aren't a lot of universities that offer this kind of nursing program.
Now, this isn't entirely a bad thing. Even if you're in Hawaii, you can still pursue an MSN degree since there are courses offered online.
An MSN degree program can be completed in 3 to 4 semesters with full-time commitment. Because it involves heavy theoretical and clinical components, students are reminded to carefully plan their workload to avoid problems with their studies.
Accelerated Nursing Programs In Hawaii
In Hawaii, there are no schools currently offering accelerated nursing programs. If you want to earn your degree through this route, your next best option is to look around for online courses.
Apart from allowing you to obtain your degree, this kind of program also offers flexibility. You can finish your studies while settling both your personal and professional obligations. Plus, you'll have flexibility in your course start dates, too.
Best Nursing Programs In Hawaii
A Closer Look At The Best Nursing Programs In Hawaii
With so many options, it's easy to feel overwhelmed and confused when looking for the best nursing programs in Hawaii. As a way to help you make the right choice for your career, we ranked the following schools, colleges, and universities based on their NCLEX pass rates, satisfaction ratings from both students and graduates, and employment opportunities after graduation.
1. University Of Hawaii Hilo
The University of Hawaii Hilo has become one of the best regional schools after getting separated from the University of Hawaii Manoa. The school's quite popular among nursing students for its traditional BSN program.
Apart from the impressive program, the university also lets students transfer credits from any University Hawaii school directly into their program. And once they finished their BSN degree, they'll be qualified to apply to its BSN-DNP program. It's one of the two doctoral nursing programs it offers.
2. University Of Phoenix Hawaii
The University of Phoenix is widely known as an online school. However, this doesn't mean that you can't enjoy campus life. The university actually has one campus located in Kapolei on O'ahu.
UOPX doesn't offer a traditional BSN program. You can earn your degree by completing an RN-to-BSN program. It can be completed in just 5 weeks.
Apart from that, the university also offers an MSN degree with a concentration on nurse education, informatics, or nurse administration. You can also get multiple post master's certificates there.
3. Chaminade University Of Honolulu
The Chaminade University of Honolulu has excellent mentorship. This is one of the reasons why graduates of its traditional BSN program have an impressive track record on the national licensure exam or NCLEX.
Compared with other schools and universities, the cost of completing your degree here is a bit higher. However, the university offers help. In fact, about 98% of its students receive some form of financial help.
4. University Of Hawaii At Manoa
In the UH system, this university is considered the oldest school. However, this doesn't mean that you won't learn anything new here.
Its School of Nursing and Dental Hygiene is known to be the foremost research institution in the state. Its faculty offers impressive mentorship to help students excel not just in practice but in theory as well.
5. Hawaii Pacific University
The traditional BSN program offered by this university is quite impressive. It exposes its students to a flexible and multicultural environment to help them excel in their chosen career.
Its nursing students get trained in both classroom and clinical settings. They are also given the opportunity to experience hands-on education by placing them in different healthcare facilities throughout the region.
In addition to the traditional BSN program, this university also offers an LPN/LVN to BSN and RN to BSN programs. MSN and DNP programs are available, too.
6. Hawaii Community College
The college doesn't offer a 4-year BSN program. However, being a part of the UH system, it allows students to finish their associate of science in Nursing or ASN in just two years. After that, they are encouraged to pass the NCLEX and complete an Rn-to-BSN program at a different school.
Even if you aren't from Hawaii, you can still enjoy lower tuition. Non-residents are asked to pay fees that are only slightly higher than the in-state tuition rate. You can see the full details here.
7. Kapiolani Community College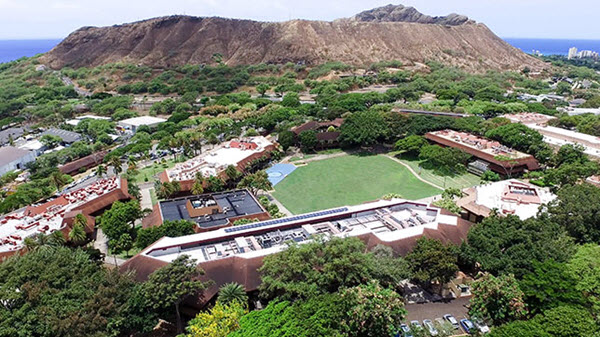 Kapi'olani Community College can be found in Oahu. Affiliated with the University of Hawaii, it offers an accredited ADN nursing program.
Its graduates have done really well on their NCLEX. Considering this, you can expect to excel on the exam, too. That's because the college offers quality education.
8. University Of Hawaii (Kauai Community College)
Students who wish to become registered nurses through this college can choose the AS in nursing. It can be completed in just 2 years, making it an excellent option for students living in Kaui.
From there, students can take and pass the NCLEX and enroll themselves in an RN-to-BSN program elsewhere in the state.
9. University Of Hawaii (Maui College)
A beautiful campus, the University of Hawaii- Maui College has small class sizes to ensure optimum learning for its students.
Take note that this college doesn't offer a full BSN program. However, it does give you the chance to complete your first two years and earn your degree at a different university, like UH Manoa.
The university offers financial aid to students. There's the UH Maui College and UH System Scholarship and the UH Maui College Merit Scholarships for Non-US Citizens. Learn more about these scholarships here.
10. Aspen University
Via bestcollegesonline.orgAspen College can't be found in Hawaii. In fact, it's located in Colorado.
Even though it's in a different state, its online RN-BSN program is quite popular among aspiring nurses who want to start their career in Hawaii. It doesn't just offer flexibility but the program's affordable, too.