Indiana is one of the states with the most affordable cost of living. Partnered with a good annual income, it's not surprising why it's an excellent choice for nurses.
But how do you become an RN in Indiana?
Below is a step-by-step guide to help you in pursuing your chosen career.
Requirements: How To Become An RN In Indiana
Becoming a registered nurse isn't easy. You have to be very careful about every decision you make, particularly when it comes to your education. You have to pick the right nursing program if you want to ensure your success.
Plus, you also need to know the steps you have to take to become a registered nurse in Indiana.
Complete An Accredited Nursing Program
There are many programs available for nurses in Indiana. The one you take will most likely depend on what type of nurse you aspire to be and your current level of education.
Take note that the higher your level of education, the more opportunities you'll find.
In picking the right nursing program, you also have to take note of its accreditation. This ensures that the learning experience you'll get from it will be in line with the standard of learning across the country.
Pass The NCLEX
You need to apply for the NCLEX-RN near the end of your program. Take note that students may become eligible to apply on different dates.
There are preliminary steps you have to take before the test. The list includes getting your photograph taken. You will also need to answer questions that relate to your legal and professional history.
As a candidate, you will be asked to undergo a background check. You'll need to register with Pearson and pay the testing fee right after. However, you will only be allowed to schedule an exam once your ATT or Authorization to Test arrives.
Get Your Nursing License
Once you have completed the application and paid the required fees, you will be asked to submit the following:
Criminal background check
Original photograph
Confirmation of registration and paid fees for NCLEX
If you will be applying for your license by endorsement, you'll need to submit:
Original photograph that includes your signature
Official transcripts
List and verification of certifications/licenses from other states
ADN Programs In Indiana
In Indiana, ADN or Associate's Degree in Nursing programs are usually 2 years in length. You have a lot of choices since there are offerings at several community, technical, and vocational colleges throughout the state.
Because there are so many choices, you have to make sure you're picking the right ADN program. As mentioned earlier, you have to check a program's accreditation.
Another thing you should consider checking is the program outcomes. Know the kinds of students that enter the program as well as the post-diploma hiring data.
When it comes to requirements, ADN programs throughout the state usually ask applicants to submit the following:
Evidence of up-to-date vaccinations
High school and college transcripts
Background and safety check
Evidence of completion of all prerequisite credits
LPN To ADN/BSN Programs In Indiana
The most common pathway for Licensed Practical Nurses to become registered nurses is through an LPN-to-ADN program. After completing a few semesters, students are given an associate's degree in nursing.
To be admitted in an LPN to ADN/BSN program, you'll need to submit the following requirements:
Complete college transcripts
Complete criminal background check
Proof of completion of all prerequisite courses
Current Indiana LPN license
BSN Programs In Indiana
BSN programs are longer than other programs. They usually involve 4 years of study. If you want to complete the program faster, there are summer sessions, accelerated programs, and bridge programs you can look into.
Because they are longer, you can expect them to be more expensive. However, with the opportunities you'll have after completing a program and getting your license, you can consider it a good investment for your future.
Schools and universities may have different admission requirements. Here are some of them:
Proof of up-to-date immunizations
Drug testing and background check
Complete personal profile and transcripts
Proof of good standing
MSN Programs In Indiana
MSN degree holders get to enjoy better payment options. Plus, they are offered a lot of leadership responsibilities within their organizations.
If those are things that you find interesting, you may want to complete an MSN program in Indiana.
On average, nurses need to complete several hundred hours of clinical placement and about 50 hours of classroom time. The programs are usually taken over 1 to 2 years.
To be admitted, you need to have a current RN license. You also need to submit your GRE scores and have a GPA minimum of 3.2 (undergraduate).
Accelerated Nursing Programs In Indiana
Accelerated nursing programs in Indiana enable nurses to get their degrees in a shorter time. In some cases, students take as little as 12-18 months to obtain their degrees.
Because the programs are shorter, they are more intensive.
Best Nursing Programs In Indiana
A Closer Look At The Best Nursing Programs In Indiana
Picking the right nursing program is critical to your success as a nurse in the future. To make sure you choose the best one, the following programs have been carefully reviewed based on their NCLEX pass rate, satisfaction level of both students and graduates, and post-graduation employment rates.
1. Anderson University
Anderson University has an impressive NCLEX pass rate. The program is so good that its graduates have no problems finding jobs all around the world.
Accredited by the Commission on the Collegiate Nursing Education and the Indiana State Board of Nursing, students are eligible to take the NCLEX-RN after completing its BSN program.
Founded in 1917, the university was first named Anderson Bible School. Over time, it changed its name to make sure that it reflects the academics it offers and its growing number of students.
Apart from its BSN program, the university also offers an accelerated BSN program. You can click here to know more.
2. University Of Saint Francis
Even though the school was founded on religious principles, religion doesn't heavily influence its nursing program.
The university's leading-edge faculty guides students throughout the program. There are innovative learning technologies students can use in honing their skill set. There are simulation labs, exam rooms, patient simulators, and patient units.
To earn your BSN degree, you'll need to complete more than 900 hours of experience in different clinical and community settings. Some of its recent field sites include Lutheran Life Villages, St. Joseph Hospital, and Parkview Behavioral Health.
3. Goshen College
Goshen College has the oldest BSN program and clearly, it's also considered one of the best. Since it started, it has been producing stellar nursing grads year after year.
The college is incredibly small. For students, that's actually a good thing. It gives the faculty more time to focus on the students.
To be admitted to its RN to BSN program, you'll need:
A current RN license
A diploma in nursing or an associate's degree
Complete application
Official transcripts from all the colleges you've attended.
To know the application process, click here.
4. Huntington University
Founded in 1897, Huntington University has become a leader in social work, psychology, and nursing.
Having only one main nursing degree, its NCLEX pass rate is quite impressive. Its 2020 mark was at 93%. When it comes to job placement, the university claims 100%
The university's nursing program allows students to learn through on-campus and off-campus clinical experiences. It also provides them with in-depth training in chemistry, physiology, and human anatomy.
5. Marian University
Marian University doesn't offer in-state tuition. Despite that, a lot of students still consider it one of the most affordable colleges in the state.
The university is located at a prime location for nursing students. They can take advantage of its proximity to hospitals once they're set to do their clinical.
And if Marian University finds you as a highly qualified high school applicant, you may receive direct admission into its program.
6. University Of Indianapolis
Once enrolled in the University of Indianapolis, you'll find yourself with several service and volunteer options. There are jobs, internships, and experiences you can get from the city. These things are helpful if you want to gain professional experience.
The University of Indianapolis has a simulation center. There, students can practice their vital nursing skills in an environment that mimics a real hospital.
The student-to-faculty ratio of the university is also good. With an 8:1 ratio, students can expect to receive the attention they need from their mentors.
7. Indiana Wesleyan University
Indiana Wesleyan University is located in Marion, Indiana. It has multiple campuses which offer a wide variety of programs, like an online campus where registered nurses can complete a BSN degree.
Apart from that, the university also has BSN and MSN degree programs. There are also bridge programs you can look into if you want to further your academic goals.
8. Saint Mary's College – Indiana
Saint Mary's College only accepts women. After graduation, over 90% of the students find themselves working as a nurse or studying in a grad school.
The college also has a study abroad program. It's particularly designed for nurses who want to gain independence while improving themselves.
You can find out more about the semester-long study abroad program here.
9. Valparaiso University
Valparaiso University offers three main tracks- a four-year track, an accelerated track, and an RN-to-BSN track.
Its most popular track is the traditional one. It's designed to provide its students with a well-rounded education they'll need to be successful in their chosen field.
Apart from its BSN tracks, you can also look into its MSN and DNP programs if you want to further your academic goals.
10. Purdue University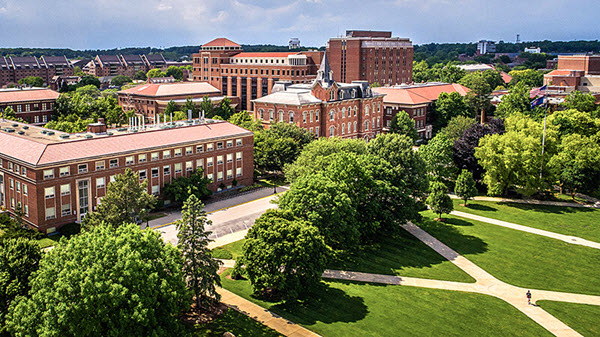 Purdue University is a public school. As one of the best colleges in the state, it has a strong relationship with the top hospitals in the region.
Purdue University is known for its evidence-based nursing education. With it, it's able to have a 100% completion rate. Its first-time NCLEX-RN exam pass rate is high, too.
You can find out more about its undergraduate nursing program here.