It's that time of year again, dear nurses.
Greet your colleagues and fellow nurses with these beautiful greetings that we made especially for you. Don't forget to greet your friends today. During this cold season, nothing can warm one up than a special greeting that tells you that you are remembered fondly.
Take your pick from these Christmas greetings for nurses and make somebody's day. Happy Holidays, everyone!
May all the sweet magic of Christmas conspire to gladden your hearts and fill every desire. Merry Christmas!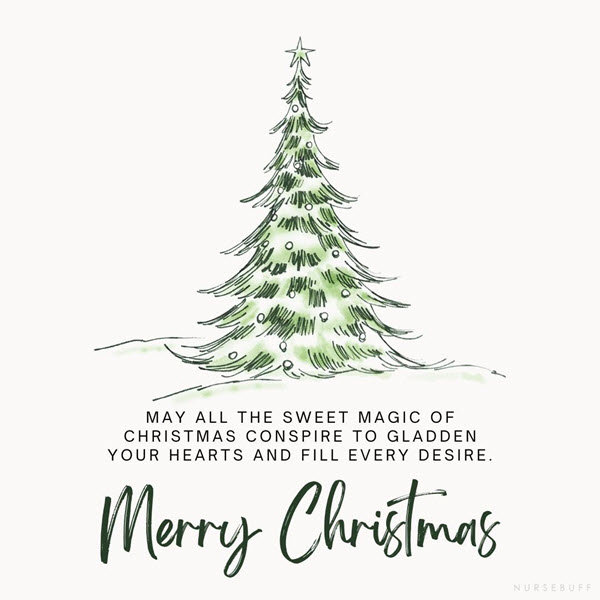 Christmas Wishes for the World's Best Nurse
Wishing you a joyous Christmas and peace and happiness throughout the New Year!
See Also: 44 Christmas Quotes For Your Loved Ones
Here's wishing you a Christmas day full of joy and laughter. Merry Christmas!
Christmas is most truly Christmas when we celebrate it by giving the light of love to those who need it most. Merry Christmas!
May God fill your life with love, joy and peace this Holiday Season and throughout the New Year.
See Also: Inspiring Happy New Year Quotes
Thank you for your kindness, skill & compassionate care. Merry Christmas!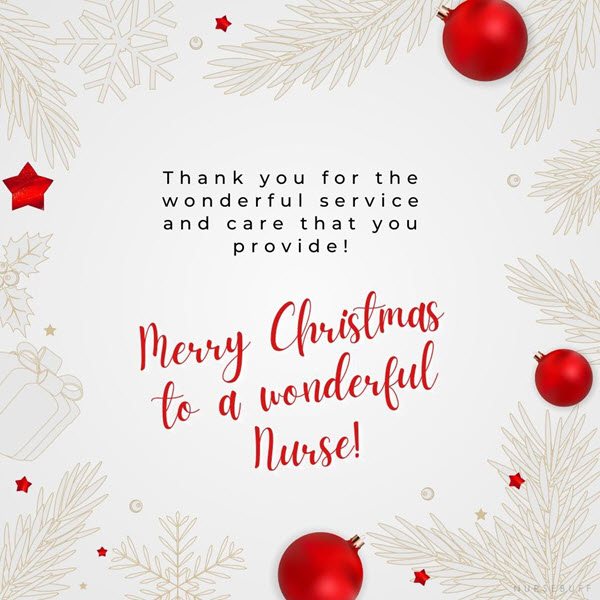 Happy Holidays! Hoping all the care and kindness you give to others always comes back to you.
Wishing you a wonderful holiday season and a Happy New Year!
Thank you for the wonderful service and care that you provide! Merry Christmas to a wonderful Nurse!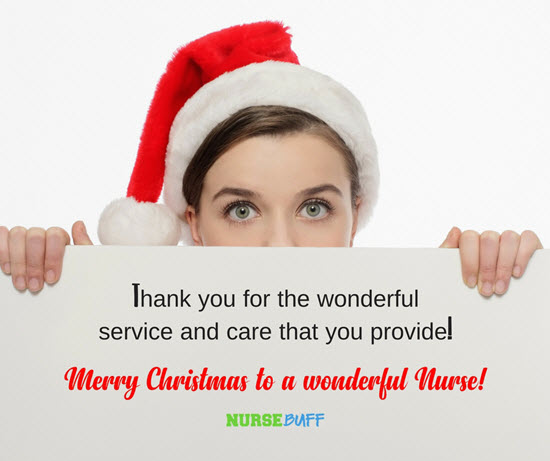 Your compassion for taking care of every life is remarkable. It's people like you that make Christmas so special and meaningful.
It's not what's under the tree that matters most, it's who's around it. Happy Holidays!
Christmas is full of miracles, and you're proof of that. Cheers to eggnog by the fire, warm holiday memories, and you.
Because of you, we live in a happier and healthier world! Wishing you a season that's merry and bright!
Saving lives is perhaps the most important job in the world. Wishing you nothing but the best this holiday season.
Merry Christmas to all the angels with the stethoscope.
You truly deserve the heartiest thank you for all you do. Warmest thoughts and best wishes for a wonderful Christmas.
You give so much of yourself to give care and comfort to someone else. May you receive the warmest hugs this Holiday season!
Whatever is beautiful. Whatever is meaningful. Whatever brings you happiness. May it be yours this holiday season and throughout the coming year.
May your stresses be few and your exclamations be: "Woo!" Merry Christmas!
To the angel on earth who dispenses comfort, compassion, and dedication. Sending you the very warm wish of Christmas love!
This season can be difficult, but I am sending you so much genuine love and cheer.
Each of us is as unique as a snowflake, and I hope you know how special you are.
For you at Christmas time: A wish for happiness, warmth, and love.
The gift of love. The gift of peace. The gift of happiness. May all these be yours at Christmas.