Christmas is just around the corner. It's that time of the year when Christmas decorating brings us joy and even the rush of late-night Christmas shopping makes the air merrier. Nurses are especially busy during the holiday season but that doesn't mean they can't make their families and friends feel remembered and loved on Christmas.
By simply sending all the important people in your life good wishes on Christmas, you know you've made some hearts lighter and smiles brighter. So here are some wonderful Christmas quotes and greetings for nurses and their loved ones.
Christmas is the season for kindling the fire of hospitality. – Washington Irving
Gifts of time and love are surely the basic ingredients of a truly merry Christmas. – Peg Bracken
At Christmas, all roads lead home. – Marjorie Holmes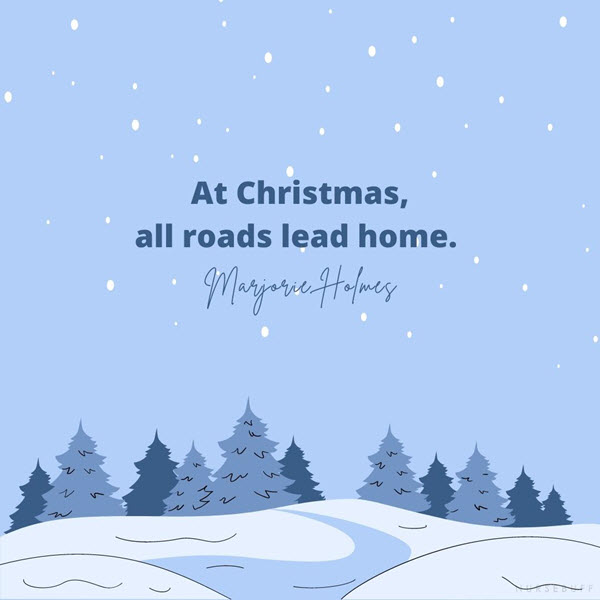 Every time we love, every time we give, it's Christmas. – Dale Evans
Nothing seems to bring people together like Christmas. – Steven Dodrill
The smells of Christmas are the smells of childhood. – Richard Paul Evans
Christmas can't be bought from a store. Maybe Christmas means a little bit more. – Dr. Seuss
May you never be too grown up to search the skies on Christmas Eve.
Christmas is most truly Christmas when we celebrate it by giving the light of love to those who need it most. – Ruth Carter Stapleton
Never worry about the size of your Christmas tree. In the eyes of children, they are all 30 feet tall. – Larry Wilde
For it is in giving that we receive. – Francis of Assisi
Remember this December, that love weighs more than gold. – Josephine Daskam Bacon
The joy of brightening other lives becomes for us the magic of the holidays. – W.C. Jones
There's nothing cozier than a Christmas tree all lit up. – Jenny Han
Christmas is not a story of hope. It is hope. – Craig D. Lounsbrough
The way you spend Christmas is far more important than how much. – Henry David Thoreau
You can tell a lot about a person by the way he/she handle three things: a rainy day, lost luggage and tangled Christmas tree lights. – Maya Angelou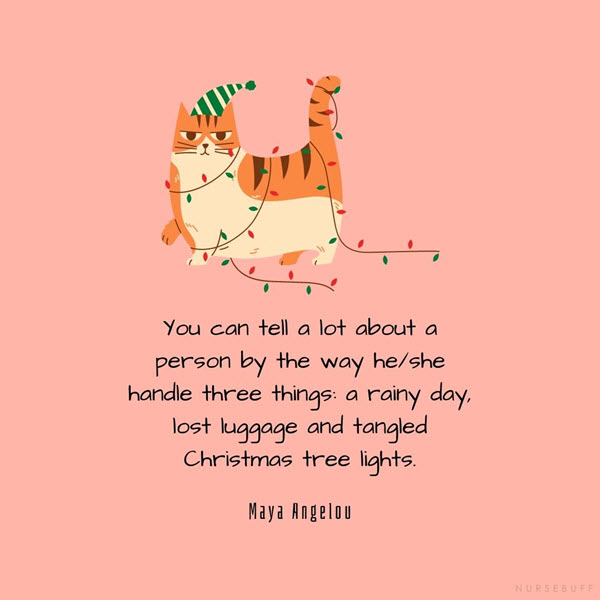 Christmas is a piece of one's home that one carries in one's heart. – Freya Stark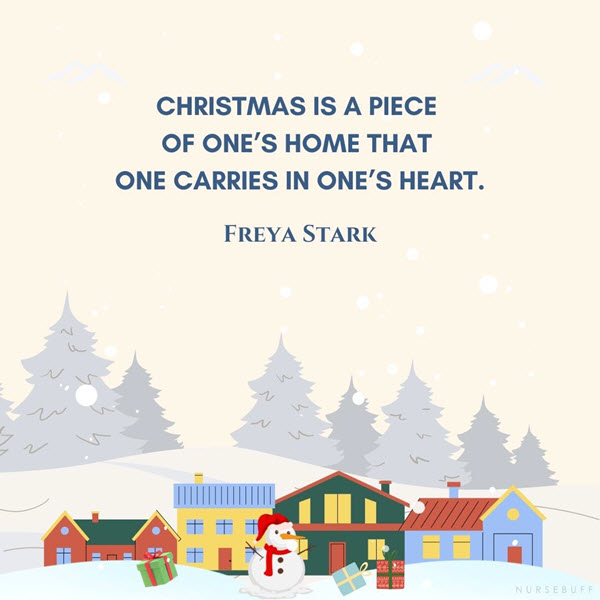 As long as we know in our hearts what Christmas ought to be, Christmas is. – Eric Sevareid
The thing about Christmas is that it almost doesn't matter what mood you're in or what kind of year you've had – it's a fresh start. – Kelly Clarkson
Some Christmas tree ornaments do more than glitter and glow, they represent a gift of love given a long time ago. – Tom Baker
I like to compare the holiday season with the way a child listens to a favorite story. The pleasure is in the familiar way the story begins, the anticipation of familiar turns it takes, the familiar moments of suspense, and the familiar climax and ending. – Fred Rogers
When we recall Christmas past, we usually find that the simplest things – not the great occasions – give off the greatest glow of happiness. – Bob Hope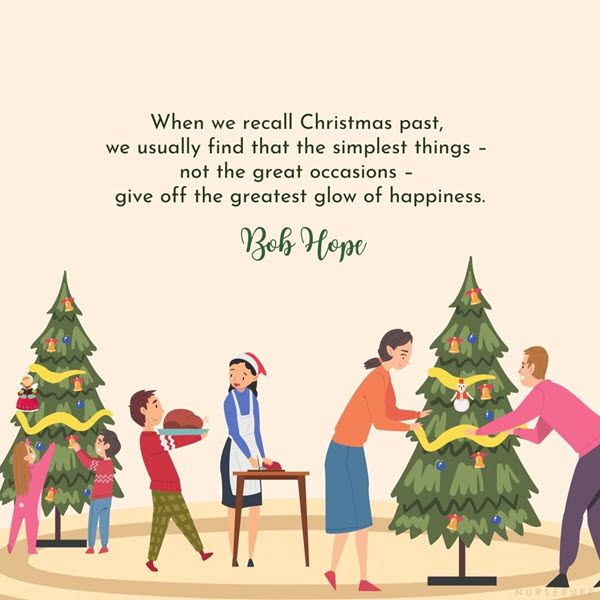 Christmas is a season not only of rejoicing, but of reflection. – Winston Churchill
One of the most glorious messes in the world is the mess created in the living room on Christmas Day. – Andy Rooney
Perhaps the best Yuletide decoration is being wreathed in smiles.
Bless us Lord, this Christmas, with quietness of mind; Teach us to be patient and always to be kind. – Helen Steiner Rice
Christmas, my child, is love in action. Every time we love, every time we give, it's Christmas. – Dale Evans
Christmas is not as much about opening our presents as opening our hearts. – Janice Maeditere
My idea of Christmas, whether old-fashioned or modern, is very simple: loving others. Come to think of it, why do we have to wait for Christmas to do that? – Bob Hope
Christmas is doing a little something extra for someone. – Charles M. Schulz
Christmas is a bridge. We need bridges as the river of time flows past. Today's Christmas should mean creating happy hours for tomorrow and reliving those of yesterday. – Gladys Tabor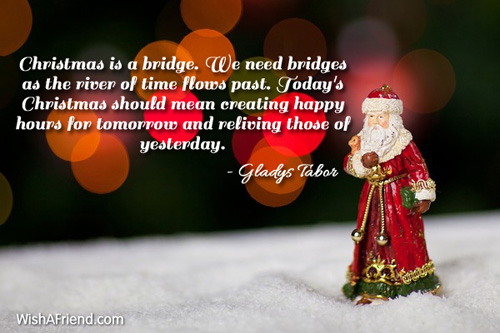 Christmas, my child, is love in action. Every time we love, every time we give, it's Christmas. – Dale Evans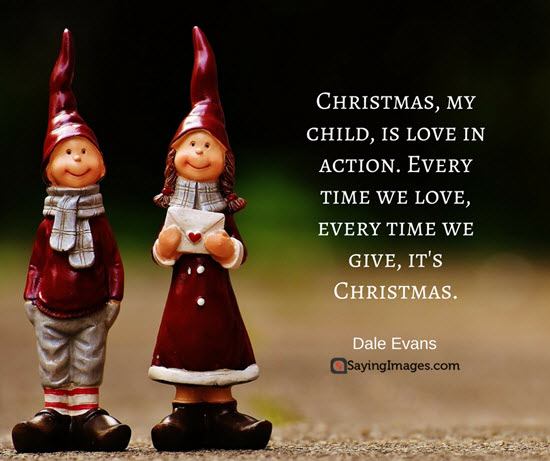 When you have Christmas in your hearts, it doesn't matter what's under the tree.
Christmas gives us the opportunity to pause and reflect on the important things around us – a time when we can look back on the year that has passed and prepare for the year ahead. – David Cameron
What is Christmas? It is tenderness for the past, courage for the present, hope for the future. It is a fervent wish that every cup may overflow with blessings rich and eternal, and that every path may lead to peace.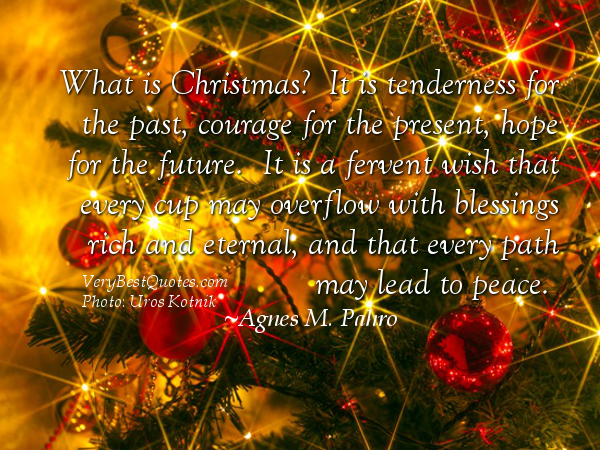 For many, Christmas is also a time for coming together. But for others, service will come first. – Queen Elizabeth II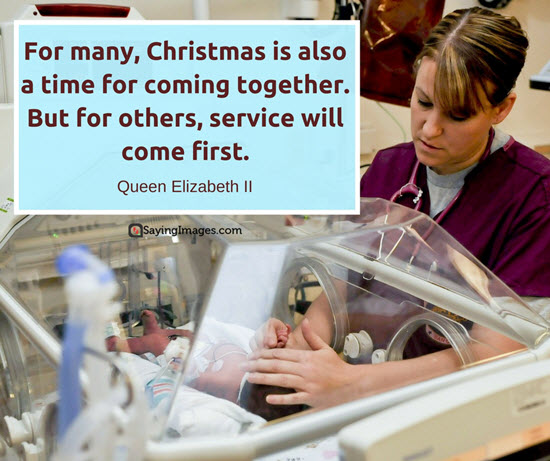 See more Merry Christmas Images
It is Christmas in the heart that puts Christmas in the air. – W.T. Ellis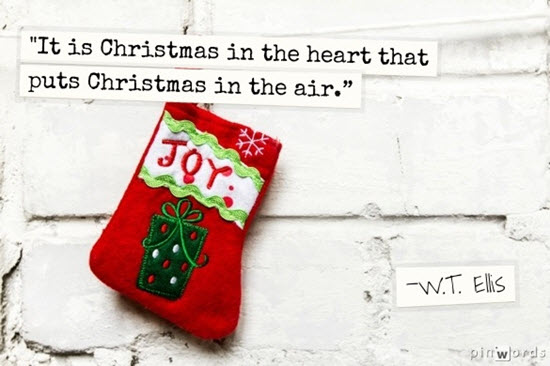 Christmas and the holidays are the season of giving. It's a time when people are more kind and open-hearted. – Gisele Bundchen
Christmas is a great time for extra hugs and cuddles. Love is the magic of Christmas; if you are blessed with children, share with them that special magic, and it will spread to others as well.
When you give up yourself, that's when you will feel the true spirit of Christmas. And that's giving that's serving others and that's when you feel fulfilled. – Joel Osteen
Christmas is the spirit of giving without a thought of getting. – Thomas S. Monson
Christmas is not a time nor a season, but a state of mind. To cherish peace and goodwill, to be plenteous in mercy, is to have the real spirit of Christmas. – Calvin Coolidge
Christmas is the season for kindling the fire of hospitality in the hall, the genial flame of charity in the heart.