In 2010, there were around 36.5 million cases of dementia worldwide. In 2030, this number is expected to double. If you're feeling alarmed by these data, there's actually more bad news. For one, there's the increasing cost of dementia care. Its total cost reached $200 billion in 2012 and it's expected to reach $1.1 trillion by 2050.
Considering these things, dementia is something that shouldn't be taken lightly. And as a nurse, it's one of our responsibilities to participate in activities that can spread more information to as many people as possible, especially during this year's Dementia Awareness Week.
If you are wondering what you can do, make sure to read this article until the end.
Benefits Of Early Dementia Diagnosis
Although there's no single test that can confirm dementia, there are neuropsychological tests that can rule out other causes of your patient's memory problems and decline in cognitive abilities. A medical history, for example, can be taken and laboratory tests can be done to find out other possible conditions that can cause the symptoms. As a nurse, it's our duty to spread awareness on how dementia can be diagnosed.
The earlier a diagnosis is made, the earlier the interventions can be started. But, what good can early diagnosis give?
Early diagnosis can help with the detection of the underlying cause. This will guide the family and the patient to decide on the right treatments and services.
Some causes of dementia can be treated and even reversed.
The earlier the medications are given, like Acetylcholinesterase inhibitor medicines, the higher the chances of keeping the remaining brain cells working.
As families become aware of their patients' condition, they become less and less anxious.
Recognizing the need for assistance can help the patients with their daily tasks, like cooking and taking their medications.
It allows the family to be more aware of their financial situation. The cost of dementia care is nothing close to being cheap so it's a good idea to help them plan for the future of the patient and the family.
It gives the option of joining clinical trials.
Activities You Can Do To Support Dementia Awareness Week
Apart from spreading what you know about dementia, there are also activities you can hold in your area to support this year's Dementia Awareness Week. These activities aren't just fun for your patients but they can also help meet their needs, like providing sensory stimulation to improve their memory and overall quality of life.
As a guide, here are some of the activities that should be on your list for the week.
Pet Therapy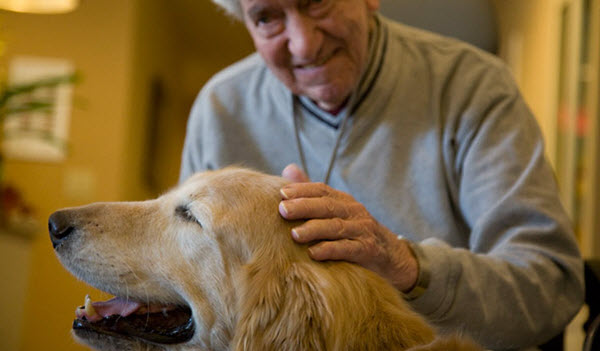 Pet therapy is a concept not fully embraced by all facilities. Some long-term facilities deny allowing pets inside in fear of compromising their patients' safety.
In reality, however, having pets around can greatly help patients with dementia. Pets can make patients feel empowered, comforted and inspired.
In case- just in case- your facility is strict about pets, you can try giving your patients faux pets. They can provide the same comfort and feel without the mess and responsibilities that come with keeping live pets.
See Also: The Surprising Benefits of Pet Therapy in Nursing Homes
Giving out memory books
Collect photos or record familiar messages and keep them in memory books. They can bring comfort and relief to your residents even when there aren't activity staff around. Another option is to let your residents help you in making their memory books. This can help stimulate their memories.
In addition, the patient's family can also pitch in in collecting mementos to go into their memory books.
Play games for hand-eye coordination
A magnetic maze is one of the best games for dementia patients. It's a fun game where your residents can guide balls through a maze using a magnetic wand. A reminiscing ball and a game of checkers are great options, too.
Art therapy
Creative activities can help boost well-being by doing two things. First, it stimulates curiosity and it triggers self-evaluation. For those with dementia, art therapy can provide them with meaningful ways to express themselves and re-affirm their worth and dignity.
You can hold painting, sculpting and drawing activities in your facility, provided that your patients are still physically able. If not, you can always provide assistance to make sure none of them gets left out for this important week.
Movie marathon
Playing movies can boost your patients' moods. In fact, one study suggested that patients with dementia showed greater attention span after a theater experience. It helped them become more communicative and engaged not only with their peers but their caregivers, too.
And while you can't really provide a true theater experience to your patients, you can simulate the event in a recreation room.
Other Activities To Support Dementia Awareness Week
You can hold a small fundraising event and donate whatever money you earn to charities, organizations, and groups that support research for dementia.
Spread awareness in your workplace by teaching families and residents more about the condition. Stress the importance of early detection and supportive care for the patients.
Encourage family, friends and loved ones to participate in the National Memory Screening event. Memory tests can help with early detection and treatment. If there's no event scheduled near you, another option is to set up your own. You can get more information about it from the Alzheimer's Foundation of America and the National Memory Screening website.
Volunteer to help with a local or national organization. A lot of charities need as much help as possible in spreading awareness and organizing events and people.
See Also: 7 Recreational Activities For Dementia Patients
Conclusion
Dementia is a condition that affects millions of people. It has earned a negative image throughout the years, especially with the poor care patients receive. Thus, it becomes important that we exert effort in reaching as many people as possible. Consider it not just as your job as a nurse but as part of a society seriously affected with the condition. If you haven't participated in any activity yet, this Dementia Awareness Week is a good time to start.