When you buy something using the links on our posts, we may earn a small commission at no additional cost to you. Learn more.
Sometimes, tough times make us forget why we've chosen nursing as a career in the first place. But then, there are people who always zap us back to reality and inspire us to stick to the fight. And that includes Florence Nightingale.
Selfless and God-fearing, Ms. Nightingale left a life of luxury to care for the sick and dying during the Crimean War. Soon, she wrote the book Notes On Nursing and became the founder of modern nursing.
Today, Florence Nightingale's legacy remains heartfelt. But with all the distractions we face day in and day out, it's easy to get lost in our struggles and forget about our mission as modern nurses.
Let this list of the best, the greatest, and most inspiring Florence Nightingale quotes make your everyday shift something to remember.

The world is put back by the death of everyone who has to sacrifice the development of his or her peculiar gifts to conventionality.
No man, not even a doctor, ever gives any other definition of what a nurse should be than this – 'devoted and obedient'. This definition would do just as well for a porter. It might even do for a horse. It would not do for a policeman.
The amount of relief and comfort experienced by the sick after the skin has been carefully washed and dried, is one of the commonest observations made at a sick bed.
The only English patients I have ever known refuse tea, have been typhus cases; and the first sign of their getting better was their craving again for tea.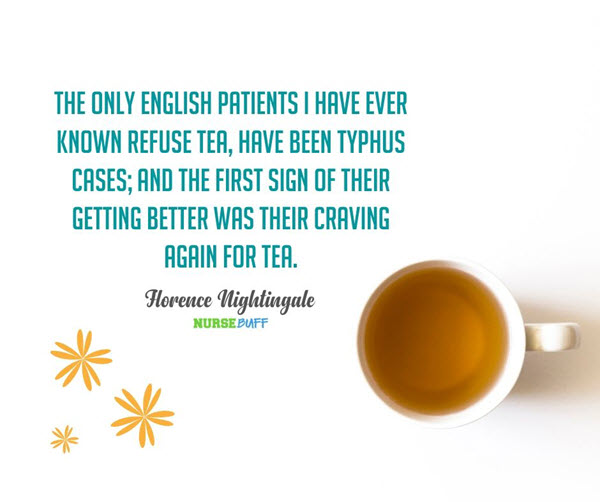 Women should have the true nurse calling, the good of the sick first the second only the consideration of what is their 'place' to do – and that women who want for a housemaid to do this or the charwomen to do that, when the patient is suffering, have not the making of a nurse in them.
Were there none who were discontented with what they have, the world would never reach anything better.
I have lived and slept in the same bed with English countesses and Prussian farm women… no woman has excited passions among women more than I have.
The very first requirement in a hospital is that it should do the sick no harm.
Also Read: Top 10 Funny Nursing Quotes To Brighten Up Your Day
So never lose an opportunity of urging a practical beginning, however small, for it is wonderful how often in such matters the mustard-seed germinates and roots itself.
The martyr sacrifices themselves entirely in vain. Or rather not in vain; for they make the selfish more selfish, the lazy more lazy, the narrow narrower.
To understand God's thoughts one must study statistics… the measure of his purpose.
There is no part of my life, upon which I can look back without pain.
The craving for 'the return of the day', which the sick so constantly evince, is generally nothing but the desire for light.
Also Read: Top 10 Most Inspirational Nursing Quotes To Live By
I attribute my success to this – I never gave or took any excuse.
To be a fellow worker with God is the highest aspiration of which we can conceive man capable.
Rather, ten times, die in the surf, heralding the way to a new world, than stand idly on the shore.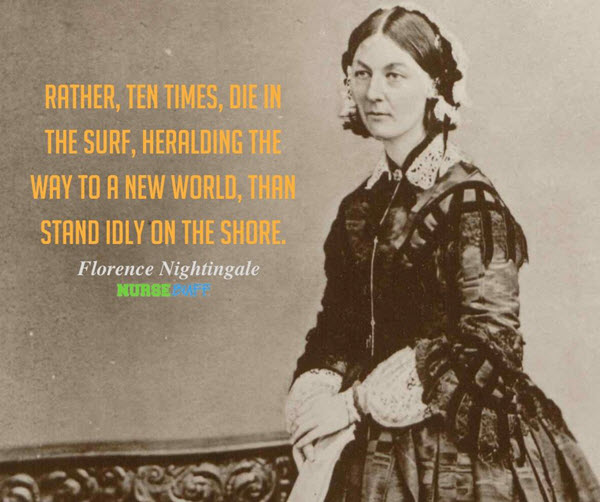 Instead of wishing to see more doctors made by women joining what there are, I wish to see as few doctors, either male or female, as possible. For, mark you, the women have made no improvement they have only tried to be "men" and they have only succeeded in being third-rate men.
Also Read: 50 Nursing Quotes to Inspire and Brighten Your Day
How very little can be done under the spirit of fear.
What the horrors of war are, no one can imagine. They are not wounds and blood and fever, spotted and low, or dysentery, chronic and acute, cold and heat and famine. They are intoxication, drunken brutality, demoralization and disorder on the part of the inferior… jealousies, meanness, indifference, selfish brutality on the part of the superior.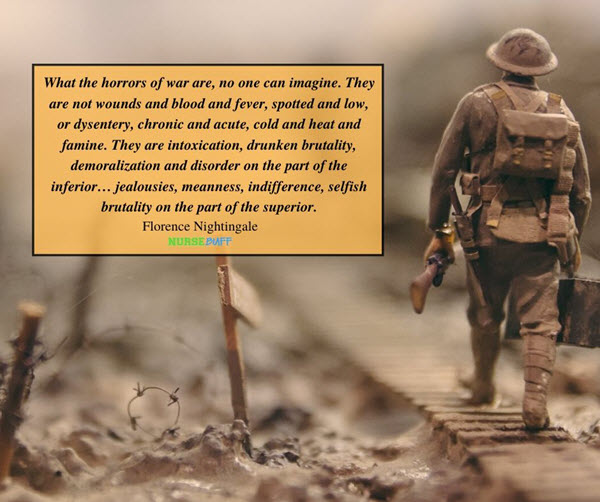 I do see the difference now between me and other men. When a disaster happens, I act and they make excuses.
I think one's feelings waste themselves in words; they ought all to be distilled into actions which bring results.
By mortifying vanity we do ourselves no good. It is the want of interest in our life which produces it; by filling up that want of interest in our life we can alone remedy it.
For the sick, it is important to have the best.
The first possibility of rural cleanliness lies in water supply.
Live life when you have it. Life is a splendid gift-there is nothing small about it.
If a patient is cold, if a patient is feverish, if a patient is faint, if he is sick after taking food, if he has a bed-sore, it is generally the fault not of the disease, but of the nursing.
If you knew how unreasonably sick people suffer from reasonable causes of distress, you would take more pains about all these things.
And what nursing has to do in either case, is to put the patient in the best condition for nature to act upon him.
If a nurse declines to do these kinds of things for her patient, 'because it is not her business', I should say that nursing was not her calling.
It is very well to say "be prudent, be careful, try to know each other." But how are you to know each other?
Mankind must make heaven before we can "go to heaven" (as the phrase is), in this world as in any other.
Share these Florence Nightingale quotes with your fellow nurses, colleagues, and friends.