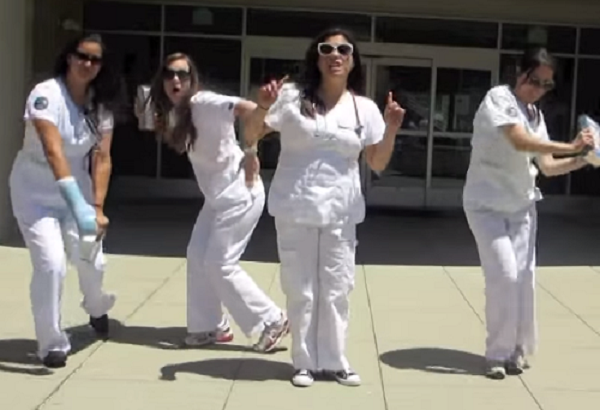 Nurses visit YouTube either to learn new skills or get some good entertainment. We have already featured some educational nursing videos before, so why not watch something that will give us a good laugh for a change?
After searching Youtube for the most hilarious videos featuring nurses, we have finally come up with some of the best. Get ready for a good laugh!
Also Read: 8 Songs That Remind You of Nursing [VIDEO]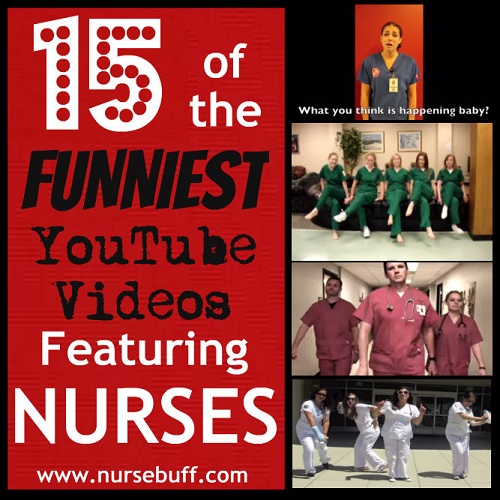 1. Fun with Nurses – Katharine Hepburn Impression.
California speaker Juliet Funt talks about nursing life in a very witty and hilarious way. Watching this video will not only inspire you, but also make your stomach hurt from laughing as well!
2. Call Me Maybe Parody by Student Nurses.
Whoever said that nursing students never get to have any fun hasn't watched this video yet. Dance with these cool nursing students, and laugh along with the song's hilarious lyrics!
3. Mama Said be a Nurse (Mama Said Knock You Out nursing school parody).
Another parody made by nursing students, this video will surely give you the last song syndrome!
4. Footloose: Nursing School Style.
These nursing students are clearly just happy that the semester is almost over. Lose yourself and dance with them as the iconic song "Footloose" plays in the background.
5. Lady Gaga Telephone Parody in Hospital.
It's not all serious stuff in the hospital. Listen to Lady Gaga's "Telephone" and get ready to sing and dance your heart out!
6. I'm at a Code – I'm on a Boat Parody.
This video will not only teach you a lot about codes, but also make you laugh so loud, you'll love it! Plus, the song will stay in your head for a pretty long time.
7. Will of the Nursing Student.
"Will of the Nursing Student" is a parody starring nursing students dancing to "Eye of the Tiger" to motivate every nursing student to succeed!
8. Super Bass Parody with Student Nurses.
This is one of the few videos that will prove to us that nursing school does not only take a great deal of time and effort, but of dancing as well!
9. Sh*t ICU Nurses Say.
This video will tell you what ICU nurses say and what they don't really say, but have been wanting to. You will definitely be able to relate to this one if you're an ICU nurse! Or even if you're not an ICU nurse, it's still pretty funny.
10. Ice Ice Baby Parody (Nurse, Nurse, Help Me).
"Wash your hands and check in. Nurse is back with a brand new injection. Morphine grabs a hold of you tightly, keeps you pain-free daily and nightly. Will it ever stop? Yo, I don't know."
The lyrics say it all.
11. Nursing Rap: "If I was your RN" (Justin Bieber "Boyfriend" Remix).
Do you love Justin Bieber? If you do, then you will love this video, too! These nursing students are so happy about nursing school being almost over that they can't help but rap!
12. Dance in Operation Theatre.
A medical team (doctors and nurses) were in a serious operation when they suddenly started dancing. Funny thing is that the patient also joined in the dance. Get ready for a really good laugh!
13. Things Nursing Students Don't Say.
Nursing students never say the things they really want to say. This video will give us a glimpse to their minds, whether we like what they want to say or not. Well, maybe not.
14. Kid Snippets: "Mean School Nurse" (Imagined by Kids).
This is a cool video imagined and dubbed by kids, but acted by adults. It basically tells people how kids see their school nurses. Adorable!
15. Nursing School – What doesn't kill you makes you stronger.
Nurses and nursing students will definitely be able to relate to this video, as it shows that all nurses who try their best to succeed will really reach their goals. The song "What doesn't kill you makes you stronger" says it all!
Your Turn
Did we miss your favorites? Tell us about them!
About the Author: Mary Elizabeth Velarmino Francisco earned her Bachelor of Science in Nursing Degree from the Ateneo de Zamboanga University, Philippines. She is always happy to share her passion for writing and blogging. With coffee running through her veins, she enthusiastically battles each day, one article at a time.