When you buy something using the links on our posts, we may earn a small commission at no additional cost to you. Learn more.
Nurses definitely deserve a reward once in a while. And if you're looking for the perfect gift for your colleague or yourself, you'd want to pick something that's nice and unique.
We spent a lot of time looking for some really cool stuff with legit reviews. We also included some of our favorite go-to gifts for nurse friends. Here are some really cool gifts for nurses you should totally include in your list.

Let Your Light Shine Cards make an awesome gift for both nursing students and nurses. You can easily include it in a gift basket, along with their favorite snacks or treats. They contain inspirational quotes and scripture for motivation.
Pros: Comes with a lidded box, colorful, easy to carry
Cons: Cards tend to stick together

"Nursing is a work of heart, always caring for people right from the very start."
This Nursing Quote Cup has a beautiful quote and a whimsical design. Able to carry 17 ounces of liquids, it's a great mug for that much-needed shot of caffeine in the morning.
It is dishwasher and microwave safe.
Pros: Dishwasher and microwave safe, large capacity, the design is elegant
Cons: Bulkier than regular mugs

These socks with their heartbeat design are perfect for nurses. There aren't too many nurse-themed gifts out there so you'll want to grab these immediately.
These Heartbeat Nurse Socks are made of 80% cotton, 15% nylon, and 5% spandex. They are designed for women but can fit a male giftee as long as your male nurse friend doesn't have KingKong feet.
Pros: Good quality, thick material, soft
Cons: Not for people with large feet

This isn't your regular teddy bear. Dressed in blue scrubs, its mouth actually moves when he sings and dances to his upbeat song. With how adorable it is, Feel Good Glenn 10″ Bear can easily light up anyone's day!
Pros: Comes with 3 AAA batteries, entertaining, nice music, scrubs can be removed and washed
Cons: None as of writing

Need a cute nurse bag? This Stick Nurse Tote Bag totally fits the bill.
The straps are long for easy carrying. It's a bit on the small side but will fit a folder and other nurse paraphernalia. It is waterproof and the cute nurse drawing is a clincher.
Pros: Well-stitched, cute design, convenient to carry
Cons: Small size

It's our favorite cute cat. Oh wait, she's not a cat.
Are you a Hello Kitty fan? If you are, then you should get these fun band-aids. Hello Kitty Bandages come with cute Hello Kitty prints and designs.
Full Disclosure: Some reviews mention that these band-aids don't have the strongest adhesive so they are usually paired with regular band-aids and then the Hello Kitty ones are placed on top for the cuteness factor.
Pros: Pads don't stick to wounds, comes in different sizes and designs, strong adhesion
Cons: Not for people with latex allergy

Nurse Caduceus Suncatcher is such a pretty gift for nurses. Apart from the engraving on the heart charm, you'll fall in love with the wings as well. They contain real flowers!
Pros: Packaging is nice, has real flowers, comes with a chain for hanging
Cons: Small, the hook doesn't hold for too long

This Shot Glass – Nurses Need Shots Too is definitely the perfect shot glass for nurses. Apart from its great print, it can also hold a full 2-ounce shot which is larger than others. Additionally, the shot glass is also dishwasher safe.
Pros: Thick, durable, bigger than other shot glasses
Cons: Text chips easily

This Nurse Bangle Bracelet makes a fun gift. Made with stainless steel, it can resist deformation, rust, and fading. It's less likely to cause allergies as well. It's adjustable so you won't have to worry about getting the right fit.
Pros: Good size, charms are well-attached, affordable
Cons: None as of writing
Do you or your friend like charms? If yes, then check out this cute charm necklace. This necklace sports a Registered Nurse pendant and an equally cute silver stethoscope charm.
It comes with an 18-inch silver plated chain.
Pros: Adjustable and nicely made
Cons: None as of writing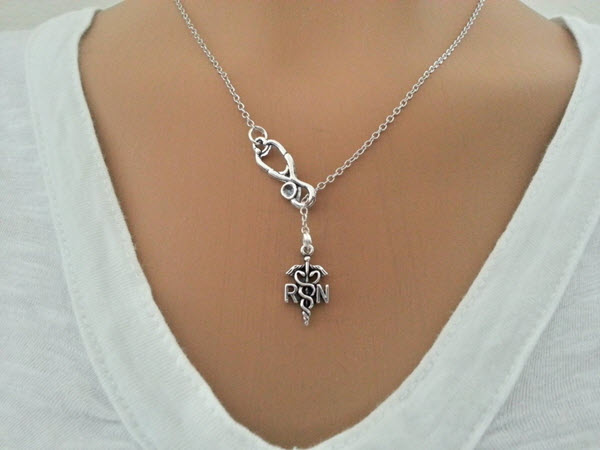 Give this gift as a way to say thanks to your favorite nurses. Nurses are All Heart Angel Ornament has this really nice message engraved on its front they'll surely appreciate. They can hang it in the office or their station.
Pros: Comes with a ribbon for hanging, good value for money
Cons: None as of writing

This nurse appreciation notebook gives you a fun and creative way of expressing your gratitude to your nurses. Nurse Appreciation Notebook comes with more than 50 double-sided sheets to give you enough pages to write your thoughts.
Pros: Comes with 100+ of writing pages, binding seems sturdy, the paper is thick
Cons: Lines inside are dark

The Good Girl Gone Badge Stethoscope Tag is the perfect choice if you are looking for a nursing gift you can get customized. You can get it with your nurse's name and credentials if you want. It fits most tubes with regular thickness.
Pros: Easy to clean
Cons: May not fit stethoscopes with thicker tubes
This is a cute printable sign you can use to decorate your wall or your notebooks. If your nurse friend loves Superman, this is a meaningful choice.
Upon purchase, this particular product will be delivered to you as a high-resolution JPEG printable file.  It can be printed at home or at any print shop, office supply store, or photo retailer.
Pros: Easy to download and print, nice color
Cons: None as of writing

Art is one way to de-stress and this coloring book takes that to a whole new level. The Nurse Life: A Snarky Adult Coloring Book has really hilarious texts and quotes that can surely melt your stress away. The images are well-drawn and the paper's quality is so good.
Pros: Pages are thick, has really funny quotes, well-drawn images
Cons: Doesn't have as many images to color

This Nurse Shirt is super comfortable to wear whether you're at work or running errands outdoors. Made with 50% cotton, it's designed to give a relaxed fit.
Pros: Soft, comfortable to wear
Cons: Not for people who want a wide neck

This Help Me Heal Praying Nurse figurine is just an inspirational piece. It will surely motivate any nurse to be gentle, caring, and patient at work. The figurine is nicely made. It doesn't feel cheap nor extremely fragile.
Pros: Made of quality material, excellent detail
Cons: A bit expensive

Nurse often forget to hydrate themselves, particularly when they are having a really busy shift. As a way to remind your nurse to always drink water, you can give her this Motivational Water Bottle with Time Marker. It's 100% leak-proof!
Pros: Cute design, with time markers
Cons: Ice doesn't keep long inside

Nurses need compression stockings. They often struggle with leg fatigue and pain for being on their feet most of the time. Designed with 85% nylon to provide a 360-degree stretch, this set of compression socks are excellent for them. In addition to the impressive support and breathable design, they look cute, too!
Pros: Comfortable, pull high without much effort, cute design
Cons: May not be for people with thin legs

This car window decal is easy to apply and durable. It's available in 11 different colors to match your vehicle. And the good thing is that you can actually use the White Heart Stethoscope Car Window Decal on your computer, glass or any smooth sruface you want.
Pros: Offers 6 years outdoor durability, easy to put on
Cons: Doesn't include instructions on how to apply

Made with porcelain, this I'm a Nurse. What's your superpower?" Light Blue 18 Oz Mug is designed to inspire you as you work. As someone who loves to drink coffee, you'll love using it at the start or even during your shift.
Pros: Unique design, sturdy, dishwasher-safe
Cons: Handle feels a bit flimsy

The Copper Rose Gold Stethoscope ID Tag is made of copper, making it prone to scratches. However, the material is easy to polish back to a shine so you won't have a hard time keeping it in good shape. You can personalize it based on your preference. You can add up to 12 characters with the option to choose your font.
Pros: Easy to attach, easy to clean, individually hand stamped
Cons: Prone to scratches

Made with durable plastic and metal, these badge clips are designed to hold your ID for a long time. Plus, it's not easy to damage. If you work in the pediatric unit or you simply want something to brighten up your day at work, wearing this Nurse Badge Holder Reel should help. They have these really funny and cute smiley faces on them.
Pros: Durable, cute, comes with a 25-inch retractable cord
Cons: None as of writing

Nurses deserve a break and for those who find drinking wine relaxing, this stemless wine glass is for you. The etching is really clear and doesn't fade easily. The Nurse Funny Stemless Wine Glass is very well made. Anyone who receives this as a gift will surely be happy.
Pros: With clear etching, well-made, solid
Cons: A little expensive

This set of cute refrigerator magnets makes an excellent stocking stuffer. With funny designs, they can surely make your nurses' workplace and even home more decorative.
Pros: Nice colors, very cute, has four different designs
Cons: None as of writing
Did you like any of the 25 cutest gifts for nurses we featured? Which one did you like best? Did we miss other cute gifts we should be featuring? If yes, do reach out to us in Facebook. We'd love to hear from you!
Good luck on finding that perfect and special gift for your friend!