If you are thinking of becoming a pediatric nurse, you need to have a very special set of skills to effectively and safely care for pediatric patients as well as their families. If you aren't sure what those skills are, this guide will show you how to become a pediatric nurse.
Before we get to the set of requirements, let's get a better understanding of this nursing specialty first.
What Does a Pediatric Nurse Do?
To begin with, pediatric nurses are responsible for providing medical and health care to children of all ages. Your responsibilities may change or vary depending on your department or specialty.
For example, pediatric nurses working in the pediatric intensive care units or PICUs care for children who are in need of invasive monitoring and those who have life-threatening conditions. For nurses assigned in the pediatric rehabilitation units, they provide combined nursing care and rehab to help prepare their patients and families in returning home and coping with any disability.
Other tasks that may be included in your responsibilities include:
Identifying signs and symptoms in children
Intervening in urgent and emergent situations
Acting as a child advocate
Administering medications according to guidelines
Participating in pain management
Evaluating signs of abuse
Detecting changes in a child's status
Identifying a child's needs based on his growth and development
Do You Have What It Takes to Be A Pediatric Nurse?
Apart from the required education, certifications, and licenses, there are characteristics you need to possess if you want to be a successful and effective pediatric nurse. This includes:
Good critical thinking skills
Compassion
Good communication skills
Detail oriented
High physical stamina
Emotional stability
Great organizational skills
How Do You Become A Pediatric Nurse
Completing a Bachelor of Science Degree in Nursing is generally the baseline educational attainment for nurses. Once you are able to get your degree, you'll be eligible to sit for the NCLEX-RN exam.
The said exam is generally administered by the National Council of State Boards of Nursing. It's designed to assess your competencies in providing safe and effective care to your patients. To be a registered nurse, you need to pass the NCLEX exam.
After getting your license, your next goal should be to gain on-the-job experience. Focus on applying for positions in a hospital's pediatric department or similar areas.
Once you've gained the required experience, you can get certified through the PNCB or Pediatric Nursing Certification Board. The process may vary but to be eligible, you'll generally have to possess or complete the following:
A valid and current RN license
At least 1,800 hours of experience in pediatric clinical work within two years as a registered nurse.
After acquiring your certification in pediatric nursing and gaining experience in the field for a certain period of time, you can choose to advance your career by pursuing a degree in Master of Science in Nursing. This will qualify you to become a pediatric advanced practice nurse.
Working Conditions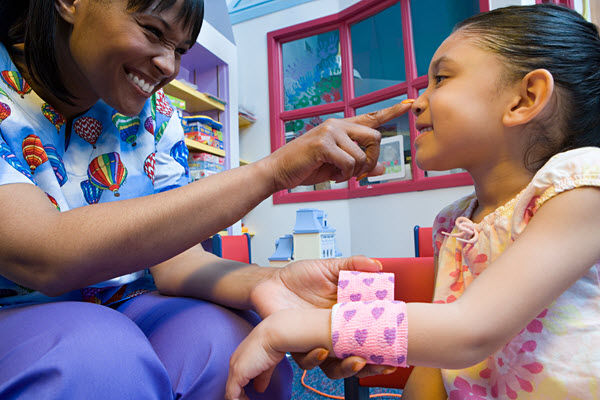 As a pediatric nurse, you can work in any of the following settings:
Clinics
Doctor's offices
Schools
Community groups
Surgical centers
Hospitals
Your working hours will depend on where you are working. If you choose to work in a hospital, clinic or similar institutions, your working hours may be fixed. Pediatric nurses who work in government agencies and social service agencies may also be offered a timely work schedule.
Salary
On average, pediatric nurses are paid $75,624 per year. Those working in New York earn the highest as their average hourly wage is at $38.03. Pediatric nurses working in North Carolina, however, earn about $27.48 per hour.
To get a glimpse of what pediatric nurses do, here's a video you can watch:
See Also: 9 Funny Signs You Are A Pediatric Nurse
Check out our infographic!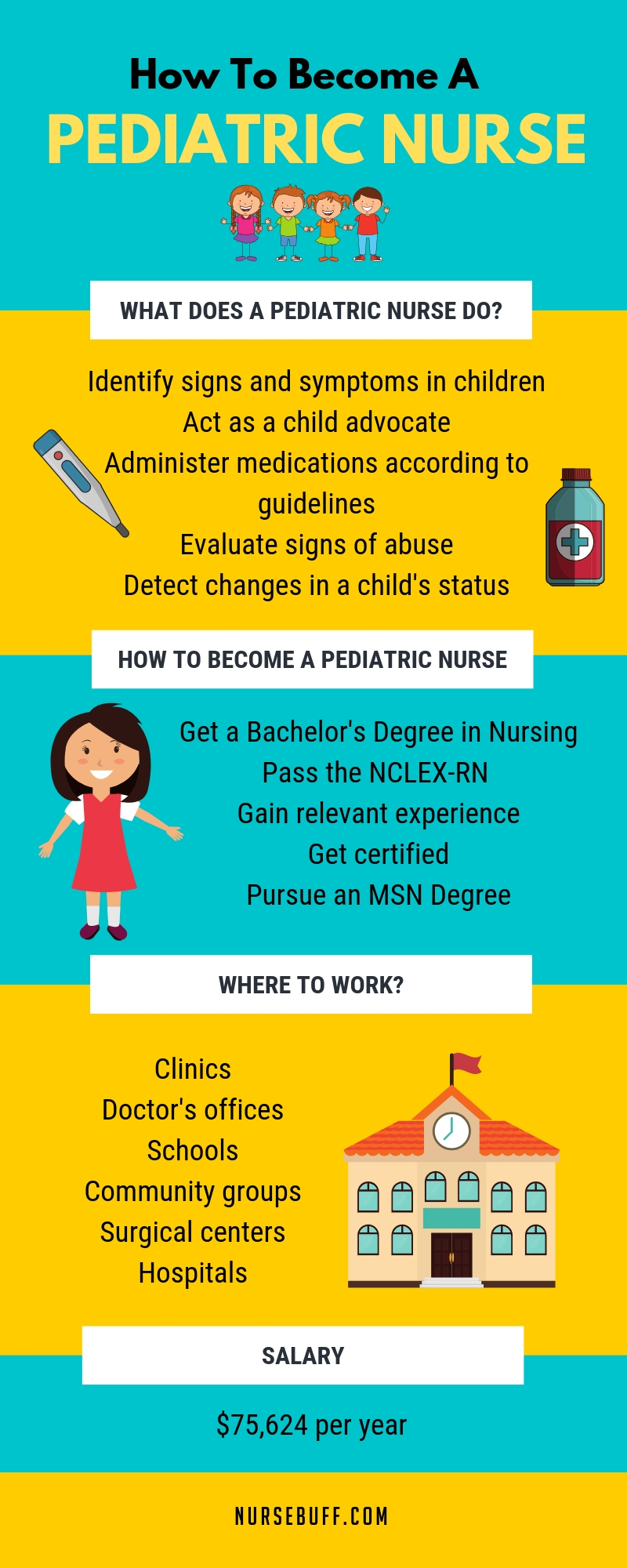 Share this Image On Your Site