Are you looking for nurse accounts to follow in Instagram?
Nowadays, there are so many funny, entertaining, and even inspiring Instagram accounts created by nurses for nurses. In the middle of a busy day, they're a fast way to get your "fun fix" just by simply scrolling through the Instagram feed of your phone.
In case you haven't registered an account yet, Instagram is a great social media for nurses to try. You can promote a business you are running on the side, share your personal life and funny crazy work stories, or even share your homemade nursing study materials. (The last one is a big hit on Insta!) You can use Adobe Express for free and customized post templates.
Below, we've chosen the best Instagram accounts to follow. We've shortlisted them because they're either really funny, inspirational, or they have a lot of cool mnemonics and study materials for nursing students. All follow counts are as of writing.
If you're tired of seeing the same nursing memes over and over again, you'll like @nurselifern. "All memes are original unless stated otherwise."
Followers: 1.2M
@nurseproud has one of the largest collections of nursing memes and they get thousands of likes and comments on a daily basis. When you want to feel some community, this is the account to follow.
Followers: 575k
You can tell by the name, @nursesofinstagram is where all nurses from different countries and places meet and relate with each others' experiences. As they say, "Meeting nurses from around the world ???? No matter where we practice, we can all relate!"
Followers: 351k
If you need somebody inspirational in your life, a fellow nurse at that, do go to Sarah Warren's instagram posts. In this particular post she shares:
I don't think people realize just how broken healthcare is right now.
We are losing incredible people because we GIVE so much of ourselves, to a system that does nothing but take.
Healthcare workers need support.
We are not okay.
Please remember, you deserve support.
You are not alone.
Followers: 101k
Snarktastic nurses are in the house! "Love our jobs but inappropriate humor keeps us sane."
Followers: 872k
Also Read: Top 100 Nursing Blogs That Matters
If you're a nursing student and want a mix of funny and educational, check out nursesnote.  They have a lot of basic nursing school material with the occasional funny memes.
Followers: 133k
If you're a nursing student, you need all the help you can get to review for the NCLEX and other nursing exams. Nursehelps curates easy-to-remember materials for AIIMS, NCLEX, ESIC and RRB. We swear they have a lot of useful info but this banana caught our eye!
Followers: 180k
@fabulousrn1 shares funny nursing memes and jokes. "Nurses are fabulous. Fucking fabulous."
While this Instagram account shares the usual nursing memes, we also love her personal photos that still find a connection to nursing. Here's @fabulousrn1's dinner that morphed into a pair of lungs. Hilarious!
Followers: 133k
Also Read: Social Media Do's and Don'ts: 10 Tips for Nurses
Nurse Blake is a really funny Instagrammer who makes his own memes and content. Just look at his followers! And they're engaged too so you get  to become part of a community.
Followers: 927k
If you like the Scrubs Mag website, you'll want to follow their Instagram account. "News and views for the medical community."
Followers: 98k
Also Read: 15 Awesome Nurses To Follow You Should On Pinterest
Nurse Sonja shares some really motivational posts about working as a CTICU RN. If you are aspiring to pursue the same specialty, you should check her out!
Followers: 51.9k
For those taking the NCLEX, free test questions are a God-send. Check out Kaplan for their free practice resources.
Followers: 30k
More free NCLEX review questions because you can't ever have too many. Rationals included!
Followers: 48k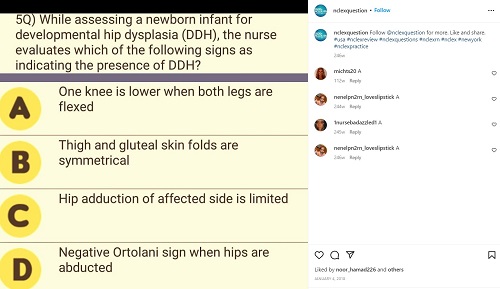 Sarah Gaines is a travel nurse who promotes her Six Figure Travel Nurse Course on Instagram. She appears to really enjoy being a travel nurse and answers questions of fellow nurses who want to take the leap.
You can read more about Travel Nursing here.
Followers: 61k
To be honest, we hesitated adding these nurse accounts promoting their side (or main) hustles. However, there are nurses out there who are stuck with stressful low-paying jobs who might just need a little Eureka in their lives to help level up their nursing career.
Kelsey promotes the practice of the Nurse Entrepreneur. "I help Nurses find their dream jobs, launch side hustles, & create joyful freedom & wealth in their lives 🙌🏻!"
Frank Trujillo has posted some really cool hand-drawn nursing cheat sheets. You'll love his motivational memes, too.
Followers: 8k
Now here's an Insta account for nursing students who are trying to survive nursing school.
"Nursing school… tough but rewarding! Pictures, quotes, & some humor to remind you why you chose to do it in the first place"
Followers: 98.2k
Do you want to follow (the Instagram account of) a hot and tatted male nurse? If yes, @nursemendoza is for you.
"GentlemanByDay MurseByNight TattedByChoice"
Followers: 134k
And of course, we can't forget our own @nursebuff Instagram account. Help us build our following. We need your support! 🙂
If you know of other excellent Instagram accounts that aren't on this list, just mail us at [email protected] so we can take a look and add them to our list.
To see more nursing-related photos on Instagram, simply check out these popular nursing hashtags:
#nursesofinstagram
#instanurse
#nurse
#nursingproblems
#nursesrock
#nurseblogger
#nurselife
#nurses
#nursing
#nursejobs
#nurse
#nursing
#nursepractitioner
#instanursing
#nursingschoolproblems
#aprn
Did we miss out on any other cool Instagram accounts for nurses or hashtags?