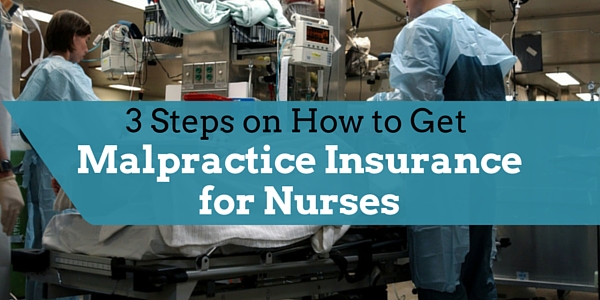 Is it important to have malpractice insurance for nurses?
Imagine receiving allegations against your nursing practice. Being sued at the most difficult part of your nursing career can be one of the most stressful times of your life. Without having support, it can affect your nursing career negatively.
Also Read: Top 7 Deadliest Nursing Errors (And How to Avoid Them)
You might not feel the need for malpractice insurance for now but having one can save you from headaches in the future. You can liken it to having a safety net to catch you.
To help you get started, here's a short guide on how you can get your own malpractice insurance:
1. Choose your carrier
There are plenty of insurance carriers offering malpractice insurance for nurses. Here are some of the well-known insurance carriers:
• Nursing Service Organization
Nursing Service Organization (NSO) specializes in providing professional liability insurance for nurses. So far, they are the largest provider of insurance for nurses with over 500,000 insured nurses under their name. Aside from professional coverage, they also cover nursing students, nursing schools and nurses in independent practice.
• Healthcare Providers Service Organization
Healthcare Providers Service Organization (HPSO) specializes in providing professional liability insurance for healthcare workers. They have plenty of policies for different groups of healthcare workers both for individual and business coverage. They have been in this industry for almost three decades and they developed extensive tools for their clients to learn their risk coverage.
• CM & F Group
CM & F Group specializes in providing malpractice insurance for all kinds of professionals. They were established in 1919 and they have decades of expertise in covering malpractice insurance for individual and business use. Their policies are available online and determination of coverage is fully automated for online applicants.
• Proliability
Mercer Consumer's Proliability specializes in providing professional liability insurance to both healthcare and business professionals. Mercer Consumer has been providing different insurance policies for healthcare professionals for more than 60 years. Its parent company, Marsh and McLennan, has been in the insurance industry for almost a century.
2. Get a Quote
After choosing a carrier for your malpractice insurance, it's time to get a quote. Premiums vary depending on the applicant's profile and desired coverage.
Usual range of coverage per claim is around $100,000 – $300,000 while total coverage an insurance company will pay per policy period is around $1 million – $3 million. A part of your annual fee/premium will depend on your desired amount of coverage and the type of insurance policy.
There are two types of insurance policy – claims-made and occurrence-type.
• Claims-made – Claims-made policies offer coverage for incidents reported while you are insured. Both the incident and the filing of claim should happen during the policy period. Once you drop a claims-made policy, any incident that will be filed thereafter will not be covered by the insurance unless you paid for "tail coverage". Tail coverage covers for any claims that could arise after dropping a claims-made policy as long as the incident happened during your policy period.
• Occurrence-type – Occurrence-type policies are lifetime coverage for any incident that happened during the policy period regardless when the claim is made. It means being covered for a claim filed even if you no longer have insurance with that carrier as long as the incident happened while you are still under the insurance.
Getting a quote is now easier thanks to technology. Most insurance carriers have automated quote provision for online inquiries. It is recommended to obtain quotes from different insurance carriers to find the best policy for your needs and expenses.
3. Apply
Once you have compared the policies and the quotes you obtained, it's time to apply for your desired insurance policy.
Most insurance carriers offer online application and it's the easiest way to file for coverage. They also offer online support for inquiries and clarifications. Once the application has been successful, expect approval of your coverage within a week from the time of application.

Also Read: How to Prevent Medication Errors: 12 Effective Tips for Nurses
Tips in Getting Malpractice Insurance
• Start as early as possible.
Experts recommend getting malpractice insurance while you are still a student. Nursing students can get discounts from insurance carriers and they can get special offers once they transition to professional practice after licensure.
Although successful lawsuits against students are rare, they can be named in group lawsuits. The $30-$50 annual premium for malpractice insurance of students is a small price to pay during these times.
• Don't rely on your employer's malpractice insurance.
Hospital and other healthcare institutions usually have extensive malpractice insurance that also covers their employees in times of lawsuits. Although this sounds assuring, this should not be a reason in postponing your own malpractice insurance.
Malpractice insurances for companies have small coverage for employees and they prioritize the welfare of the company more than their employees. Without having your own insurance, you might need to shoulder out-of-pocket expense not covered by your company's insurance during group lawsuits.
• Read the coverage of the offered malpractice insurance policy thoroughly before signing up.
Check for the extent of coverage being offered and all the fees you need to pay every year. Request for the explanation of a representative from the insurance carrier whenever you don't understand a part of the coverage.
Some nurses skip thoroughly checking the details of their malpractice insurance policy and once they file for a claim, they are surprised with how limited their coverage is.
Also Read: How to Prevent Nurse Burnout and Achieve Work-Life Balance
Malpractice insurance for nurses is one of the hottest topics in nursing forums. Lots of new nurses are contemplating if it's advisable to get one or not.
If you have doubts, explore nursing forums and seek for their recommendations. Learn from the stories of other nurses about how they chose and used their malpractice insurances at work. Take your time in choosing an insurance carrier to find the best one that fits your concerns about the extent of coverage you need.
Do YOU have a malpractice insurance? Which carrier did you choose? Share your experiences with us!