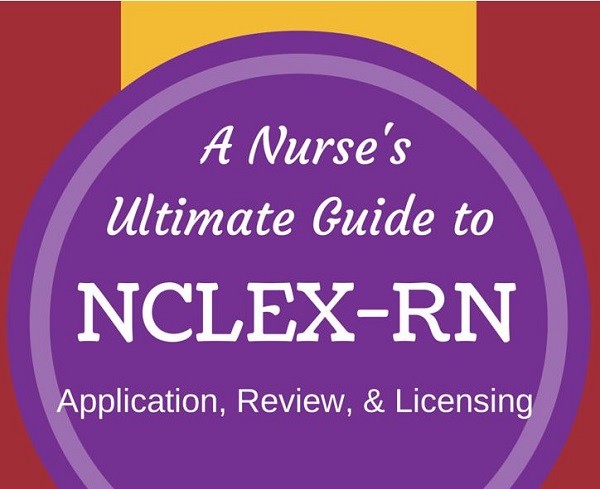 In US, the National Council Licensure Examination or NCLEX is the regulating examination for nurses who want to obtain a license to practice. Basic requirements for the examination include the completion of a BSN degree and a complete set of application forms which should be submitted to a designated National Council of State Boards of Nursing.
This guide will provide you with every basic information you need regarding NCLEX-RN application, review, and licensing.
I. Before the Exam.
A. Application.
After completing a BSN degree, nursing students usually set a target date for their NCLEX-RN examination. Once you have made up your mind about when you will take the exam, you should start applying for it.
Choose a state where you want to be licensed. Each US state has different licensure application requirements. Contact the National Council of State Board of Nursing to know the specific application requirements for each state in the US.
Get your Social Security Number. Some states will require your Social Security Number which is easier to get if you earned your Nursing degree in the US. If you're a foreign nurse, you may be allowed to sign a form proving that you don't have a Social Security Number yet. Other states may just require your visa or passport in lieu of the Social Security Number.
Secure your fingerprints. There are states that require compilation of fingerprints and you will need to file it with your state's Board of Nursing.
File your application to your state's Board of Nursing. After application, you will need to request for Authorization to Test (ATT) permit and an eligibility letter from the Board of Nursing in your state. You need these two documents to schedule the date of your NCLEX exam.
Register with Pearson Vue. After completing the process of application, you should register with Pearson Vue afterwards. By registering with Pearson Vue, you can already pay your exam fee.
Set the exam date. Once you already have the three documents (i.e. Acknowledgment of Receipt of Registration from Pearson Vue, an eligibility letter from your state's board of nursing and the Authorization to Test permit), you can already schedule your NCLEX exam date online or via phone.
B. Tips for Internationally Educated Nurses.
Are you from another country? If you want to take the NCLEX examination, here are the additional requirements for internationally educated nurses:
Credential Evaluation Report. You can obtain this document by paying a recognized company to evaluate your transcripts and certify that it matches the requirements of nursing schools in the US. Most states recognize CGFNS whose service costs $350. Other credentialing services are also available but make sure that your state's Board of Nursing would accept it.
English Proficiency Test. Most states require TOEFL or IELTS test. These examinations will measure your English proficiency in terms of writing, speaking, reading and listening. CGFNS also facilitates English proficiency exams.
Additional Resources:
NCLEX International Frequently Asked Questions
II. Preparing for the NCLEX Exam.
The NCLEX-RN exam has 265 questions. The test is made from a Computer Adaptive Test framework where the sequence of questions is based on your answers. Whenever your answer is correct, the next question will be more difficult. If your answer is wrong, the next question will be easier.
Also Read: How to Pass the NCLEX-RN on First Try – The Only 5 Tips You Need to Know
In most cases, the test's system shuts down before you can even answer the whole set of questions. It's either you have correctly answered enough number of questions or you have too many incorrect answers that the system didn't let you finish the test.
A. NCLEX Question Formats.
There are many question formats used in the NCLEX exam and mastering how to answer these types of questions will be helpful in passing the test. The following are some of the most commonly used question formats in NCLEX:
Select All That Apply.
This type of question is very tricky. The question has several correct answers from the choices and you need to select them all. If you lack one correct answer, you are automatically wrong.
Priority-based.
In priority-based questions, all the choices are correct but you need to select one that needs to be prioritized. This format is commonly used for scenario-type of questions.
Correct Arrangement.
Proper arrangement is the key in answering this type of question. It is commonly used for questions that ask for procedures.
Assessment.
This type of question is based on the fact that nurses should assess their patients first before doing interventions. A case is usually presented where you will be asked about the first action that you should do.
Health Teaching.
In this question format, you will be presented with a scenario where the patient is being prepared for discharge. Different patients are presented in each choice and you will need to choose one who needs additional teaching.
Fill-in-the-blank.
Commonly used for drug calculations, this question format will simply ask you to enter the answer—no choices available.
Audio format.
The test taker is provided with an audio clip which you have to listen carefully so you can select the correct answer. You will be provided with a headphone for this.
Hot Spot.
A picture is provided in this type of question and you will be asked to find one or more details that need attention in the picture.
Graphic Options.
Instead of text choices, you will be presented with a set of graphics as your choices for the correct answer. You will then choose one graphic that correctly portrays the answer for the question.
Chart or Exhibit.
A problem is presented along with a chart or exhibit. To answer the question, you will need to look for important information from the chart.
B. Tips in NCLEX Review.
Free NCLEX review resources. Since the question formats of NCLEX are quite tricky, answering a lot of sample tests will be very helpful. Analyzing the rationale of each correct answer is also recommended by NCLEX coaching experts.
Nursing mnemonics. Some people learn more effectively through visual aids. Mnemonics are great tools to help you retain essential information. There are lots of mnemonics made for nurses and you can find many resources online.
Focus on different "Client Needs" topics. The Client Needs topic is subdivided into different categories – Management of Care, Safety and Infection Control, Psychosocial Integrity, Basic Care and Comfort, Physiological Adaptation, Pharmacological and Parenteral Therapies, Reduction of Risk Potential and Health Promotion and Maintenance. Focus on these topics during review.
Recommended NCLEX Review Resources:
50 Mnemonics and Tricks for Nurses
50 Nursing Mnemonics and Acronyms
18 NCLEX-RN Tutorials on YouTube
17 NCLEX-RN Review Apps for Android
Top 10 Best NCLEX-RN Review Books 
A Nurse's Ultimate Guide to Accurate Drug Dosage Calculations
Laboratory Values and Interpretation – A Nurse's Ultimate Guide
III. Exam Day.
 What to do during the exam day:
Bring an acceptable ID. Domestic and international test centers accept passport books and cards. For domestic test centers, you can also present your driver's license, permanent residence card, military identification card or provincial/territorial or state identification card.
Dress comfortably. The test can last up to 5 hours and it is important to dress comfortably so you will not be distracted. However, testing centers will ask you to leave your coat, hat, scarf or gloves in their designated lockers. For religious or cultural clothes, provisions will apply.
Be punctual. It is recommended to arrive 30 minutes before the exam. Otherwise, your exam will be forfeited and you will have to register again.
Prepare for the biometrics. Before taking the exam, you will be asked to provide your signature and your photograph. A palm vein scan will be done as well.
You may not need to bring writing instruments and paper since the exam is computerized. However, the testing center will provide you with an erasable note board and marker for writing notes while answering questions. An on-screen calculator and headphone are also provided.
Plan your pace of answering questions beforehand. You will be given up to six hours to complete the exam. The tutorial and the optional breaks are included in this 6-hour period.
After finishing the exam, wait for the preceptor to dismiss you. You may be required to answer a computerized survey afterwards.
Additional Resources:
IV. After the Exam.
What to expect?
If your state's board of nursing participates in the Quick Results Service, you'll get an unofficial result within 48 business hours. You can avail of this service for $7.95.
The official result will be mailed to you within six weeks after the exam. Your state's board of nursing will be the one responsible for the official result of the exam.
If you didn't pass the exam, you will receive a NCLEX Candidate Performance Report. Through this report, you will see your performance in each test plan. The report is helpful as you will be guided on the areas that you need to study more.
About the Author: Je Abarra is a nurse by profession and a freelance writer by passion. She is working as a staff nurse in the pediatric ward of a private city hospital for more than two years. During her free time, she usually writes about her fascinations in health and nursing. She loves to provide tips and fun facts about nursing and healthy living.