Nurses go through a lot just to ensure their patients' comfort and safety while in their care. And if you are looking for ways to show your appreciation, giving them gifts this special season would be a good idea.
If you still don't know what to give your favorite nurse, here are some awesome nurse gift basket ideas you can totally consider:
Healthy Snacks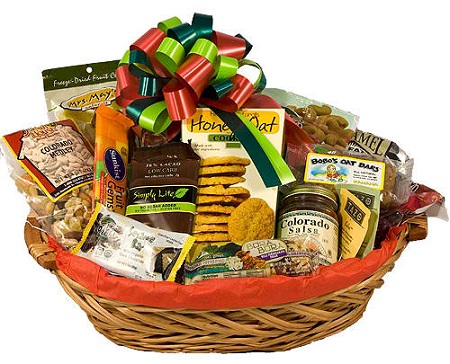 One way to a nurse's heart is through her healthy-snack-craving stomach. Include cookies and organic crisps in the basket and your nurse friend will surely love everything in it!
If you have extra time, you can also choose to bake a few healthy cookies. This can make your gift more personal and special. In case you don't feel like baking, you can just buy high-protein and high-energy snacks you can add to your basket. Nuts, string cheese, greek yogurt, and protein bars are excellent choices.
Foot Care Essentials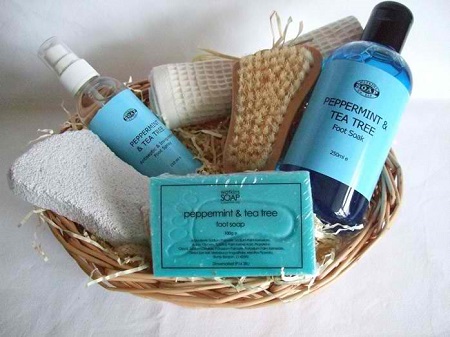 Because they are always energetic and are expected to run around in the unit most of the time, nurses need time to pamper their feet. However, since they don't always have the time to go to the spa, treating their feet with some love and care may not always be possible.
So, why not make sure they get to pamper their feet at home? A few bottles of foot soak and soap will definitely make them very happy. You can add some salts and scrubs and foot blush, too!
Candies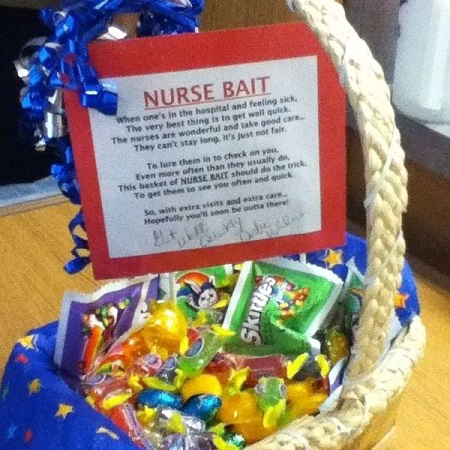 Everyone has a sweet tooth and most nurses eat sweets whenever they get the chance to. A basket of goodies will make them feel absolutely special and will keep them going for quite a long time! When getting candies, make sure to add a variety of them. That can surely make any nurse feel excited.
Survival Kit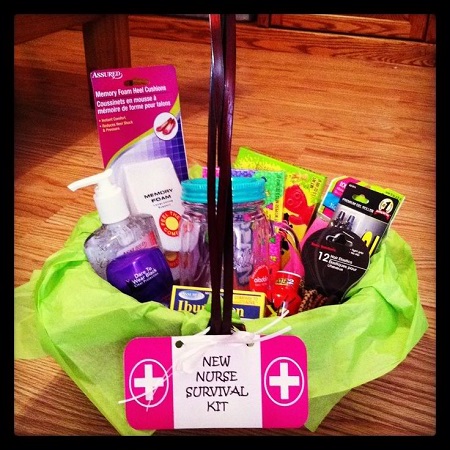 Every nurse needs a survival kit. If this is your idea of a gift basket, make sure to include antibacterial hand sanitizers, a couple of hair ties, and even heel cushions. You can also include a few pairs of socks and a lot of lovely bobby pins!
Exercise Essentials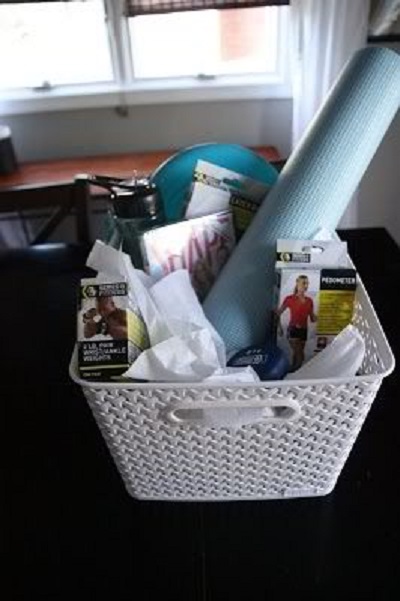 Help your nurse friend achieve a healthier body by giving her a basket filled with exercise essentials, like a yoga mat and a pair of exercise gloves. You can also include DVDs and magazines to help inspire her to finally start working out if she hasn't started yet. Don't forget to add a water bottle. It can keep her hydrated whether she's in the gym or hospital.
New Nurse Goodies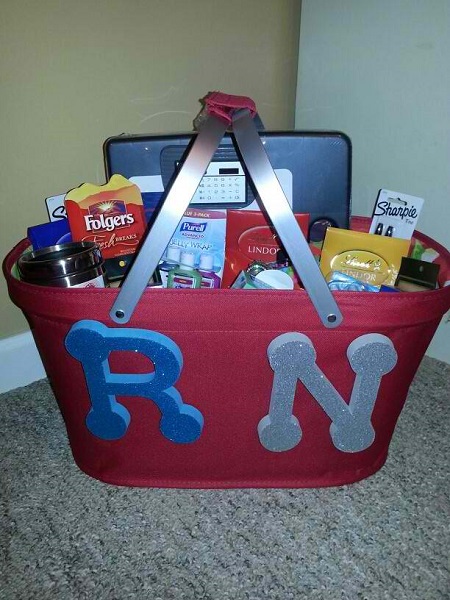 If the person you're giving the basket to is a new nurse, then this idea would be perfect. Fill the basket with notebooks, a planner, a lanyard, some key chains, and even a few colorful pens.
In photo: A gift basket made by Alyssa Johnson consisting of chocolate, coffee mug with coffee, clipboard, markers, pens, highlighters, crystal light to go drink mixes, earplugs, duct tape, aches and pain soaps and soaks, foot buffer, wrist watch, muscle rub, excedrin migraine, mini toothbrushes to go, mini hand sanitizers, etc! Add a bow or ribbon for further decorating! 😉
Coffee Treats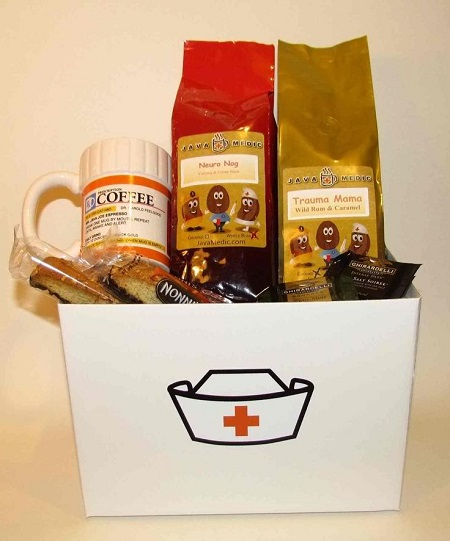 Nurses are practically obsessed with coffee and a basket full of coffee goodies will surely brighten up their day.  Include a few flavors of their favorite coffee beans and some coffee-flavored dessert. Yum!
Soaps
Nurses enjoy soaps. Not only will they be thrilled to see how clean their hands would be after handwashing, but also enjoy all kinds of soap smell! You can find different variants of soaps in different colors that will freshen up your gift basket.
Potted Flowers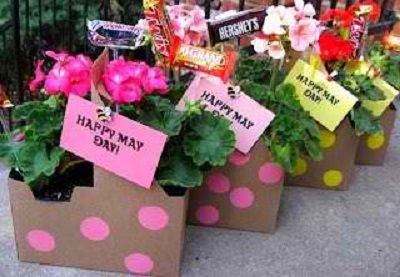 Flowers will make anyone's day very special. For nurses, pots of colorful flowers can ease a day's stress and fatigue. Be sure to pick colorful flowers and arrange them in really cute pots.
Don't have time to prepare a gift basket? No problem!
Here are some ready-made nurse gift baskets on Amazon you might want to consider:
Deluxe Vegan Protein Snacks Box
This is an excellent pick for vegan nurses since it has a wide variety of snacks. Inside, there are chips, bars, and squeezes! It even has sweets!
Now, instead of a basket, these vegan snacks are packed in a sturdy box. There's no need to wrap it because the box looks nice already.
What's inside it?
Munk Pack Oatmeal Fruit Squeeze
Mamma Chia Squeeze Vitality Snack
Ka-Pop Popped Chips
Beanfields Bean and Rice Chips
Nutrawbar Raw Vegan Fruit and Nut Bar
The GFB Gluten Free, High Protein Vegan Bars
Natures Bakery Whole Wheat Fig Bars
Gomacro Mini- Vegan Protein Bars
Lenny & Larry's the complete cookie
Munk Pack Protein Vegan Cookies
RBAR Energy Protein Bars Gluten-Free & Vegan, Variety Flavor
Primal Strips Meatless Vegan Jerky
Wonderful Pistachios, Roasted and Salted
Nature's Bandits Organic Fruit & Veggie Stix
Justin's Peanut Butter, Classic Squeeze Packs
Health Warrior Chia Bars
Wisconsin Cheese Company Deluxe Cheese and Crackers Gift Basket
This is an excellent gift basket for the holiday season and other celebrations because the items are ready to serve. Nurses don't have a lot of free time to prepare snacks so it only makes sense to give them gifts like this. Plus, the cheeses and crackers taste great, too!
What's inside it?
Cheddar Cheese
Pepper Jack Cheese
Dipping Pretzels
Savory Crackers
Water Crackers
Sweet & Tangy Mustard
Mustard for Cheese
Wine Country Gift Baskets Gift Baskets Prime Basket The Connoisseur Gourmet Gift
You really can't go wrong with this basket. It has a nice collection of gourmet snacks. It's good enough to serve a group of 5 to 8 people. The items are packed individually so they're good and ready to be sampled.
What's inside it? 
Sundried tomato and cheese baguettes
Lindt milk chocolate truffles
Godiva dark chocolate ganache bar
Cracked peppercorn crackers
Garlic herb dip mix
A trio of olive oils
Vanilla fudge with sea salt
Bacon habanero snacks
Olive pesto tapenade
Italian sesame cranberry cookies
Olives
Tiramisu milk chocolate truffles
Starbucks Coffee and Teavana Tea Gift Basket by Wine Country Gift Baskets
This is the best gift you can give to someone who loves coffee. Well, not just coffee. You see, the basket is also loaded with a variety of teas. And the best part? It comes with a 20-ounce stainless steel tumbler!
What's inside it?
Starbucks Ground Coffee Veranda Blend
Starbucks Hot Chocolate
Starbucks Hot Chocolate Double Chocolate
Starbucks Hot Chocolate Marshmallow
French Butter Cookies with Sea Salt
J&M Chocolate Chip Pecan Cookies
Melville Candy Mini Marshmallow & Milk Chocolate
Starbucks Fresh Brew Pike Place Medium Roast
Starbucks VIA Latte Caffe Mocha
Starbucks VIA Vanilla Latte
Teavana Chamomile Blush Herbal Tea
Teavana English Breakfast Black Tea
Teavana Radiant Green Tea
Starbucks Black Double Wall Cup w/lid
Home Spa Gift Baskets For Women – Bath and Body Gift Basket For Women and Men
Nurses don't always have the time to go out and treat themselves to a spa treatment. Getting them this basket will surely feel like a treat. It has everything they need to pamper themselves and feel refreshed and energized. The products have this relaxing floral scent that's not too overpowering. The basket looks gorgeous, too!
What's inside it?
Shower Gel
Bubble Bath
Body Lotion
Bath Salt
2pcs Bath Puff
Loofah Back Scrubber
Reusable Purple Basket
The Bon Appetit Gourmet Food Gift Basket by Wine Country Gift Baskets
This basket is filled with awesome gourmet food items and snacks that are usually enjoyed in Italy. Giving this to your favorite nurse can feel like treating her with a quick trip to the country. It's hard not to feel excited about the variety it offers.
What's inside it?
Godiva and Lindt milk chocolate truffles
Ghirardelli milk chocolate with caramel
Cracked peppercorn crackers
Smoked Gouda cheese spread
Olives
Dark chocolate cherry strudels
Vanilla fudge with sea salt
Chocolate wafer cookies
Golden State Fruit Orchard Delight and Gourmet Gift Basket
Nurses need to strengthen their bodies and immune system and that's why you should get them these fruit baskets. They are available in two varieties and you can choose depending on the occasion. For the holidays, the Classic Fresh Fruit Basket is highly recommended!
What's inside it?
Golden State Fruit Orchard Delight Fruit and Gourmet Basket Gift
A variety of sweet and juicy fruits
Roasted almonds
Savory-sweet honey roasted cashews
Milk and dark chocolate covered caramels with sea salt or Bequet Sea Salt Caramels).
A sweet assortment of premium dried fruit
Classic Fresh Fruit Basket Gift
Pears
Farmstead fresh cheese
Salted almonds
Olive oil
Sea salt crackers