When you buy something using the links on our posts, we may earn a small commission at no additional cost to you. Learn more.
Nurses are truly a blessing for patients and their families. I remember most of the nurses who attended to my late grandmother when she spent weeks in the hospital after a bad fall. The nurses were superstars and we received amazing care even if it was just a medium-sized hospital. They were sometimes short-staffed too so we were always so appreciative of their consistent care to my sometimes cantankerous grandmother.
While sincere thank you's are always appreciated and cherished, a gift basket is a nice thing for a nurse to take home. It's always fun to get a surprise present and wonder what's inside. If you've had the chance to chat with or observe your nice, you should have an idea of what type of gift basket to get. You can choose from delicious treats, personal care products, or even a coffee basket. There are so many options so check these out.
Healthy Snacks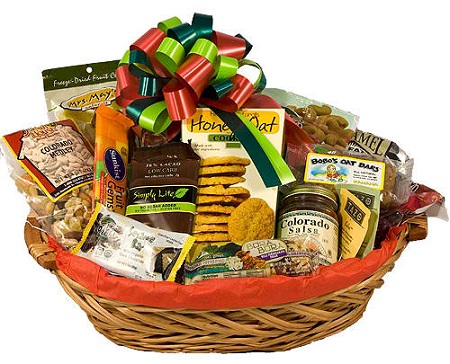 One way to a nurse's heart is through her healthy-snack-craving stomach. Include cookies and organic crisps in the basket and your nurse friend will surely love everything in it!
If you have extra time, you can also choose to bake a few healthy cookies. This can make your gift more personal and special. In case you don't feel like baking, you can just buy high-protein and high-energy snacks you can add to your basket. Nuts, string cheese, greek yogurt, and protein bars are excellent choices.
Foot Care Essentials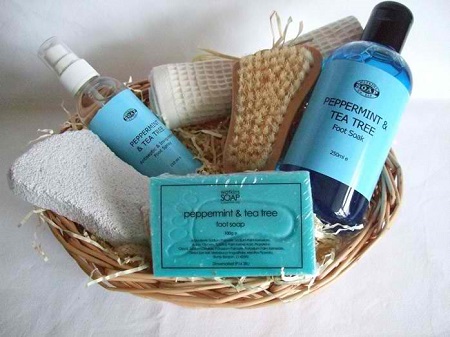 Because they are always energetic and are expected to run around in the unit most of the time, nurses need time to pamper their feet. However, since they don't always have the time to go to the spa, treating their feet with some love and care may not always be possible.
So, why not make sure they get to pamper their feet at home? A few bottles of foot soak and soap will definitely make them very happy. You can add some salts and scrubs and foot blush, too!
Candies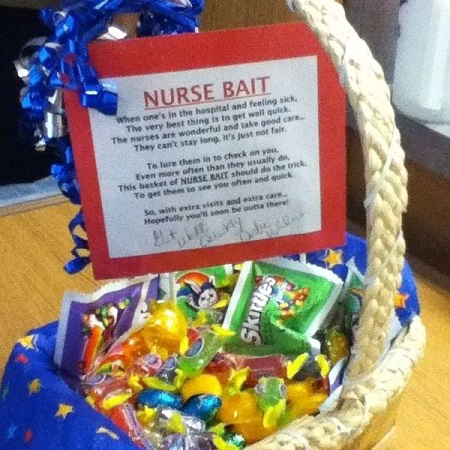 Everyone has a sweet tooth and most nurses eat sweets whenever they get the chance to. A basket of goodies will make them feel absolutely special and will keep them going for quite a long time! When getting candies, make sure to add a variety of them. That can surely make any nurse feel excited.
Survival Kit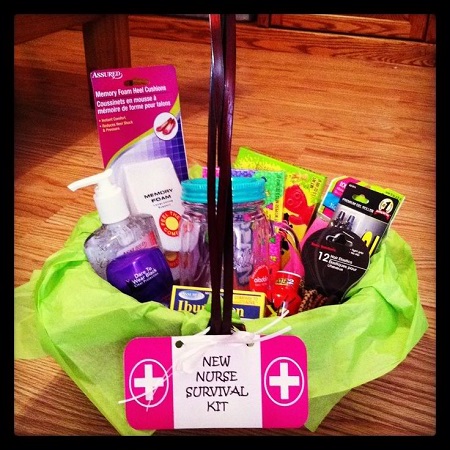 Every nurse needs a survival kit. If this is your idea of a gift basket, make sure to include antibacterial hand sanitizers, a couple of hair ties, and even heel cushions. You can also include a few pairs of socks and a lot of lovely bobby pins!
Exercise Essentials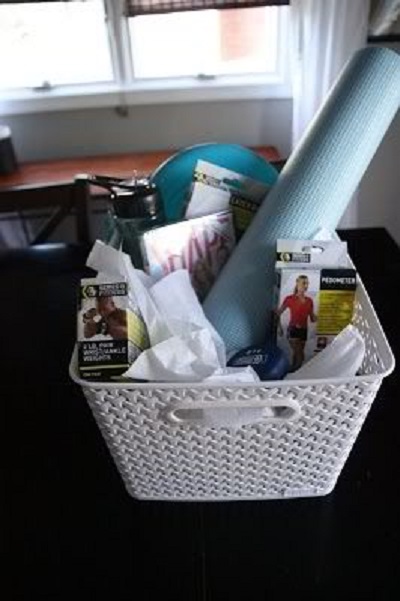 Help your nurse friend achieve a healthier body by giving her a basket filled with exercise essentials, like a yoga mat and a pair of exercise gloves. You can also include DVDs and magazines to help inspire her to finally start working out if she hasn't started yet. Don't forget to add a water bottle. It can keep her hydrated whether she's in the gym or hospital.
New Nurse Goodies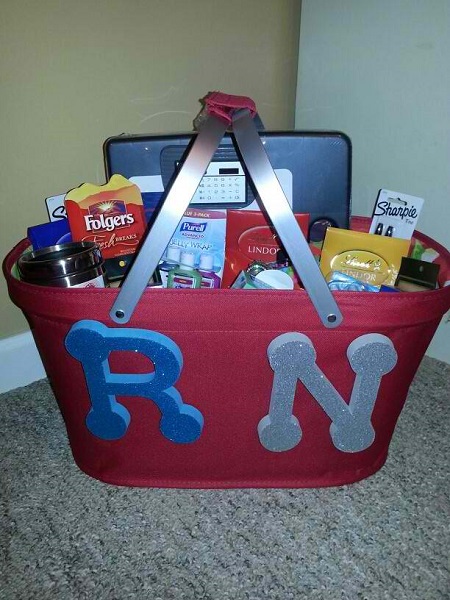 If the person you're giving the basket to is a new nurse, then this idea would be perfect. Fill the basket with notebooks, a planner, a lanyard, some key chains, and even a few colorful pens.
In photo: A gift basket made by Alyssa Johnson consisting of chocolate, coffee mug with coffee, clipboard, markers, pens, highlighters, crystal light to go drink mixes, earplugs, duct tape, aches and pain soaps and soaks, foot buffer, wrist watch, muscle rub, excedrin migraine, mini toothbrushes to go, mini hand sanitizers, etc! Add a bow or ribbon for further decorating! 😉
Coffee Treats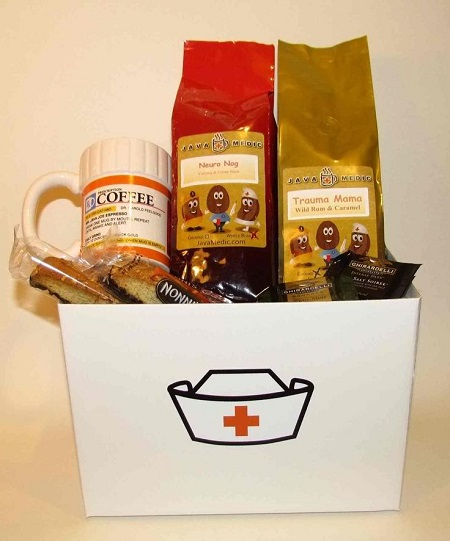 Nurses are practically obsessed with coffee and a basket full of coffee goodies will surely brighten up their day.  Include a few flavors of their favorite coffee beans and some coffee-flavored dessert. Yum!
Soaps
Nurses enjoy soaps. Not only will they be thrilled to see how clean their hands would be after handwashing, but also enjoy all kinds of soap smell! You can find different variants of soaps in different colors that will freshen up your gift basket.
Potted Flowers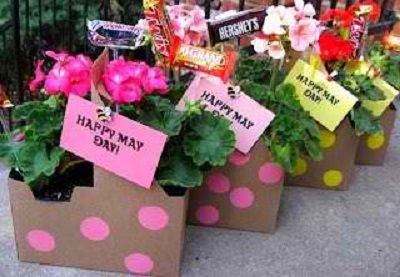 Flowers will make anyone's day very special. For nurses, pots of colorful flowers can ease a day's stress and fatigue. Be sure to pick colorful flowers and arrange them in really cute pots.
Don't have time to prepare a gift basket? No problem!
Here are Some Ready-Made Nurse Gift Baskets on Amazon You Might Want to Consider:

The Care Crate Ultimate Candy Snack Box Care Package can surely lighten anyone's mood. It comes with an assortment of snacks that are loaded with sugary goodness. Of course, we don't recommend consuming everything in this box in one go. It's just good for random sweet tooth snacking throughout the day.
The snacks are from trusted and well-known brands. There's M&Ms, Skittles, and even Sour Patch Kids. How can anyone say 'no' to this?
What's inside it?
Sour Patch Watermelon (Full Size)
Sour Patch Kids (Full Size)
Airheads Extreme (Full Size)
Swedish Fish (Full Size)
Skittles (Full Size)
Starburst (Full Size)
Black Forest Organic Gummy Bear (Full Size)
LifeSavers (Full Size)
M&M Peanut (Full Size)
M&M Peanut Butter (Full Size)
M&M Milk Chocolate (Full Size)
Laffy Taffy
Twizzler Singles
Nestle Mix-Ups
Sour Punch Twists
Airhead Singles (Full Size)
Blow Pops

Consider this basket a healthy treat for nurses. PALEO Diet Snacks Gift Basket has jerky meat sticks, grain-free granola, and protein bars. Each snack is free from artificial flavors, colors, and preservatives.
The snacks come in a customized gift box. There's also the option to send it with a customized card. For sure, your loved ones will feel extra special after receiving this snacks box.
What's inside it?
Pocket Nuts
Natures Bandits Blueberry
Mamma Chia Wild Raspberry
Pork Sticks Cracked Pepper
The New Primal Lightly Peppered
Pistachios
Organic Carrot Fires
Gorilly Goods Hillside
Eden Pumpkin Seeds
Solely Mango
Jana Banana Original
IQBar Lemon Blueberry
Asparagus Rosemary Oregano
Paleo Puffs
Bubas Grand Garlic Parm

This is a highly recommended gift for birthdays or housewarming parties. All the items inside it are made in the USA and are non-GMO.
The Stonewall Kitchen Antipasto Gift Basket comes with just 5 items but they surely don't disappoint. Even the basket looks adorable.
What's inside it?
Tomato Herb Bruschetta Spread
Roasted Garlic Bread Spread
Roasted Garlic Oil
Italian Dipping Oil
Rosemary Parmesan Quick Bread Mix

The Care Crate Man Box Ultimate Men's Snack Box Care Package contains an assortment of food and snacks that can instantly brighten one's day. It's a nice present to send to nurses dealing with lots of stress these days.
Inside the box, you'll find snacks from trusted brands like Quaker, Planters, and Pringles. There are also healthy options like peanuts, almonds, and granola bars so you won't feel super guilty for sending it over to a loved one. You can even find chips and popcorn inside!
What's inside it?
Gardetto's
Think Jerky Beef Stick
Jack's Links
Blue Diamond Almonds
Wonderful Pistachios
Slim Jim's Beef Steak Sticks
Quaker Chewy Bars
Nature Valley Fruit & Nut Bars
Nature Valley Sweet & Salty Bars
Nature Valley Crunch Bars
Skittles & Starburst Mini's
Pirate Booty
Rice Krispies Treats
Planters Peanuts
Planters Cashews
TGI Friday's Potato Skin Chips
Pringles
Corn Nutz
Twizzlers (Singles)

The Deluxe Vegan Protein Snacks Box is an excellent pick for vegan nurses since it has a wide variety of snacks. Inside, there are chips, bars, and squeezes! It even has sweets!
Now, instead of a basket, these vegan snacks are packed in a sturdy box. There's no need to wrap it because the box looks nice already.
Munk Pack Oatmeal Fruit Squeeze
Mamma Chia Squeeze Vitality Snack
Ka-Pop Popped Chips
Beanfields Bean and Rice Chips
Nutrawbar Raw Vegan Fruit and Nut Bar
The GFB Gluten Free, High Protein Vegan Bars
Natures Bakery Whole Wheat Fig Bars
Gomacro Mini- Vegan Protein Bars
Lenny & Larry's the complete cookie
Munk Pack Protein Vegan Cookies
RBAR Energy Protein Bars Gluten-Free & Vegan, Variety Flavor
Primal Strips Meatless Vegan Jerky
Wonderful Pistachios, Roasted and Salted
Nature's Bandits Organic Fruit & Veggie Stix
Justin's Peanut Butter, Classic Squeeze Packs
Health Warrior Chia Bars

If you love serving cheese at your parties, you'll fall in love with SMIRLY Cheese Board and Knife Set. It has everything you need in creating the perfect platter for parties. And see its design? The neutral color and rich tone of its bamboo board are just perfect. The set also comes with a guide filled with suggestions and ideas on how to use it.
What's inside it?
Charcuterie Board Set
Cheese Platter Board
Bamboo Cheese Board with Cutlery Set
Cheese Tray
Wooden Cheese Board Set
Cheese Cutting Board Set
Cheese Plate Set

You really can't go wrong with Wine Country Gift Baskets Gift Baskets Prime Basket The Connoisseur Gourmet Gift. It has a nice collection of gourmet snacks. It's good enough to serve a group of 5 to 8 people. The items are packed individually so they're good and ready to be sampled.
Sundried tomato and cheese baguettes
Lindt milk chocolate truffles
Godiva dark chocolate ganache bar
Cracked peppercorn crackers
Garlic herb dip mix
A trio of olive oils
Vanilla fudge with sea salt
Bacon habanero snacks
Olive pesto tapenade
Italian sesame cranberry cookies
Olives
Tiramisu milk chocolate truffles

The GreatFoods Coffee Gift Basket is such a nice gift for coffee lovers and those who love sweet treats. Each piece you'll find in it is individually wrapped, ensuring safety and freshness.
Packed with sustainable and reliable items, this gift is worth its price. Add a sweet message and make your loved one's day so much better.
What's inside it?
Dolcetto Cubetti Hazelnut
White "Morning Brew" Stoneware Mugs
Harry and David Cinnamon French pastry
Ghiradelli Squares Dark & Raspberry Chocolates
Little Whisk Caramel S'more Cookies
Peerless French Roast Ground Coffee
Walkers Chunky Oat & Raspberry Biscuit

Nurses don't always have the time to go out and treat themselves to a spa treatment. Getting them this basket will surely feel like a treat. Home Spa Gift Baskets For Women – Bath and Body Gift Basket For Women and Men has everything they need to pamper themselves and feel refreshed and energized. The products have this relaxing floral scent that's not too overpowering. The basket looks gorgeous, too!
What's inside it?
Shower Gel
Bubble Bath
Body Lotion
Bath Salt
2pcs Bath Puff
Loofah Back Scrubber
Reusable Purple Basket

The Beef Jerky Gift Box lets you experience a range of flavors- from spicy to savory. It comes with 12 beef jerky snack packs that are individually wrapped. You can consider them an awesome energy snack you can take with you when you go to work or take outdoor trips.
The jerky sticks are made with 100% premium USA beef. The box, on the other hand, is carefully packed with care. The item ships fast, making it ideal to send as gifts!
What's inside it?
Field Trip Crispy Cuts Pork Rind
Field Trip All Natural 100% Grass Fed Beef Jerky
Choms Grass Fed Beef Sticks & Finished Jerky Sticks
Mission Meats Grass Fed Pork Stick
Ostrim Beef & Ostrich Jerky Stick
Field Trip Seasoned Pepperoni Beef & Pork Stick
Epic Jerky Grass Fed Venison Steak Snack Strips
Field Trip Crispy Cuts Pork Rinds 2.5 oz Island BBQ
Ostrim Chicken Buffalo Wing Snack Stick
Think Jerky Grass Fed Sweet Chipotle Jerky
Mission Meats Grass Fed Beef Bar
Field Trip Seasoned Pepperoni Beef & Pork Stick

Nurses need to strengthen their bodies and immune system and that's why you should get them these fruit baskets. Golden State Fruit Orchard Delight and Gourmet Gift Basket are available in two varieties and you can choose depending on the occasion. For the holidays, the Classic Fresh Fruit Basket is highly recommended!
What's inside it?
Golden State Fruit Orchard Delight Fruit and Gourmet Basket Gift
A variety of sweet and juicy fruits
Roasted almonds
Savory-sweet honey roasted cashews
Milk and dark chocolate covered caramels with sea salt or Bequet Sea Salt Caramels).
A sweet assortment of premium dried fruit
Classic Fresh Fruit Basket Gift
Pears
Farmstead fresh cheese
Salted almonds
Olive oil
Sea salt crackers