As a nurse, it's important to keep a well-groomed appearance. Apart from making you look extra pleasant to your patients, it'll also boost your confidence, even if you are working on a really busy shift.
If you are new to using makeup products, however, the idea of putting them on your face can be intimidating. There's the fear of applying way too much or putting them the wrong way.
As a guide, below are 10 tips you should keep in mind when applying makeup for nurses:
1. Apply Make-Up in Moderation

Before anything else, always remember that make-up should be applied in moderation. You would not want to look like you are going to a party as your shift begins.
A hint of color should be enough to make you look lively. It should look natural as it will be inappropriate to wear heavy make-up at work. Choose brands that can give you a natural look.
2. Use A Make-Up Brush When Applying Foundation

Using a make-up brush when applying foundation makes this task easier and faster to complete.  It also helps the foundation blend with your skin tone more evenly.  The bristles of a make-up brush buffer the foundation against your skin making it last longer.
When applying foundation using a make-up brush, use upward strokes to reduce the likelihood of developing sagging fine lines over time. Focus on areas that need more cover-up especially if you have an uneven skin tone.
Watch this video to find out how to apply foundation using a flat top foundation brush:
3. Use Neutral Tone Eye Shadow
Eye shadow should be barely noticeable and yet it should keep your eyes aglow. Use earth tone or neutral tone palettes as much as possible.
If you have dark eyelids, apply vanilla, nude or pale beige colors. On the other hand, if you have fair or light eyelids, use deep beige or pale brown hues.
4. Make Your Eyes Stand-Out with Eyeliner and Mascara
Apply a light dash of eyeliner and waterproof mascara to make your eyes stand out.
If you lack sleep, make your eyes look rounder by applying eyeliner at the outline base of your lashes. Use dark brown shades to make the effect softer and more appropriate for work.
For mascaras on the other hand, opt for a waterproof mascara. Make sure to apply it lightly as waterproof mascaras can make your make-up appear heavy.
5. Don't Forego Your Blush-On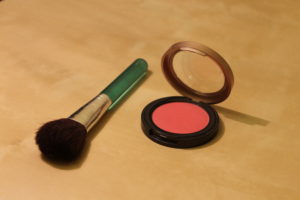 Some nurses skip applying their blush-on as it tends to fade easily. However, a blush-on is an essential make-up trick in keeping yourself look glowing and alert.
In choosing the right shade of blush-on for your skin tone, opt for a neutral rose palette if you have a fair complexion. On the other hand, if you have a dark complexion, brown-berry shades are best for you.
Take time in reapplying your blush once in the middle of your shift to keep the glow in your cheeks.
Here's how to apply blush based on your face shape:
6. Disguise Your Eye Bags
It is not uncommon for nurses to have eye bags and dark circles around the eye area.  To conceal them, most people just swipe a stick of concealer underneath the eye.
However, there is another trick that will make your eye bags less noticeable – just highlight the crease and apply a darker shade of foundation over the puffy area of your eye bags. It is a more effective way of disguising your eye bags rather that covering them up thickly with a concealer.
7. Keep Your Eyeliner From Melting With A Sweep of Loose Powder
Most nurses pass up on the eyeliner as it can easily melt from activity or sweating.  It's not a pretty sight when your eyeliner starts running down your cheeks.
You can prevent this by applying a sweep of loose powder under the eye liner of your bottom eyelid. It will act as a barrier so your eye liner will not smudge or melt down.
Remember to use a small brush in doing this trick.  You can also use pressed powder alternatively if you don't have loose powder on hand.
8. Make Your Lipstick Last Longer With Powder
Most nurses simply use tinted lip balm at work which needs to be reapplied frequently.  If you want to use lipstick, choose matte so you don't need to reapply as much.
If your favorite lipstick color is not available in matte variants, you can follow this simple trick.  Just hold a tissue over your lips once the lipstick has been applied and dust some powder over the tissue. This quick and easy trick will create the same long-lasting effect of matte lipsticks.
9. Create An Eye Lift with a Highlighter
You can instantly create an illusion of having an eye lift with the simple application of a highlighter. This is great in making yourself look less tired or stressed.
Using a highlighter, draw an arch above your eyebrow and blend it with your make-up using your fingers.  With this make-up trick, you can make yourself look fresher even if you actually lack sleep.
Watch more tricks on how to get a quick eyelift from this neat video:
10. If Eye Shadows and Eyeliners Are Not For You, Try Tightlining
Tightlining is a way of applying your eyeliner between your eyelashes.  There are several techniques, and you can watch an excellent demonstration below.
By using the tightlining technique, your eyes are given color and definition without appearing heavy with makeup. The base of your eyelashes will also appear thicker with this trick.
It is best to use dark shades of brown for tightlining to achieve a natural and fresh look.
And because nurses have so little time, here is a video on how you can put on make up in just 5 minutes.  The best thing about this demo?  It's tailored especially for nurses.  Check it out!
Wearing make-up at work is not always mandatory for nurses. However, looking your best with well-applied makeup or a beautiful hairstyle will give you an added dose of confidence for the day.
As we've shown, there are many makeup tricks that you can apply for your lifestyle.  Don't be afraid to try out new tricks to create different make-up looks every day.  You can also look up online video tutorials by makeup experts and bloggers for actual demonstrations.