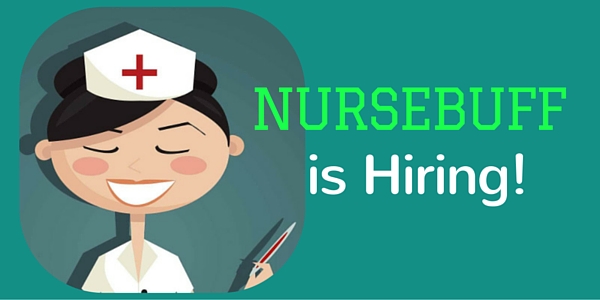 We are looking for the following to join our team:
One (1) FREELANCE WRITER WITH NURSING EXPERIENCE
We're looking for a practicing nurse with good research and writing abilities.
Our nurse writer will:
Submit one article a week
Suggest new topics and trends for article ideas
Strict adherence to deadlines is a must and basic understanding of SEO is a plus. Payment is on a per article basis.
We would love to work with somebody who is a mirror of our current team  — self-motivated, creative, and cheerful.
VOLUNTEER CONTRIBUTORS
In addition, we are welcoming our dear NurseBuff readers to submit their own original works or articles. We can publish your articles with your byline on our website. (Bragging rights!)
So, if you are a nurse who likes to write about your profession, experiences, advice to fellow nurses, and so on, so long as your work meets minimum quality standards, we would love to feature your work on our website with your byline!
It's our wish to create a community and interact more with our readers so we are encouraging everybody — both new and veteran nurses alike — to share your stuff with us.
FOR INTERESTED PARTIES:
Kindly mail us at [email protected].
For nurse writer applicants, please mail in the following:
comprehensive resume
links to published works
sample works in the absence of #2
For contributors, feel free to tell us a bit about you and attach the work you wish to submit.
We will mail you back within 24-48 hours with updates.
For inquiries, you can post in the comments section below or on our FB page where we will also make this posting.
Thank you very much and looking forward to hear from you!
The NurseBuff Staff