Happy Nurses Week, readers!
It's our special week and you probably want to give a shoutout to your colleagues and fellow nurses. Here are some greeting cards and tailored messages we've made especially for you.
Share these on your friends' Facebook and social media channels!

They're big on compassion
Nurses are heroes. Compassion is their superpower. Happy Nurses Week!
Despite their seemingly never-ending shifts, constant fatigue, lack of free time and even appreciation, you can always count on nurses to give patients a reassuring smile. They may be experiencing daily struggles they need to sort out on their own, but they always make themselves available for those who need them. And it's not only because it's their job, it's because their hearts are big.

They're fearless
Thank you to all the nurses out there who put themselves in harm's way to help others. We appreciate your sacrifice.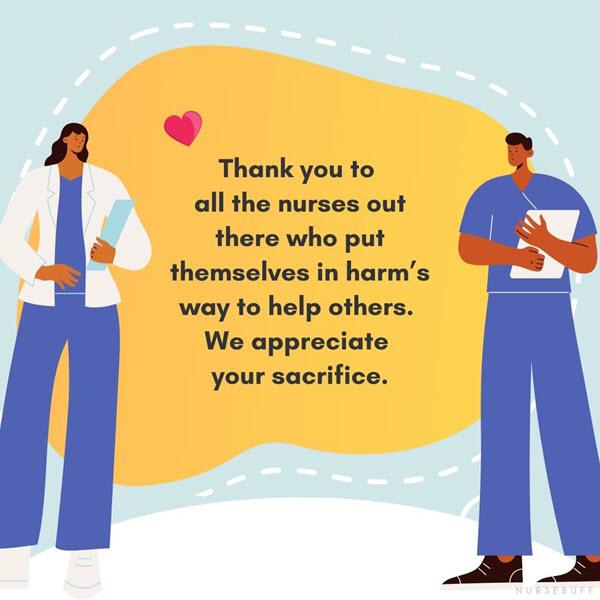 It takes courage to help others and save lives. Since that's what nurses do each day, it only means they exude fearlessness most days of the week. Imagine the astounding amount of bravery they offer to the world by just enacting their passion and purpose?

They're simply amazing
Happy Nurses Week to all our amazing nurses! The work you do is not only amazingly important, but also just plain amazing.
The way nurses get through the hustle and bustle of hospitals on a daily basis, channeling their inner badass and coming out stronger on the other side, are telltale signs that they're simply amazing.

They always give it their best shot
No matter how hard things get, nurses always give it their best shot. Thank you for all you do!
It is impressive how nurses show us what it means to be truly dedicated. They don't quit, not when they know they still have something to give, the chance to become better, and to learn more. Whatever happens and regardless of the results, nurses always give it their best shot.

They're incomparable
What would we do without nurses? Probably die. Happy Nurses Week to everyone on the frontlines of healthcare.
Nurses are the only ones who can do what nurses do. Without them, we're doomed, and then some. So thank you to all the nurses out there for being the unique characters and gentle souls that you are.

They make scrubs an awesome ensemble
Happy Nurses Week to all the superstars in scrubs out there! Nurses rule!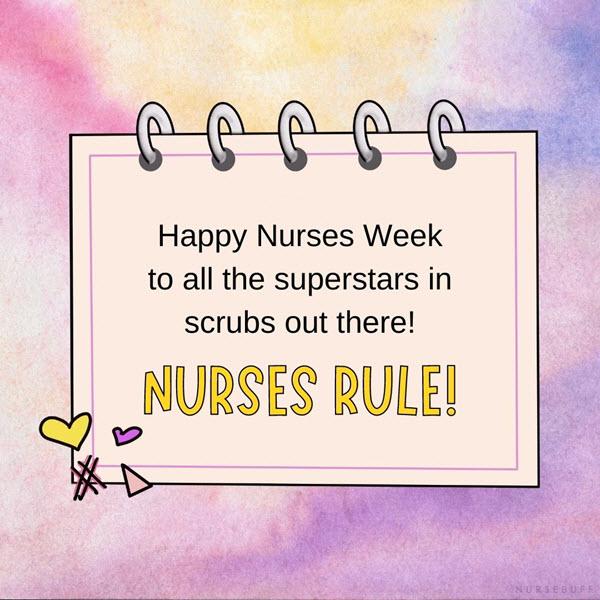 How a simple uniform becomes a symbol of hard work, courage, and resilience can only be attributed to those who wear it. You see nurses wearing scrubs, you see nurses in action, and then it makes you wonder: "How many lives are going to get better today because someone in scrubs gave them abundant care and heaps of kindness?"

Happy Nurses Week!

Every week is Nurse week.

Happy Nurses Week! You are appreciated.
See Also: 7 Good Reasons Why Nurses Should Be Thanked This Nurses Week

Don't assume it's a coincidence that Nurse's Week starts on Cinco de Mayo. Celebrate all of the dedicated nurses out there!

Roses are red.
Nurses are jaded.
Mess with us,
And you'll get sedated.
Happy Nurses Week!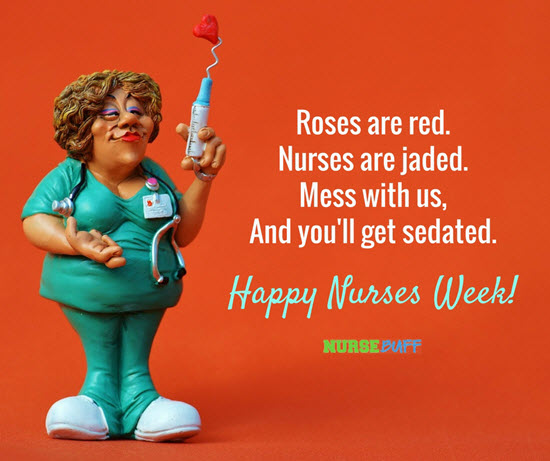 May all the care and kindness you have given to others
Come back to you a hundredfold.
Happy Nurses Week.

Nurses: (n) – angels in scrubs.
Happy Nurses Week.

KEEP CALM AND HAVE A HAPPY NURSES WEEK.

Hey Girl, Happy Nurses Week.

May all the care and kindness you give to others come back to warm your heart.
Happy Nurses Day!

I'm sending you these flowers to say… Thanks for being so warm, loving and gentle!
Happy Nurses Day!

A heartfelt thanks for all you do! Happy Nurses Day!