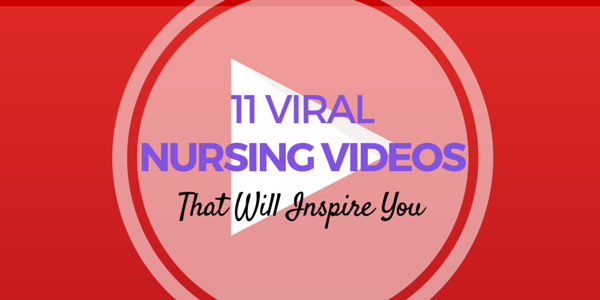 Watching inspirational nursing videos is one way to unwind after a long day at work. Sometimes, the constant stress and pressure of being a nurse can tear your spirit down. You will feel the need for a reminder that nursing is a priceless and incomparable profession so you could refresh your passion and motivation at work.
Fortunately, there are plenty of inspirational videos online that will help lift up your nursing pride. Here are 11 popular videos that can help inspire you. (They get more viral as you get to the bottom!)
1. What I've LeaRNed
What does it mean to be a nurse?
This is the main question tackled in this video. You will surely be able to relate with the scenarios presented as these moments are what nurses commonly face every day.
Feel proud as nurses have to go the extra mile to ensure the care and wellness of their patients. Indeed, the presentation shows that nursing is a never-ending learning career. There is always something new to learn and to improve every day at work.
2. I Am a Nurse
You will appreciate your worth as a nurse with this infographic video. It is full of facts about the current trends in nursing. The points presented in the video will make you feel proud that you chose to be a nurse. It's encouraging to watch whenever you feel unappreciated in your nursing work.
Also Read: 100 Must-Watch YouTube Tutorials for Nurses
3. This Is Nursing
It takes a remarkable person to be a nurse.
This video takes a closer look at the lives of different nurses while at work. The way they see their patients and the way they provide nursing care to them is full of compassion. This video is helpful in appreciating your own profession as you see it reflected in other people.
4. Men in Nursing
Who says nursing is just for women?
In this video, different male nurses explain what it's like to be a male nurse in a female-dominated profession. Their reflections about the nursing profession are full of encouragement especially for those who areplanning to pursue this career. This video shows that opportunities are endless with nursing.
5. I Am a Nurse – National Nurses Week
This is a touching video about the different roles nurses face every day for the care of their patients. This presentation was made in celebration of National Nurse's week last May 6th – 12th.
Through the roles of nurses presented in the video, you will realize how passionate a nurse's work is. We are present in every critical moment of different patients' lives from birth up to death.
6. Images of Nursing – I'm Just a Nurse
This is a short documentary that explores the stereotypes of nurses and the nursing profession. It's an eye-opening presentation especially if you are having doubts about being in the right career track.
Nursing videos like this will make you ponder about your profession more deeply so you can appreciate its role in living up your dreams.
7. Tribute to Nurses – "These Hands" Music Video
After a short introduction by Onqor, you'll be treated to a heartwarming (and possibly heart-wrenching) music video that will remind you just how important your work is to the people whose lives you touch.
Sometimes you wonder why you carry on.
But, there is one thing we all know. These hands can mend a broken limb.
These hands help hearts survive.
But most most of all, these hands keep dreams alive.
8. Oldest Working Nurse in US Turns 90
SeeSee Rigney is an Operating Room Nurse at Tacoma General Hospital. She celebrated her 90th birthday at work with a little surprise from her co-nurses.
In total, she has spent six decades working as a nurse. The video is an inspiration to watch whenever you feel burnt out from your work. It is amazing to know that there are people like SeeSee who love nursing work as much as she does.
Also Read: 15 Funniest YouTube Videos for Nurses
9. Pediatric Cancer Patient Marries Her Favorite Nurse
This is a heartwarming video of a nurse and his patient. The little girl is a 4-year old leukemia patient who wishes to marry her favorite nurse in the hospital. The hospital staff, along with the little girl's relatives, arranged a pretend wedding to make the girl's dream come true.
Her prince charming, Nurse Matt Hickling, dressed up in a tuxedo t-shirt and scrubs. The little girl's bridesmaids are her nurses and flowers were donated by a charity. It was a touching video of how nurses worked altogether for the little girl's wish.
"Our patient shyly asked me to marry her," Nurse Matt recounted. "I didn't hesitate to say yes, I got a HUGE hug and we sealed the deal with ring pops being placed on our fingers!"
10. The Singing Nurse
This is a story of a male nurse in a Valencia hospital who is blessed with a beautiful voice. In the beginning, he would only sing to himself. Soon enough though, patients heard his voice and frequently requested him to sing.
The nursing care he gives, along with his compassion in sharing his talent with everyone in the floor, made life more bearable for most of his terminally ill patients. The 4M views his video has received simply shows that this nurse is inspiring more than just his patients.
11. This Nurse Gets A Huge Surprise From Waist-Down Paralyzed Patient
Bailey, a teen patient, was admitted to the hospital for complete paralysis down the waist for 11 days with no explanation as to why. On the day that Bailey started walking, she surprises one of her favorite nurses.
This video is a spontaneous slice-of-life that reminds us of our precious victories as nurses.
Whenever you feel down and unappreciated at work, these nursing videos can freshen up your spirit for your profession. Sometimes, you just need to see outside of your box to be more inspired and proud of  your career as a nurse.
Did we miss any other inspiring nursing video? Be sure to tell us via our FB page!