In a world where superheroes wear scrubs, National Nurses Week is the perfect opportunity to shine a spotlight on these real-life heroes. Whether they're caring for patients, administering life-saving treatments, or providing comfort and support, nurses are the backbone of the healthcare system.
Their unwavering commitment to patient care, tireless work ethic, and compassionate nature makes them true heroes in every sense of the word. As we celebrate National Nurses Week, we want to pay tribute to these incredible healthcare professionals and their exceptional contributions.
Related Article: 5 Fun Things To Do For Nurses Week
But before you get busy looking for some creative Nursing gift ideas, here are some fun facts and quotes about National Nurses Week:
10 Fun Facts About the National Nurses Week
National Student Nurses Day is also celebrated annually every 8th May.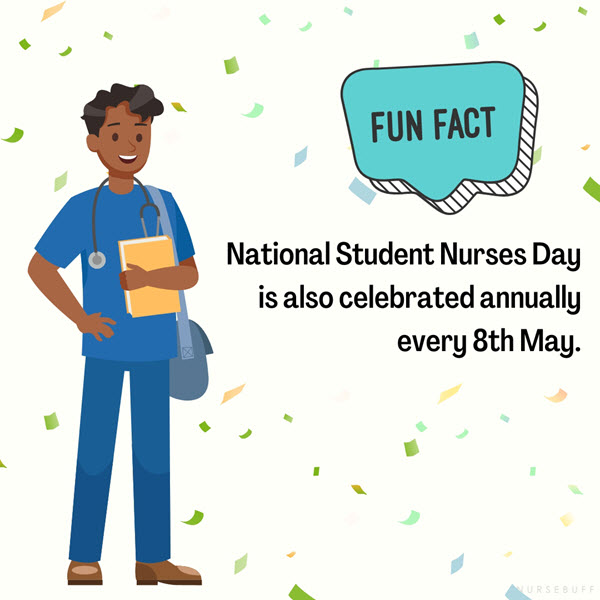 It took about thirty years before National Nurses Day became officially established and acknowledged.
Nursing is the largest healthcare profession in the country, with almost 4.2 million registered nurses (RNs).
The federal government estimates that more than 203,000 new registered nurse positions will be created each year from 2021-2031.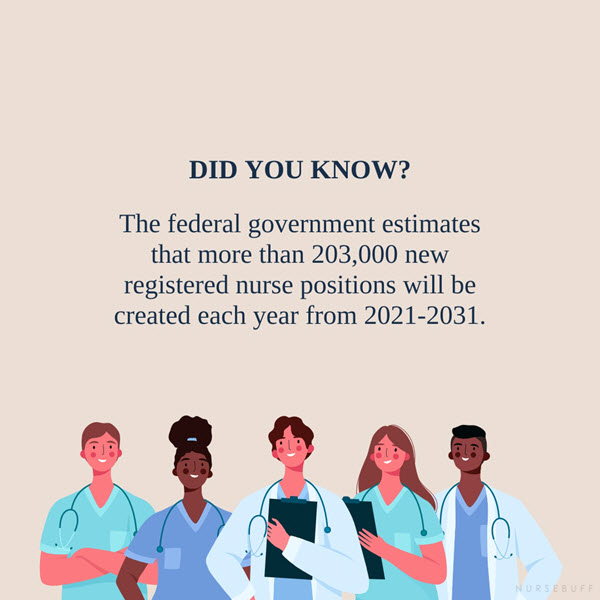 According to Gallup polls on Honesty and Ethics in Professions, nurses consistently rank as the most trusted professionals.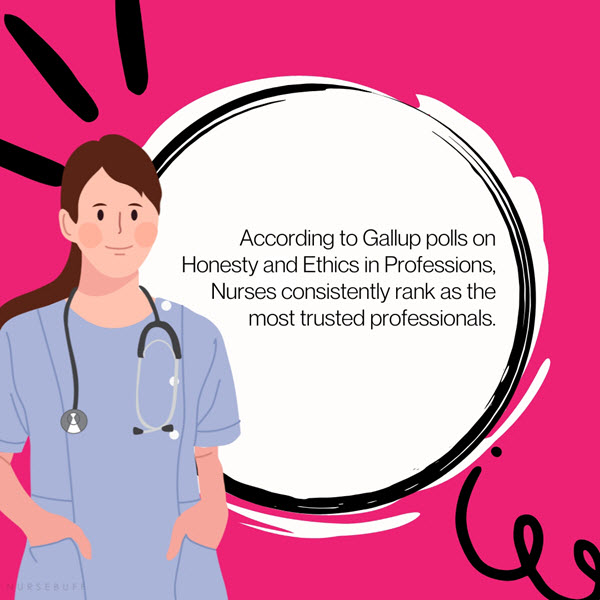 The National Nurses Week starts on May 6th (or the National Nurses Day) and ends on May 12th which is the birth date of Florence Nightingale.
In the 1950's, National Nurses Week was first observed from October 11 – 16.
It was President Nixon who proclaimed a "National Nurse Week" in 1974.
The idea of making May 6th the "National Recognition Day for Nurses" was first proposed by a group of nurses from Mexico. The proposal was signed by President Ronald Reagan and was later expanded into a week-long celebration (May 6-12) by the American Nurses Association's Board of Directors in 1990.
The International Nurses Day is celebrated every May 12th of each year.
14 Nurse Quotes for Nursing Week
You'll immediately see what hard work and dedication looks like once you see a nurse in action.
Nurses need more than a week of celebration to honor their sacrifices and contribution to the world. With the frightened hearts they comfort and the lives they end up saving, they deserve all the weeks in the world.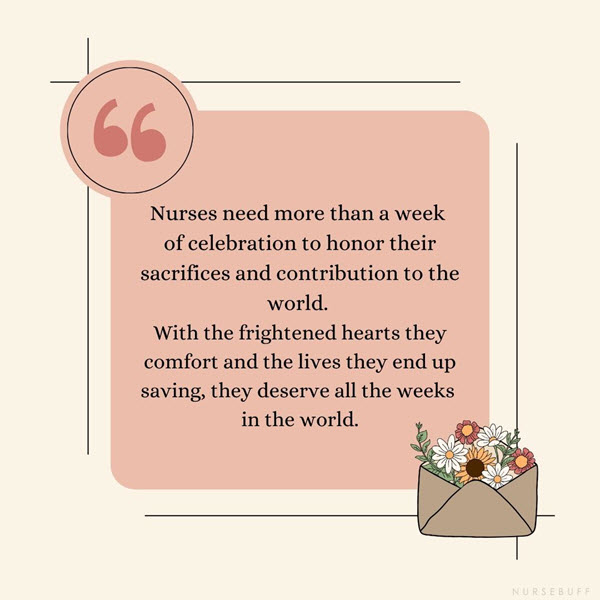 To be able to smile, provide solace, and heal amidst all the endless shifts and the suffering that nurses encounter on a daily basis, it's clear they have the purest of hearts and the toughest of spirits.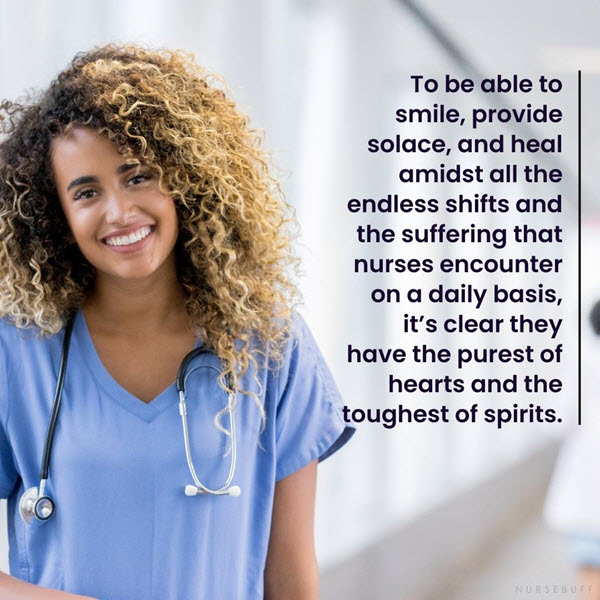 The definition of a nurse: To go above and beyond the call of duty. The first to work and the last to leave. The heart and soul of caring. who will pass through your life for a minute and impact it for an eternity. An empowered individual whom you may meet for only a 12-hour period, but who will put you and yours above theirs.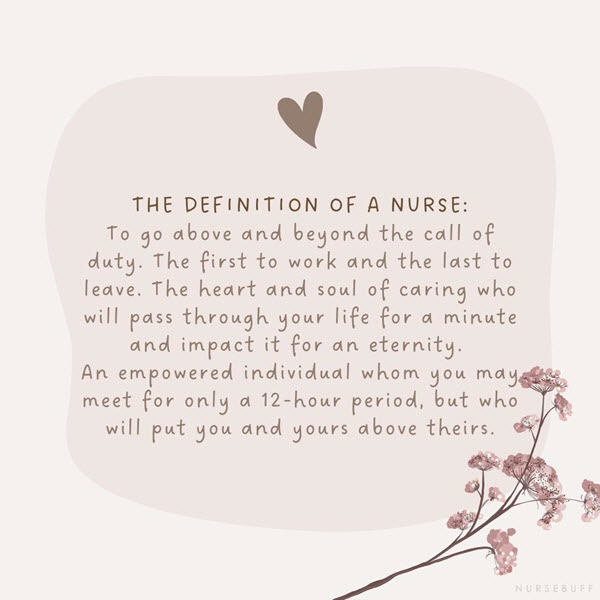 Constant attention by a good nurse may be just as important as a major operation by a surgeon. – Dag Hammarskjöld, Swedish economist and diplomat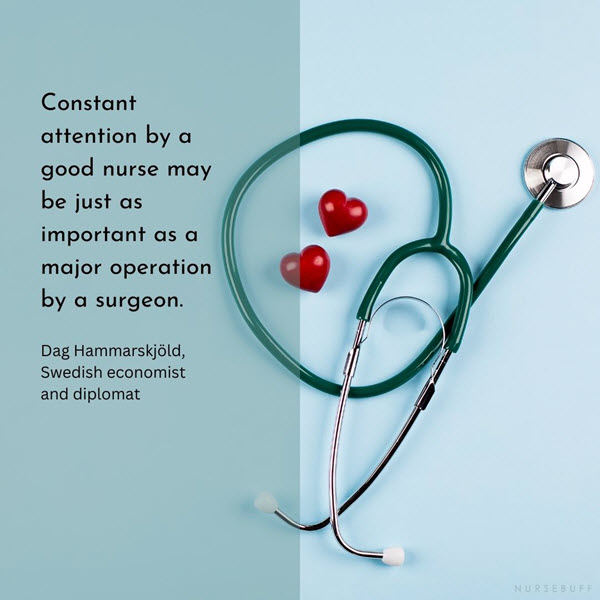 Nurse: just another word to describe a person strong enough to tolerate anything and soft enough to understand anyone.
The character of the nurse is as important as the knowledge she possesses. – Carolyn Jarvis
Nurses are always there, you care for us from the earliest years. You look after us in our happiest and saddest times. And for many, you look after us and our families at the end of our lives. Your dedication and professionalism are awe-inspiring. – Duchess Kate Middleton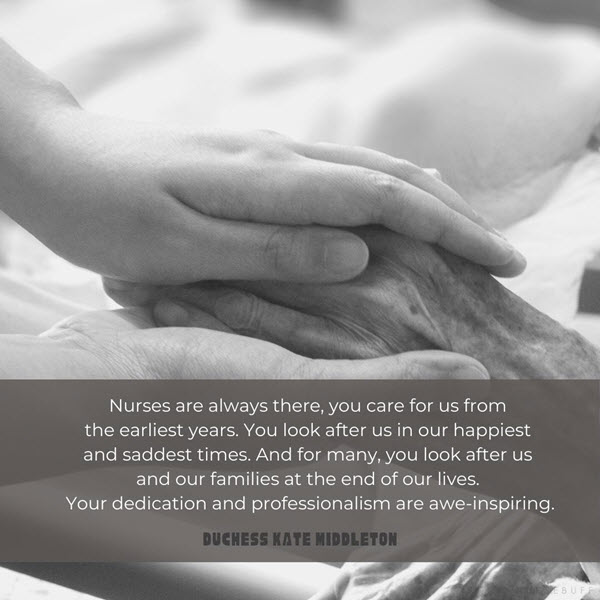 Your heart is the size of an ocean. Go find yourself in its hidden depths. – Rumi
It would not be possible to praise nurses too highly. – Stephen Ambrose
Nurses may not be angels, but they are the next best thing!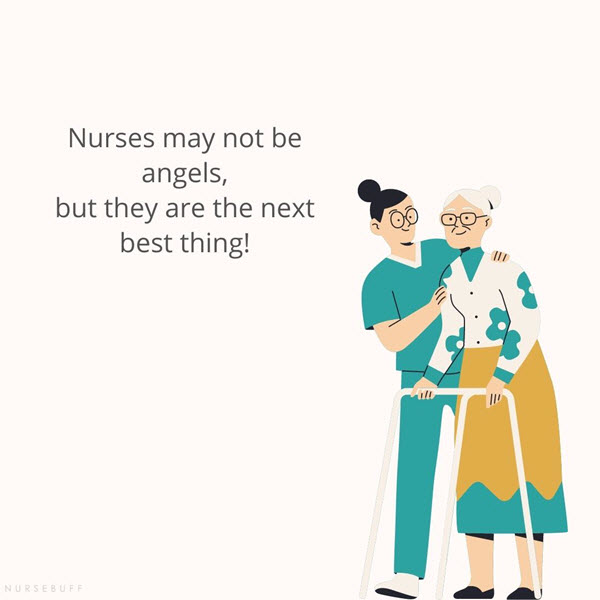 Nurses are the hospitality of the hospital.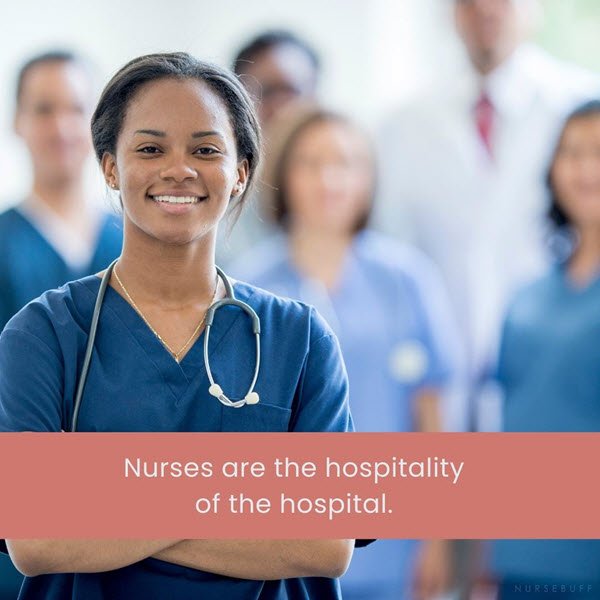 The world gives you so much pain and here you are, making gold out of it – there is nothing purer than that. – Rupi Kaur
Pursue some path, however narrow and crooked, in which you can walk with love and reverence. – Henry David Thoreau
15 Funny Nursing Quotes for the Nursing Week