Friends, every September 10 to 16, we observe National Suicide Prevention Week. It is a global initiative to help spread awareness and prevent suicides. Every year, an unimaginable 800,000 people die by their own hands while 25 times more than this number attempt suicide.
To bring inspiration and words of wisdom to others who may need it, we created these quote cards for you. Please share them with your family and friends on social media. Who knows? They might reach somebody who absolutely needs to hear these words and you might save a life.

If you are looking for a sign not to kill yourself, this is it. – Unknown

Anyone desperate enough for suicide should be desperate enough to go to creative extremes to solve problems: elope at midnight, stow away on the boat to New Zealand and start over, do what they always wanted to do but were afraid to try. – Richard Bach

If you want to show me that you really love me, don't say that you would die for me, instead stay alive for me. – Unknown

There are far, far better things ahead than anything we leave behind. – C. S. Lewis

When it is darkest, we can see the stars. – Ralph Waldo Emerson

The bravest thing I ever did was continuing my life when I wanted to die. – Juliette Lewis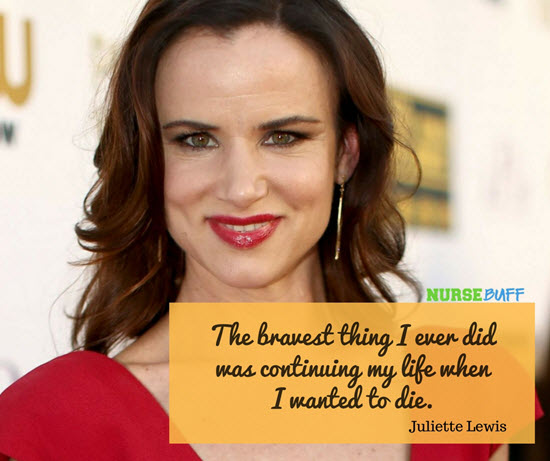 The world is a better place with you in it.

Suicide doesn't end the chances of life getting worse, it eliminates the possibility of it ever getting any better. – unknown

To anyone out there who's hurting—it's not a sign of weakness to ask for help. It's a sign of strength. – Barack Obama

The longer we dwell on our misfortunes, the greater is their power to harm us. – Voltaire

Never give up, for that is just the place and time that the tide will turn. – Harriet Beecher Stowe

Believe in yourself and all that you are. Know that there is something inside you that is greater than any obstacle. – Christian D. Larson

But in the end one needs more courage to live than to kill himself. – Albert Camus

All things are difficult before they are easy. – Thomas Fuller

If someone listens, or stretches out a hand, or whispers a word of encouragement, or attempts to understand a lonely person, extraordinary things begin to happen. – Loretta Girzartis