If you're a night shift nurse who doesn't see much of the sun, you'll need these Vitamin D recipes we prepared for you. Nursing is a taxing job as it is. Add a difficult night shift on top of that and it's not surprising why some nurses might feel under the weather.
You're liable to be making lower levels of Vitamin D. Vitamin D is essential against multiple diseases. To ensure that you are getting your daily dose of Vitamin D even if you're leaving the life of a vampire (asleep by day, awake by night), here are some recipes that are yummily delicious and quick to whip up.
Note: We like to use sea salt but you can use any type of salt.
Recipes:
1. Spring Salad with Tarragon Vinaigrette
Sardines are a good source of Vitamin D. Also, studies show that asparagus has a synergistic partnership with vitamin D in promoting bone health!
This spring salad is a delicious and easy-to-make recipe. You can make this even if you have zero cooking skills!
You'll need:
2 tbsp red-wine vinegar
2 tbsp extra-virgin olive oil
1 tsp whole-grain mustard
1/4 tsp dried tarragon
Pinch of sea salt
Pinch of freshly ground pepper
1 clove garlic, crushed
1/2 bunch asparagus
2 big hard-boiled eggs
1 5-ounce bag mixed salad greens; around 5 cups will do
handful of cherry tomatoes
1 4-ounce can sardines, drained
6 olives (optional)
Preparation:
In a small bowl, put vinegar, oil, mustard, tarragon, salt and pepper and whisk together. Put in the garlic and set aside.
Fill a medium pan or skillet with 1 inch of water. Add in the asparagus and drain after 3 minutes or until it is bright green. Make sure it doesn't get soggy. Run under cold water.
Get the salad greens and top with asparagus, tomatoes, sardines, olives, and sliced eggs. Take out the garlic from the dressing before drizzling over your salad.
2. Maple-Glazed Salmon
With just 5 simple ingredients, you can cook this delicious and super healthy meal.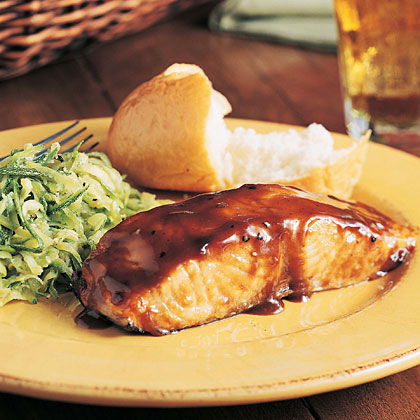 Preparation:
1 tbsp Dijon mustard
1 tbsp maple syrup
1 tbsp hoisin sauce
1/4 tsp freshly ground black pepper
2 (6-ounce) salmon fillets; make them about an inch thick
Directions:
You'll need your broiler for this recipe. Preheat it while you prepare the other ingredients.
In a small bowl, add together the mustard, maple syrup, hoisin and pepper and whisk.
With the skin facing down, place the salmon on the broiler pan coated with oil or cooking spray. Brush the salmon lightly with the maple mixture every 5 or 10 minutes.
When the salmon flakes easily when tested with a fork, your dish is done. This takes around 10 to 12 minutes in the broiler pan.
3. Beef Liver and Onions With White Wine
If you're not averse to beef liver, it's a great source of Vitamin D for you. This is a mouthwatering recipe with white wine.
Ingredients:
1 lb beef liver
half a teaspoon of salt
a pinch of freshly ground pepper
a quarter cup of flour
 quarter of a cup of butter
2 cups thinly sliced onions
1 -2 tbsp fresh sage, minced
half a cup of beef stock
quarter of a cup of dry white wine
1 tbsp minced Italian parsley
oil
Preparation:
Slice the liver into 1/2 inch strips.
Get a bag and mix the salt, pepper, and flour. Add the liver and shake the bag well. Set aside.
Heat the pan with the butter and a dash of oil. Saute the onions until glossy and tender. Don't let them get soggy! Place them in a plate and sprinkle with salt, pepper, and sage.
Return the skillet to high heat and add 3-4 tablespoons butter and dash of oil. Sear the liver for 5 minutes until brown. Avoid overcooking the liver. It should be slightly pink in the middle when you cut into it.
Add the onions to the side of the pan. Remove once the onions are heated.
Add stock and wine to the skillet to deglaze the pan. Reduce the liquid until you have a thickened and tasty sauce.
Pour the sauce over your plate of liver and onions. Top with parsley and enjoy!
4. Scrambled Egg Burritos
Who can go wrong with a burrito? A burrito is a tasty and fresh meal alternative. The eggs in this recipe are a good source of Vitamin D.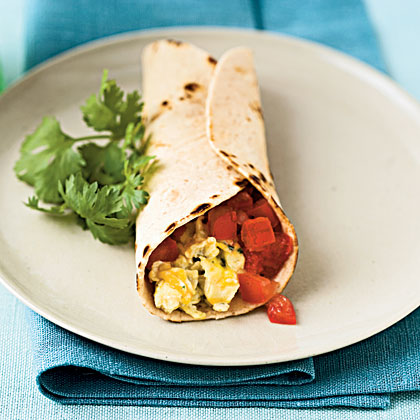 Ingredients:
2 large free range eggs
1/8 teaspoon kosher salt or sea salt
1 tbsp 1% low-fat milk
1 tsp chopped fresh cilantro
Pinch of freshly ground black pepper
1/2 tsp butter
4 tbsp shredded cheddar cheese
2 (8-inch) flour tortillas
2 tbsp bottled chunky salsa, divided
4 tbsp chopped tomato, remove the seeds
Preparation:
1. Whisk the eggs, milk, cilantro, salt and pepper in a medium bowl.
2. Get the butter and melt it in medium heat. Add the egg mixture and make scrambled eggs. Set aside.
3. Get one tortilla and sprinkle 2 tablespoons cheese down its center. Top with half of the scrambled eggs, 2 tablespoons tomato, and 1 tablespoon chunky salsa.
4. Roll up the tortilla to eat. Do the rest of the tortillas with the remaining ingredients. Make this recipe your own by adding more herbs and fresh ingredients.
5. Fusilli with Tuna
Here's a delicious pasta recipe with tuna and olives. Yum!
Ingredients:
5 cups penne or fusili
320g canned tuna in oil; drain and shred
12 sun-dried tomatoes, minced (choose the oil packed ones)
16 black pitted olives, chopped
3 tbsp lemon juice; use freshly squeezed
1/4 cup olive oil
1/2 cup water from boiling the pasta
2 tbsp fresh chives, fresh (optional)
1 pinch of sea salt (optional)
Preparation:
Start cooking the pasta.
While the pasta is cooking, prepare the sauce. Puree the tomatoes in a blender on pulse or mince with a knife. Pour the mixture in a bowl.
Chop the pitted olives and add to the tomatoes. Pour in the oil and lemon juice.
Add in the shredded tuna. Add in a little of the water used for boiling the pasta until you have a sauce. Taste and add salt and pepper as needed.
Once the sauce is satisfactory, add in the cooked and drained pasta into the bowl. Mix thoroughly. Top with  chopped chives if it's to your taste. Very easy!
6. Yogurt Berry Cups
Are you up for a yummy guilt-free dessert? This recipe calls for super healthy ingredients like yogurt which is a good source of Vitamin D.
Ingredients:
4 teaspoons Honey
1 cup Greek or plain whole-milk yogurt
2 1/4 cups strawberries, sliced
1 cup blueberries
Chopped, toasted walnuts
Directions:
Whisk the honey into the yogurt. Simply layer the fruits and yogurt in a glass or mason jar and top with walnuts.
You can use any fresh fruit that is in season or any nuts that you have at home.
Also Read: 10 Healthiest Breakfast Ideas for Busy Nurses
7. Blackened Salmon Sandwich
Doesn't this sandwich look mighty tasty? We especially love the avocado dressing.
Ingredients:
1 pound wild salmon fillet, skinned and cut into 4 portions
2 tsp Cajun or blackening seasoning
1 small avocado, pitted
2 tbsp low-fat mayonnaise
4 crusty rolls, split and toasted (use whole wheat if you prefer that)
1 cup arugula
2 plum tomatoes, pitted and sliced thinly
1/2 cup red onion, thinly sliced
Directions:
Preheat grill to high after oiling.
Rub salmon on both sides the seasoning. Grill until cooked through. This will take around 3-4 minutes tops.
Mash avocado and mayonnaise in a small bowl.
Get the bread and spread a dollop of the avocado mixture on each roll. Add the salmon, tomato, onion, and arugula.
8. Red Grape & Tuna Salad Pita
Here is another fast and easy recipe that's packed with Vitamin D and a whole lot of goodness.
Ingredients:
3 ounces drained tuna
1/2 cup red grapes, halved
1 tbsp, almonds slivered
1 tbsp fresh mint, chopped
1 tbsp lemon juice, freshly squeezed
2 tsp olive oil
1/8 tsp freshly ground black pepper
1 whole-grain pita, halved
Directions:
Add in all the ingredients except for the pita in a small bowl. Toss gently. Serve in pita halves.
9. Thai Spiced Tofu
This is a simple yet great-tasting recipe. You have to try this at home!
Ingredients:
8 ounces firm tofu, cut into four 1/2-inch slices

3 

tbsp Thai red curry paste (you can get this in the Asian aisle of your grocery store)

2 

tbsp fish sauce or tamari (again, from the Asian aisle)

3 

tbsp sugar

1/2 

pound green beans

1/2 

cup vegetable broth

1 

tbsp peanut oil
Directions:
Remove excess water by weighing down the tofu with something heavy like a skillet. Place paper towels between each tofu. Drain for 10-15 minutes.
While waiting, add in curry paste, fish sauce, and sugar. Set aside half in a sealed container. Add the tofu, seal, and set aside for 15 minutes.
In a saucepan, put in the remaining curry, green beans, broth, and oil. Simmer for 5 minutes until beans are tender (but not soggy).
Next, retrieve the tofu and cook the (now-tasty) tofu in a pan until golden, about 4 minutes per side. Transfer to a dinner plate and cover. Serve with the green beans.
10. Eggs with Vegetables
This is our go-to meal when we don't have time to cook yet want something comforting.
Simply get some eggs and whatever vegetables or cheese you have in your refrigerator. Slice them up and toss them in your scrambled eggs.
Some stuff we love in our scrambled eggs are tomatoes, zucchini, mushrooms, dill, tarragon, chives, parsley and basil.
Pro-tip for creamy fluffy eggs: Beat eggs lightly and cook in medium high heat. Stir frequently and scrape the sides of the pan. Whenever you see parts curdling or drying out, remove the pan from the fire and continue stirring. Return to heat and continue cooking until eggs are done and slightly runny. Do NOT overcook or they'll turn hard. Eat immediately.
11. Pork Chops With Herb-Mustard Butter
Back to regular programming, here's a herb-smeared chop for you omnivores out there.
Ingredients:
4 bone-in pork loin chops; make it 1/2 inch thick
1 tsp sea salt
1/2 tsp freshly ground pepper
1/4 cup butter, softened
1/4 cup fresh parsley, chopped
2 tablespoons honey mustard
1 tsp fresh sage, chopped
Directions:
1. Sprinkle chops evenly with salt and pepper and place on a wire rack in an aluminum foil-lined broiler pan.
2. Combine butter, parsley, mustard and sage. Top each chop with 1 rounded tablespoon of the butter mixture.
3. Broil 5 inches from heat 8 to 10 minutes. If you have a meat thermometer, stick it into the thickest portion and broil the meat until it registers 155°.
12. Red Pepper & Goat Cheese Frittata
Here is another easy-to-prepare and yummy meal or snack made with real food ingredients.
Ingredients: 
8 large eggs, free range if you can get them
2 tbsp fresh oregano, finely chopped
1/2 tsp sea salt
1/4 tsp freshly ground pepper
2 tbsp extra-virgin olive oil
1 cup sliced red bell pepper
1 bunch scallions, trimmed and sliced
1/2 cup crumbled goat cheese (use ricotta, cream cheese, yogurt cheese, or mascarpone if you have no goat cheese)
Directions:
Preheat broiler and position rack in upper third of oven.
Whisk eggs, oregano, salt and pepper. In medium heat using ovenware, cook bell pepper and scallions. Stir  constantly until the scallions are just wilted. This takes around 30 seconds to 1 minute.
Pour the egg mixture over the vegetables and cook. Lift the edges to allow the uncooked egg to flow underneath, until the bottom is light golden (2-3 minutes). Top with cheese, transfer the pan to the oven and broil until puffy and lightly golden on top (2-3 minutes). These are good both hot and cold.
Also Read: 7 Super Snacks for Night Shift Nurses
Any dish with the following foods make it an ideal Vitamin D-packed meal for night nurses. Check out the top foods that are rich in Vitamin D.
Healthy food rich in vitamin D:
1. Oily Fish
a. Salmon
b. Tuna
c. Sardines
2. Fortified Foods:
a. Fortified milk
b. Orange juice
c. Yogurt
d. Fortified Cereal
Also Read: Top 5 Super Foods for Busy Nurses
3. Mushrooms
a. Shiitake Mushrooms
b. Portobello Mushrooms
 4. Beef Liver
5. Tofu
6. Eggs
7. Pork
8. Dairy Alternative
And there you have it! We made an effort to choose quick and easy recipes for you guys. When you're sleep-deprived and tired, complex cooking might not be something anybody wants to do. We hope you enjoy these Vitamin D recipes, nurses!
Do you have more recipes? Share them with us on our FB page or Instagram!