The world is starting to get increasingly busy and fast-paced. If you are looking for a way to start your nursing career or change jobs, you need to find options for getting the required education in a shorter amount of time.
This is why more and more schools and universities are offering online nursing programs. Unfortunately, with the increasing number of online programs available these days, picking the best one for you can get super frustrating and stressful.
To help you make the best decision for your nursing career, here's a guide on picking the best online nurse programs.
Best Online Nursing Programs: An Overview
| SCHOOL | LOCATION | |
| --- | --- | --- |
| Rutgers University-New Brunswick | New Brunswick, NJ | View School Profile |
| Concordia University-Saint Paul | Saint Paul, MN | View School Profile |
| Vermont Technical College | Randolph, VT | View School Profile |
| Davenport University | Grand Rapids, MI | View School Profile |
| The University of Texas at Arlington | Arlington, TX | View School Profile |
| University of Wisconsin-Oshkosh | Oshkosh, WI | View School Profile |
| Johns Hopkins University | Baltimore, MD | View School Profile |
| Baker University | Baldwin City, KS | View School Profile |
| University of Southern California | Los Angeles, CA | View School Profile |
| Bellevue University | Bellevue, NE | View School Profile |
Getting to Know Your Options
To come up with this list of the best nursing schools, different factors were considered. The list included the expertise of the faculty, accreditation, quality of the program, and post-graduation employment rates.
1. Rutgers University-New Brunswick
Rutgers School of Nursing aims to develop students to nurses who are highly skilled in patient safety, technology integration, leadership, and population health. If you already have your nursing diploma or an associate degree, you can take advantage of this program and earn up to 12 graduate credits.
To qualify, you need to have a GPA of 3.2 or higher and a current nursing license in New Jersey. In case you don't have one yet, you can still apply and you'll be given until the beginning of the second semester to secure your license. If you are an international student, you may have to complete the credentialing evaluation first. You can find all the details you need to get enrolled here.
2. Concordia University-Saint Paul
Through Concordia University's RN-to-BSN option, you'll find yourself completing your BSN degree faster than you would in a traditional program.
The university's program is designed to advance your knowledge and skills in your chosen profession. Apart from that, its 36-credit curriculum also combines the concepts of practical application and theoretical inquiry to help you succeed as a nurse.
The courses offered by the university last for 7 weeks. To qualify, you need to have an associate degree in nursing and an RN license.
The cost per credit is $420. If that amount seems to be high for you, the university offers scholarships. There are also tuition discounts for service members who are presently on active duty.
3. Vermont Technical College
Vermont Technical College's program puts emphasis on nursing leadership and management, bioethics, and evidence-based practice. It's completed entirely online so you won't need to visit the campus.
Candidates need to maintain a 2.5 GPA (minimum) and get their RN license before starting the program. Completing 225 hours of nursing experience is also a requirement.
4. Davenport University
The courses are delivered online but students need to complete their in-person clinical experiences. Usually, they do this in their employment place.
Some of the courses included in this program are health promotion and education, biostatistics, and senior nursing seminar. Take note that the program only accepts licensed nurses.
To know more about the tuition fees, click here.
5. University of Texas at Arlington
The University of Texas at Arlington's program can be completed in as few as 15 minutes. With 51 credit hours, the course content is given or delivered following an online format. The candidates will also be given assignments to complete the necessary supervised clinical experiences at a site listed here.
To qualify for this online BSN program, you'll need to have completed 22 courses or 70 credit hours before applying. To know the other requirements, click here.
6. University of Wisconsin-Oshkosh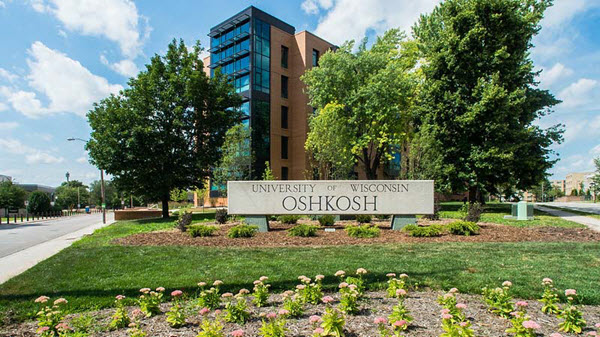 UW-Oshkosh's online program enables students to get their BSN degree with the fewest number of credits possible. The 12-month program is a good choice if you already have a bachelor's degree in a different field.
Although the university accepts out-of-state applicants, they need to get approval from the Higher Learning Commission and their respective state board of nursing. Apart from that, students also need to stay in the same state while they're completing the program. This applies to both local clinical placements and the online courses. To know the full details, check this guide. For financial assistance, you can know your options here.
7. Johns Hopkins University
Johns Hopkins University relies on an interdisciplinary approach to give its students options when it comes to their career education. It has programs that come in different programs to meet every student's needs.
For example, if you already have your Bachelor's Degree in a different field, you can become a registered nurse by enrolling in its MSN program.
On the other hand, if you are already a nurse who have finished your BSN degree, you can work on advancing your career by pursuing its MSN Healthcare Organizational Leadership Track or its DNP Advanced Nursing Practice Tracks.
To know more about the expenses and tuition fees, click here.
8. Baker University
Baker University's program combines advanced nursing theory with evidence-based nursing practices. This allows its online students to excel in their nursing education careers.
If you got your BSN degree from Baker's University, there's a 10% discount you can get when you enroll in its program. To know the full list of requirements, click here.
9. University of Southern California
If you are thinking about pursuing a career as a Family Nurse Practitioner, USC's programs shouldn't be out of your list. It's accredited by the California Board of Registered Nursing and the Commission on Collegiate Nursing Education.
To qualify, you'll need to have at least a year of clinical experience. You'll need at least a 3.0 grade point average in your MSN or BSN program. Being a registered nurse within the country is a requirement, too.
You can take this course either on a part-time or full-time basis.
10. Bellevue University
Bellevue University relies on an online delivery model for its program. In the final semester, students are required to obtain hands-on practicum experience to help establish experience with the help of a designated preceptor.
The program requires candidates to finish 40 nursing major credits. Some of the topics it covers include healthcare regulation, evidence-based practice, and health promotion.
To know more about the admission requirements, click here.
Nursing Degree Options
Associate Degree
Quickest path to starting a nursing career
Two-year program
Degree holders may qualify to take the NCLEX-RN
Bachelor's Degree
May take up to four years to complete
Usually requires 120 credits
Online format allows students to continue working while earning their degree
Master's Degree
Prepares nurses for more specialized levels of nursing
Duration depends on student's academic credentials
Doctoral Degree
Prepares nurses for larger scope of career opportunities (Ph.D. or DNP)
May take 4 to 6 years
Programs You Can Take When Shifting To Nursing
DESCRIPTION
YEARS TO COMPLETE
LPN-to-ADN
Passing the NCLEX-PN and earning license are required before practice
2 years
LPN-to-BSN
Prepares LPNs to practice as RNs after graduation
Earning a BSN makes an LPN qualified to take the NCLEX-RN
4 years
RN-to-BSN
Allows nurses with an RN license to earn their BSN degree at an accelerated pace
Programs usually require 30 credits of coursework
Up to 2 years
RN-to-MSN
Qualifies students to earn masters without completing a BSN program
Duration depends on students' academic background
RN-to-DNP
Prepares students for academic, research, and leadership positions
1,000 clinical practice hours are typically required
3 to 6 years
Online vs On-campus: How Do You Know Which One's For You?
Coming up with an answer to this question isn't easy. There are critical factors you need to consider before making a decision.
The first factor is demographics. The people you'll meet while completing your online course are different than the ones you're likely to encounter in a traditional classroom. Most of them will be professionals who are completing the program on a part-time basis.
If you think that your lifestyle fits the demographics, taking an online course will be easy for you in terms of finding similarities in people and establishing friendships. It can help you find a peer group quickly, too.
Your way of learning matters as well.
Generally speaking, instructors should find a way to design their courses to make sure they meet their students' needs. However, this can be quite tricky.
Auditory learners learn best in traditional courses. Those who consider themselves as verbal and visual learners generally perform best in online courses.
Before you pursue a program, it's a good idea to get to know yourself and your learning style first. Take into account your personality, lifestyle, and expectations to come up with an answer.
For some people who are currently working, taking an online course is better since it gives them the chance to earn their diploma despite being employed.
The Pros and Cons of Getting Your Nursing Degree Online
To help you make the decision, here's a quick list of the pros and cons of getting your degree online.
Pros:
It gives you more choices.
Back then, people have limited choices when it comes to furthering their education. They had limited numbers of colleges and universities offering the nursing degrees they want.
With the internet's unlimited reach, you can earn your degree even if you're miles away from the university. If you live in rural areas or you don't have the means to travel every single day to a university, online courses are great for you.
This is one of the most common reasons why people enroll in online classes. They offer flexibility in terms of setting class schedules. Plus, without class times, you can take your classes at a time you consider most convenient for you.
Generally, online classes are cheaper than on-site courses. You won't have to pay for parking, student activity fees, and other additional student expenses.
There's no need to spend money on car maintenance or room and board. You can even get digital editions of your books to save money.
Cons:
It comes with limited face-to-face interaction.
If you consider yourself an introvert, this won't be a big issue. However, if you like socializing and meeting people, this can be a huge problem. You won't be able to establish strong friendships or have people who can empathize with you while studying.
There's a lack of accreditation.
Students who enrolled in non-accredited programs may have a hard time gaining employment. They won't be eligible to take the NCLEX and without passing it and gaining a license, there's no way they can practice as a registered nurse.
Accreditation is critical in ensuring nursing school graduates benefit from an equal level of education. Getting your diploma from an accredited program also boosts one's chances of getting employed quickly.
It's hard to stay on task.
When you enroll in an online course, you will only have yourself to depend on. This means that discipline is critical to your success.
Knowing that you can complete the program at your own pace can encourage you to postpone the lessons and assignments. A long day at work can also make it hard for you to focus on your tasks when you get home.
If you're not disciplined and committed enough, it's easy to fall behind.
Frequently Asked Questions:
Can you become a nurse online?
The answer is yes. There are different online programs that allow nursing students to earn a nursing degree- associate's, bachelor's, and master's. Some universities even offer DNP degree online like Bradley University. However, since nursing is considered a hands-on job, you'll eventually be required to gain experience in the field.
Do you ever need to get to the campus?
This varies. There are programs that are completely delivered online. Some require classroom attendance a few days a week.
Can you complete the program at your own pace?
The answer to this will depend on your program's structure. There are degrees that you can complete at an accelerated pace, allowing you to finish it sooner than others.
What should you look for in a program?
The first thing you need to check is the approval of your state's Board of Nursing. This is critical if you want to sit for the NCLEX. You also shouldn't miss the program accreditation.
Can you get financial aid?
You'll find plenty of options available to students who are struggling to pay for their education. You can get financial assistance from the federal government. You can also get scholarships if possible.