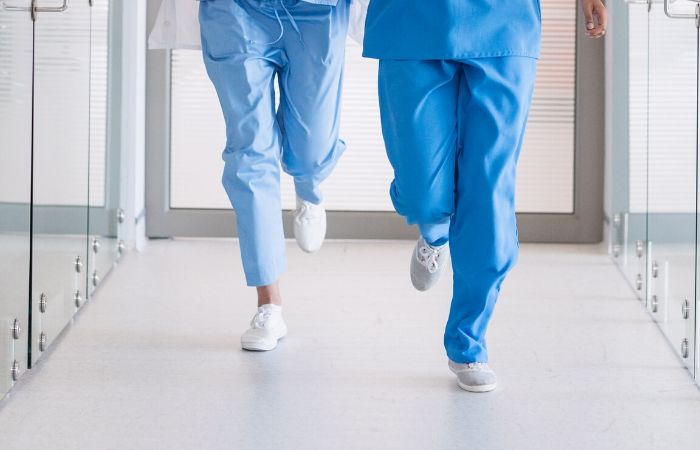 When you buy something using the links on our posts, we may earn a small commission at no additional cost to you. Learn more.
As a nurse, your job involves a lot of walking, moving around, lifting, and standing. Being on your feet for several hours a day can put stress on your feet, knees, and back.
This is why regular shoes won't work for you.
You need shoes that offer full protection from work-related injuries in the hospital. You need something that is comfortable to wear, supportive and has a relaxing fit.
Fortunately, there are many quality nursing shoes that you can find in the market. Available in different styles, colors and materials, you can find the best nursing shoes for your needs as long as you have the right guide to start with.
Based on consumer feedbacks, the following shoes are the highest rated nursing shoes in the market:
Sanita is a sub-line of Dansko that has been offering Danish clogs since 1907. One of the most popular clogs they have is the Women's Professional Celina Clog. It is made from genuine leather with a shiny finish. The outsole is made from polyurethane that measures around ¾ inches high and 1 ¾ inch high in heel part. The outsole offers great traction durability that is slip-resistant and oil-resistant.
The shoes also have anti-static and anti-shock features. The footbed is anatomically shaped to ensure comfort. It even received a seal of acceptance from the American Podiatric Medical Association (AMPA) for its outstanding foot support.
Pros:
Comfortable
Lightweight
With anti-static and anti-shock features
Great foot support.
Cons:
Narrow width
Feels stiff to wear
Inconsistent sizing
Leader Show Women's Slip-On Walking Shoes provides just the right cushion for your feet, allowing you to move comfortably while on duty. With a non-slip outsole, this pair of shoes can keep your lower extremities feel more relaxed even if you are wearing it all day. It's lightweight, durable, and flexible.
The shoes have a slip-on closure, making it easy for you to wear and take them off after a tiring shift. They are breathable as well.
If you have a high arch, however, you'll find these shoes a bit tight. They also have no toe protection since the top part is knitted.
Pros:
Very comfortable
Has breathable fabric
The insole is well-cushioned
Cons:
Tight for people with high arches
No toe protection
The knitted part could easily fray
These clogs have a padded wool interior and anatomically-shaped sole. They are a boon for nurses suffering from plantar fasciitis, bunions, regular foot pain or back pain. The Woolflex Clogs are designed with cushioned arch support, an integrated metatarsal pad that helps feet spread naturally and reduces ball of foot pressure. The gentle slope of the heel and toe platform also helps reduce ankle and back pain as well as realign joints. The Polyurethane sole is non-porous and easy to clean. This clog is recommended by podiatrists for plantar fasciitis and general support needs.
They help refresh feet and back, align joints and are comfortable with socks or barefoot. The sole can be cleaned easily but the wool isn't machine washable so may not be appropriate for settings where there are bodily fluids. These are a versatile choice for a clinical environment, after work slip-ons, or even commuter shoes. Stegmann customers swear by them and wear them as everything from indoor/outdoor slippers to work shoes. The shoes come in US half sizes and medium and wide widths for women.
Pros:
Good design
Very comfortable
Great for pain relief
Cons:
Not recommended if you work with a lot of spills as it may get on the wool fabric
See Also: Nursing Shoes for Men
If you don't like the idea of wearing shoes with fabric tops, go with Sloggers Women's Waterproof. The shoes can protect your feet from getting in contact with fluids at work. Plus, they are also easier to clean. Just wipe them with a damp cloth and you're done.
The designs of the shoes are impressive as well. From solid colors to floral prints, you won't have a hard time picking a pair that'll match your style and personality.
The shoes are made with 100% recyclable material. They are completely waterproof as well.
Pros:
Good designs
Waterproof
Durable
Cons:
A bit heavy
Shiny coating wears off quickly
See Also: Best Shoes for Nurses
Avia Women's Shoe is a good choice if you want a non-slip work shoe that's comfortable to wear even for a long shift. With its memory foam, you can focus on your work with having to worry about painful feet at the end of your shift.
The shoes have leather toes which make them easy to clean when you spill things on them. They have elastic laces so expect it to feel a bit tight, particularly during the first time you put them on.
Pros:
Slip-resistant
Has memory foam
Not clunky looking
Cons:
Elastic laces make shoes feel tight

Skechers for Work is one reliable pair of shoes. With a low profile midsole, it offers great supreme shock absorption. It has a flexible rubber outsole which provides great traction. It can actually bend with your feet.
The shoes have a good grip when used on slippery floors. The quality is quite decent, too. They won't fall apart easily no matter how many hours in a day you use them.
Pros:
Flexible
Slip-resistant
Breathable
Cons:
This list wouldn't be complete without Nurse Mates Shoes: Women's Angel Lites Nursing Shoes. It has this stylish yet athletic design that will look good on any uniform.
Apart from design, however, the shoes also offer superior grip and a cushiony, soft platform for your comfort and safety. It's designed to keep perspiration and moisture away so you can remain comfortable throughout your shift.
Pros:
Durable
Stain-resistant finish
Superior grip
Cons:
Toe part is wide,
Looks clunky
Being a nurse means you're always on the go. The Sticky Nursing Shoes for Women is exactly why this clog is perfect for work! It's made from thermoplastic rubber so it's highly eco-friendly and safe for hospital use. Even more helpful, it's safe for patients or even nurses that are sensitive to latex. Its water resistance feature makes it a good pair for any activities that require more protection. Plus, you can easily clean it with just a few wipes.
Pros:
Moisture absorption
Waterproof
Cons:
Not the best for someone who needs arch support
No ventilation for feet
Skechers Work Sure Track shoes are made from 100% leather. Unlike regular clog, these are a lace up type. This particular design has resistance to oily or wet areas just like most clog, but they can also give protection to areas or surfaces that have electrical hazards. Going through standard testing, these are specifically designed for heavy duty work.
Pros:
Has memory foam
Shock-absorbing midsole
Cons:
Can be a bit heavy
Laces are short
If you're looking for work shoes that provide immediate comfort, then Merrell Women's Moab 2 Vent Hiking shoes are a good pick. They have a mesh upper and are made from pigskin. Their Vibram sole also makes it great for heavy duty work and outdoor activities. They even have a protective toe cap and air cushion that are essential for reducing stress on your feet.
Pros:
Highly durable
Have air cushion
Cons:
Can feel stiff
Not lightweight
Ryka Women's Sky Walking Shoe is specifically designed for a woman's foot and muscle movement. Both comfy and reliable, it's not just a downsized version of heavy duty shoes. With its synthetic sole, seeping of moisture or water from wet surfaces can be prevented without compromising its durability. This is best for fitness walking, making it suitable for everyday use.
Pros:
Built-in support for midfoot and arch
Soft cushion
Cons:
A bit narrow
Not so sturdy
If you're looking for everyday work shoes balanced with that great aesthetic fit, Reebok Women's Club C Walking Shoe should be an easy choice. Coming from a brand that focuses on fitness movement, these shoes are perfect for everyday use, especially if you tend to walk a lot. Fitting so well on your feet, choosing your size is easy.
Pros:
Cons:
Not for heavy activities
Small toe box
Dansko XP 2.0 Clogs for Women are a lightweight and non-slip pair ideal for those whose activities involve lots of standing, like in hospitals. Designed to combat the strain one can get from standing for a long time, Dansko's clogs are designed with Natural Arch Technology for extra added comfort even on your busiest days. The footbed is also removable so you can make adjustments to your liking.
Pros:
Shock absorption feature
Very stylish
Cons:
Not the best for those who have wider feet
Difficult to clean
Reebok Women's Classic Harman Run Sneaker is made from durable and lightweight materials, making it ideal for everyday wear. Donning a simple yet classic design, it's great for casual use as well. For those who enjoy long strolls and jog as part of their day to day, this specific design also uses an EVA midsole so you're provided extra support. Even better, it has a high abrasion rubber outsole for greater durability.
Pros:
Great for everyday use
Best for arches
Cons:
Not wide enough
Soles are a bit hard
One look at these working nurse shoes and you'll know they're very breathable. With their ergonomic design, you can expect they're comfy to wear and won't strain your feet despite heaps of movements. These shoes also have air cushion heels, making them ideal for standing and walking for long periods of time.
Pros:
100-day satisfaction guarantee
Lightweight, ergonomic design
Cons:
Feels a little fragile
Lacks arch support
PUMA Women's Riaze Prowl sneakers are easy on the eyes with a cool, stylish vibe. They also offer a comfy foam insole and sturdy support, making them breathable, lightweight, and reliable. Offers EVA & Bubble technology Midsole for extra comfort and support.
Pros:
Cute design
Lightweight and comfy
Cons:
One of the pricey items in this list
Can be narrow and tight in the toes
Brooks Women's Adrenaline GTS 22 Supportive Running Shoe is visually appealing in terms of design and form. More than its stylish appearance, these running shoes won't let you down with their incredible support and updated 100% DNA Loft cushioning, providing you with the right amount of stability you'll need for your daily activities.
Pros:
Advanced cushion
Amazing form
Cons:
Vionic's walker shoes have a classic and practical vibe that's great for casual wear. Opting to use this pair also means a comfortable day for activities thanks to its podiatrist-designed footbed, making your every move with ease. Vionic shoes are also known for their deep heel cup, premium forefoot cushioning, and excellent arch support midsole.
Pros:
Lots of colors to choose from
Designed by podiatrist
Cons:
One of the expensive items in the list
A bit heavy
With the easy slip-on design, these Dansko Slip-On clogs can be your next go-to footwear to complete your casual, easygoing look. They're simple, functional, and best of all, easy to wear. For added support and comfort, the slip-ons feature a premium arch technology and perforated uppers for ventilation.
Pros:
Lightweight and durable
Removable EVA footbed
Cons:
Not ideal for those with narrow feet
Not true to size
Avia's non-slip shoes for women are powered by a slip resistant feature for a stronger grip, which always comes in handy when you work in a fast-paced environment. The thick rubber soles have an oil and slip resistant tread pattern to ensure your footing and avoid slipping. These are also great for those standing and walking for long shifts like nurses.
Pros:
Removable memory foam
Water and stain resistant
Cons:
No insert for high arches
Only two color variations
Slip-resistant shoes are important for a lot of people who want to ensure that they're safe from slipping or falling even during the busiest, most intense of days. Thanks to its advanced insole technology, Dr. Scholl's women's shoes are comfortable to wear with a lace-up front for better fit.
Pros:
One of the cheap options in this list
Comfortable and practical
Cons:
Heel could be a little higher
Lower cut, not for ankle support
Nurse Mates design products that are better suited for nurses and for others who work in healthcare. The Velocity Medical Professional Shoe is just one of their best-sellers. They offer arch support, which is great if you're standing or walking for long hours. The shoes even include elastic and regular laces. As it has a well-designed rubber sole, you can stand for a long time without feeling discomfort.
Pros:
All day comfort
Good arch support
Cons:
A little clunky
One of the expensive items here
These Alegria Duette Womens Shoes come in so many colors and designs so you'll have options and you'll know you're actually buying what you want. Appearance aside, these shoes are loaded with helpful features, including awesome midsoles that offer shock absorption. There's also a cushioned Alegria footbed that you can easily remove or replace, and even a spacious toe box so your toes aren't restricted to move.
Pros:
Easy to wear and durable
Bigger toe box
Cons:
A little expensive
Support lacks, well support
You can wear Sorel Women's Kinetic Impact Lace shoes either for work or a fun day at the park with its casual and relaxed vibe. There's a wide variety of colors to choose from, giving you the chance to really pick your own based on your own style.
Pros:
Heels support comfort and protection
Not for wide feet
Cons:
Upper mesh may lack support
Toe box is narrow for some
What Women Should Remember When Shopping for a Good Nursing Shoe?
A good nursing shoe has the stability of working boots but and the comfort of a running shoe. This is needed to survive an extended shift in a busy hospital ward.
You should care for your feet well; look for shoes with arch support and anatomically shaped footbed. The outsole should be slip-resistant but lightweight. It will also be great if the materials covering the outer part of the shoes are stain-resistant and easy to clean.
Conclusion
There are many other nursing shoes around including those from popular brands such as Nurse Mates, Skechers, and Avia. You have countless of styles to choose from but always make sure to choose one that will fit the style of your uniform and bring long-lasting comfort.
See Also: Specialty Nursing Shoes
About the Author: 
Je Abarra is a Licensed Practical Nurse at Centre universitaire de santé McGill et IR-CUSM. For many years, Je wrote many amazing and informative posts for Nursebuff. She is very passionate about her profession, and loves to provide tips and fun facts about nursing and healthy living.