There are so many reasons why being an advice nurse is great. It provides patient instant access to medical advice and it reduces the cost in the process. It even helps treat a larger number of patients.
This is why a lot of health institutions are turning to telehealth as a way to solve most of their problems. This gives you a lot more reasons to become a triage nurse.
So, how do you become one?
Educational Requirements
You can start your journey towards becoming a telephone triage nurse by earning a two-year Associate's Degree in Nursing or a four-year Bachelor's of Science in Nursing. Once you've done that, you'll need to sit and pass the NCLEX-RN. After passing, you can apply to become a registered nurse to your state's licensing agency.
Back then, one needs to get a certification in telephone triage nursing which was offered by the National Certification Corporation. However, since 2007, the certification is no longer available.
If you want certification, you can get one as an ambulatory care nurse from the American Academy of Ambulatory Care Nursing. You're eligible to get a certificate as long as you have 2,000 hours of experience in a clinical setting.
Place of Work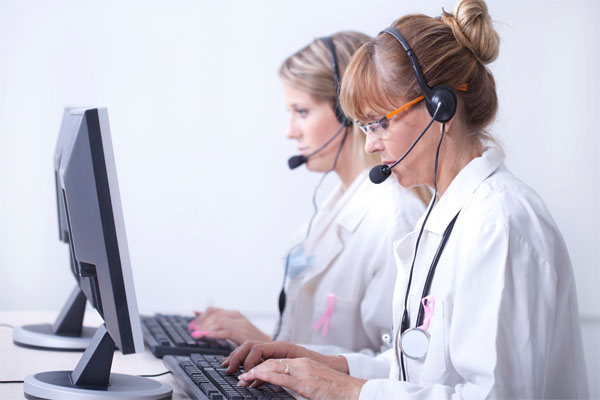 You have a lot of options when it comes to employment but the most common place you'll be able to work involves centers with dedicated telephone triage services.
The list includes:
Crisis hotlines
Physician offices
Trauma centers
Hospitals
Outpatient care facilities
Poison control centers
Duties and Responsibilities of A Telephone Triage Nurse
A telephone triage nurse is a nursing professional who helps patients know the type of care they require over the phone. While that sounds easier than working in the hospital, it's not actually the case. In fact, the job is challenging.
Unlike nurses who get to assess their patients physically, telephone triage nurses don't have that type of luxury. Despite that, advice nurses need to make appropriate decisions based on a telephone conversation with their patients.
In addition to that, you also need to do the following:
Educate patients about managing their symptoms
Gather all the necessary information about your patients, such as their height, weight, and age
Schedule consultations and refer to specialists
Provide support to medical response teams when they are bringing patients to hospitals
Assess the severity of the patient's health condition
Salary
As of June 2017, registered telephone triage nurses earn more than $70,000 as their median annual salary. That rate will depend on several factors, like your experience and where you are actually working.
See Also: Top 10 Highest Paying Cities for Nurses
Is It The Right Job for You?
For you to become excellent at your job, you need to possess really great communication skills. You need to be able to think fast as most health issues aren't static and they can get worse quickly.
Apart from that, you are also expected to be calm throughout your conversation with your patients. You need to know how to really listen to their concerns and be able to assess them based on what they say to you. If you are having a hard time relying on someone else's capability to describe a sign or symptom, the job can be extra difficult.
Another thing you'll love about the job is that there is no paperwork to consume most of your time. You won't even have to worry about contracting any infectious diseases like TB and you won't need to deal with injections and needles.