Finally! Fashion tips for male nurses.
Most of the time, nursing articles are written with women in mind. This is most likely due to the fact that 91% of nurses are females and only 9% are male.
Well, don't worry, murses. In this post, the spotlight is on you and how you can look your best in the workplace.
Scrubs are not one size fits all. It can be difficult to find a pair of scrubs that fit correctly. It gets even more difficult when you realize that different brands of male scrubs have different fits.
You want to make sure that they're long enough to reach your ankles. They also shouldn't be baggy in the waist area, and you don't want them so small that they restrict your movements.
Try a few different brands on and pick the brand that fits the best. Murse World is an excellent place to browse for hospital uniforms because they specialize in men's scrubs.
2
Have a Neutral Undershirt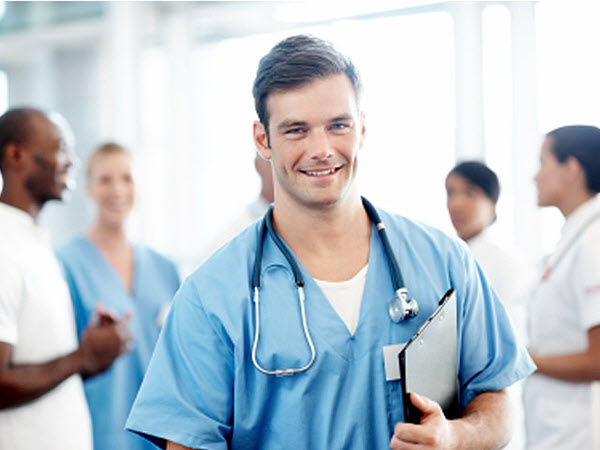 Via cbsnews
Most scrubs have a lower V-neck design that requires you to wear some form of undershirt, so your chest isn't exposed as you work. Instead of a wild color, you may want to pick out a more neutral tone like white, heather gray, or even black. This way, you won't have to worry about mixing and matching your scrubs to your undershirts when you're running to your next shift.
3
Have Durable and Comfortable Shoes
As a nurse, you're going to be on your feet and moving for hours at a time. You may also step or walk though substances that most people don't. This is why it's important to have a durable and comfortable pair of shoes. Tennis shoes and clogs are a favorite go-to because they give you good traction as you walk or run during your shift.
See Also: Nursing Shoes for Men
You really want to wear underwear under your scrubs. You never know what could happen during a shift, and the last thing you want to do is flash your patients or your coworkers. Additionally, make sure that you tie the drawstring at your waist tightly. There may be times when you don't have time to hike your pants back up during an emergency.
5
Pick Scrubs with Pockets
Most scrubs have pockets. This is true for both male and female scrubs. If you don't have pockets on your top, you want to have them on your scrub pants. These pockets will allow you to carry all of those small items that are essential to your job like scissors, medical tape, pens, and maybe even your stethoscope.
6
Wear Neutral Colors and Patterns
Although you may want to wear scrubs with vivid patterns or colors, this may not be appropriate for where you work in the hospital. It can give your patients the wrong impression, especially if their emotions are running high. Softer or more neutral colors are always a safe choice. Consider blues, black, greys, or deeper greens. Also, you can add a solid color bottom to a patterned top to tone it down.
Maybe it can get chilly where you work, or you don't react to working in the cold very well. You should consider taking a lightweight jacket to work with you. It should coordinate to your scrubs though, especially if you plan on wearing it when you interact with patients. If it has a zippered front, it's easy to remove and put back on quickly.
Your employer may have restrictions on the colors you can wear on your scrubs. However, you can still accessorize them. You can get decorative ID tags, a stethoscope cover, or even add your name to your scrubs. Adding a few fun pins is another way to customize your scrubs and add a small splash of character.
9
Consider Half of Three-Quarter Length Shirts
Via nurseadvisormagazine
If you have tattoos, it may be a good idea to keep the bulk of them covered. They're popular today, but some more conservative patients or coworkers may have a problem with them. You can solve this by wearing a half or three-quarter length sleeve undershirt. Not only will this help keep you warmer if you work in a cool location, but it'll hide your colorful ink.
10
Keep Your Scrubs Stain-Free
No matter how careful you are, stains are a hazard that comes with working in healthcare. Wearing darker colored scrubs can help solve this, but they won't hide everything. You want to take a few minutes and check your scrubs for stains. If you see them, switch to a different pair and do a little stain removal. This will help you look neat and well put together for your patients and coworkers.
See Also: How To Remove Stains From Your Scrubs – From Vomit to Blood
Although most scrubs come in sets, you can put individual tops and bottoms. They're great to mix and match, as long as you use complimentary color combinations. For example, if you have a patterned top with blue shades, you could wear dark blue scrub pants to tie the two together. However, you will want to wear a solid color to downplay and patterns you have. You can also mix solid shades of the same color without them clashing.
Bottom Line
It's possible to look and feel great while you wear your male nurse scrubs. With a little time and effort, you can use your scrubs to boost your confidence levels, portray a great image to your patients, and ensure that you're comfortable throughout your shift.