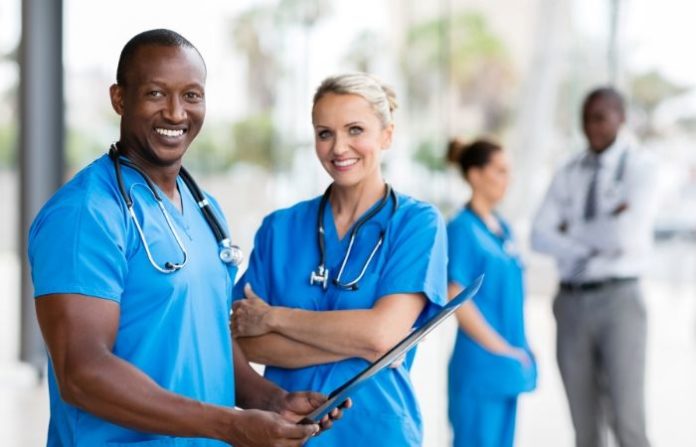 What is Nursing?
This is a question often asked either by students who are about to enter college or professionals who are considering a career shift. But this ageless question–no matter how simple it looks– is an open-ended one. In other words, you can get a plethora of answers from nurses working in different expertise.
So what really is Nursing?
In the real world, nurses are always in the front line of health care. They combine the principles of health sciences with the art of caring to ensure patient comfort and recovery.
Apart from providing bedside care, nurses also serve as patient advocates, health educators, and coordinators of different health care services. Their expertise has enabled nurses to work in a wide variety of settings including adult facilities, prisons, offices, private clinics, and even military bases.
The role of nurses encompasses a person's life from cradle to grave. They not only follow the doctor's instructions but also make sure that the patient receives quality care in an organized, ethical manner. For this reason, nursing education is a continuous journey that doesn't end after one completes a 4-year Nursing program.
Definition of Nursing
To discover the real meaning and essence of the Nursing profession, one needs to know its roots. Here are some of the great forces who have answered the question "What is Nursing?" in the most detailed yet concise way:
"Nursing is the protection, promotion, and optimization of health and abilities, prevention of illness and injury, alleviation of suffering through the diagnosis and treatment of human response, and advocacy in the care of individuals, families, communities, and populations."
International Council of Nurses:
"Nursing encompasses autonomous and collaborative care of individuals of all ages, families, groups and communities, sick or well and in all settings. Nursing includes the promotion of health, prevention of illness, and the care of ill, disabled and dying people. Advocacy, promotion of a safe environment, research, participation in shaping health policy and in patient and health systems management, and education are also key nursing roles."
Canadian Nurses Association:
"Nursing practice is a dynamic, caring, helping relationship in which the nurse assists the client to achieve and obtain optimal health."
How to Become a Registered Nurse
 Step 1: Nursing Education
So you've decided to take Nursing as your lifelong career?
There are different routes you can take in order to be one. Although there is no one-size-fits-all educational program for Nursing aspirants, the following pathways will help you gain the right training needed to pass the required National Council Licensure Examination (NCLEX)-RN:
Bachelor of Science in Nursing or BSN –  A four- to five-year program offered by universities with emphasis on Nursing leadership and clinical practice.
Associate Degree in Nursing or ADN – A two-year course offered by community colleges that focuses on providing students with clinical skills and knowledge.
Diploma in Nursing – Formerly considered as the most common pathway to Nursing career, this three-year program is offered by hospital-based schools of Nursing.
Graduate programs are also available to those Nursing degree holders who want to advance their clinical expertise. Nurses with PhD or doctoral degrees usually focus more on research, leadership, and other specialized skills. Graduate programs include Master's Degree (MSN), Doctor of Nursing Practice (DNP), and Doctor of Philosophy (PhD).
Step 2: Nursing Licensure Exam
Completing a Nursing program is just one step towards becoming a full-fledged nurse. You also need to pass the National Council Licensure Examination (NCLEX) given by the National Council of State Boards of Nursing (NCSBN). This exam has been developed in order to protect the public from incompetent nurses and also to assess whether or not you have the basic competencies required to enter the profession.
NCLEX is a set of multiple-choice type of questions that you need to answer within a limited time. Both preparation and practice are needed to ace the exam although you need to do them strategically to get better results.
For example, proper rest prior to the exam will help you to concentrate more on analyzing the test questions. The ABC principle, on the other hand, is one of the most basic techniques to come up with the best answer from a list of confusing answers. This means that in any question, you must first prioritize conditions or scenarios that affect a person's airway. If it is intact, proceed with breathing. Finally,  you can choose options that involve blood/circulation if issues concerning airway and breathing don't exist.
Step 3: Nursing Employment
Before getting your feet wet, learn more about the current state of Nursing employment in your target area. If you already have a hospital of choice, make sure you know important details such as turnover rates, salary, orientation programs, and the work dynamics within a specific area.
Is Nursing right for you?
Nursing is neither a get-rich-quick scheme nor a ploy for confused twenty-somethings. This is a serious job that requires a lifetime commitment. But with the daily challenge of patient care also comes the unparalleled fulfillment of making a difference in every patient's life.
So are you cut out for Nursing?
I bet you already know the answer from the get-go. If you're planning to take up Nursing only to get a stable, high-paying job, you might be off to a life of misery. But if you want to be a nurse because of your innate caring skills and heart of compassion, then you're one step ahead of everybody.
To give you a clear picture of what it's like to be a nurse, here are some of the basic Nursing responsibilities:
Perform physical exams and health histories
Provide health promotion, counseling and education
Administer medications, wound care, and numerous other personalized interventions
Interpret patient information and make critical decisions about needed actions
Coordinate care, in collaboration with a wide array of healthcare professionals
Direct and supervise care delivered by other healthcare personnel like LPNs and nurse aides
Conduct research in support of improved practice and patient outcomes
Here's a video showing what nursing is all about:
Now that you have an idea how to answer the question What is Nursing?, it's now up to you to figure out if you have what it takes to be a soldier of health care. Remember, it's not always the smartest who last in this profession but those who believe that caring for other people is their calling and are willing to go the extra mile no matter how tough the road is.
Do you still want to be a nurse?