20. The Core, Care and Cure Theory by Lydia E. Hall
The Care, Cure, Core Theory puts emphasis on the importance of the total patient rather than looking at one part or aspect.
The core is the patient receiving nursing care. It has goals set by him or herself rather than by any other person, and behaves according to his or her feelings and values. The cure is the attention given to patients by medical professionals. In the model, it is explained that the cure circle is shared by the nurse with other health professionals, such as physicians or physical therapists. The care circle addresses the role of nurses, and is focused on performing the task of nurturing patients. This means the "motherly" care provided by nurses, which may include comfort measures, patient instruction, and other things that help the patient meet his or her needs.
Lydia E. Hall was born in New York, City, on September 21, 1906. She earned her nursing diploma in 1927, and completed a Bachelor of Science in Public Health Nursing in 1937. In 1942, she earned a Master's degree to teach natural sciences. She worked as the first director of the Loeb Center for Nursing and later as a clinical nurse, nurse educator, nurse researcher and supervisor, among others.
21. Chronic Illness Trajectory Framework by Corbin and Strauss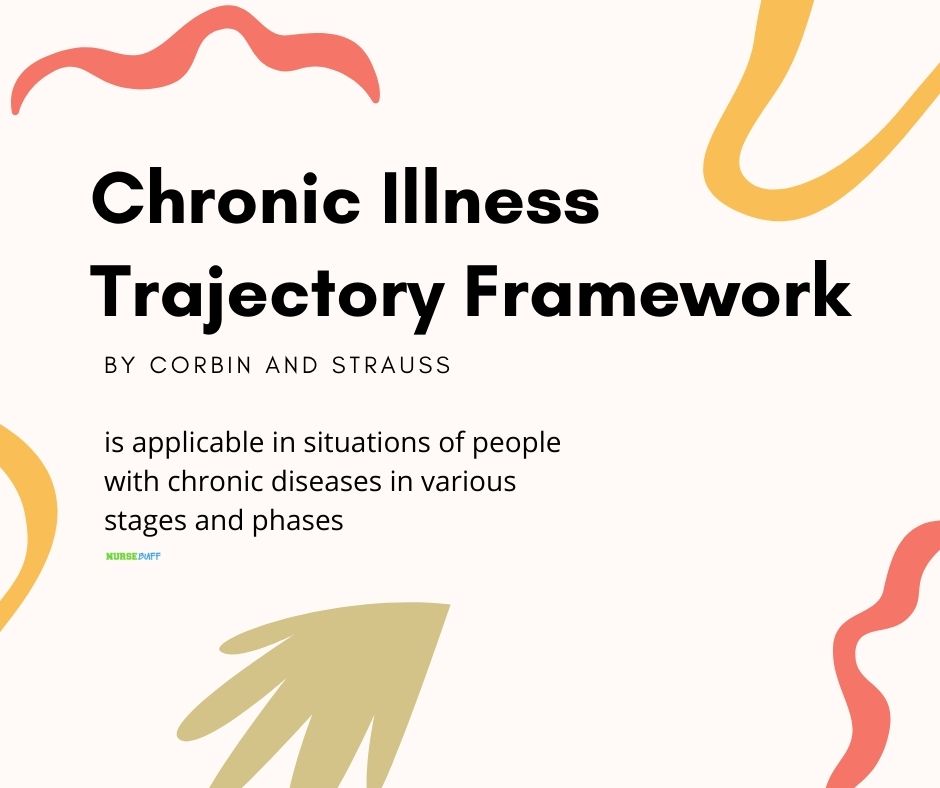 The Trajectory Model is applicable in situations of people with chronic diseases. The term 'trajectory' refers to the course of a chronic disease in varying stages and phases. This model consists of six steps which include identifying the trajectory phase; identifying problems and establishing goals; establishing plans to meet goals; identifying factors that facilitate or hinder attainment of goals; implementing interventions; and evaluating the effectiveness of interventions.
The model may be used as a management instrument for the professional care, as it helps the nurse to get familiar with the patient's perspective. It has been applied in conditions like cancer, cardiovascular diseases, HIV-AIDS, Diabetes Mellitus, and Multiple Sclerosis.
Juliet Corbin began her very first research project early in the 1970s as a master's degree student at San Jose State University in San Jose, California. It was then that she was introduced to qualitative research and the work of Schatzman and Strauss. Later, she entered the Doctoral program in Nursing at the University of California, San Francisco in 1976.
Anselm Leonard Strauss was born on December 18, 1916. She was internationally known as a medical sociologist. He received his B.S. Biology degree from the University of Virginia in 1935. He then went on and received his Masters degree in sociology in 1942 and his Ph.D. in sociology in 1945.
22. Human Becoming Theory by Rosemarie Rizzo Parse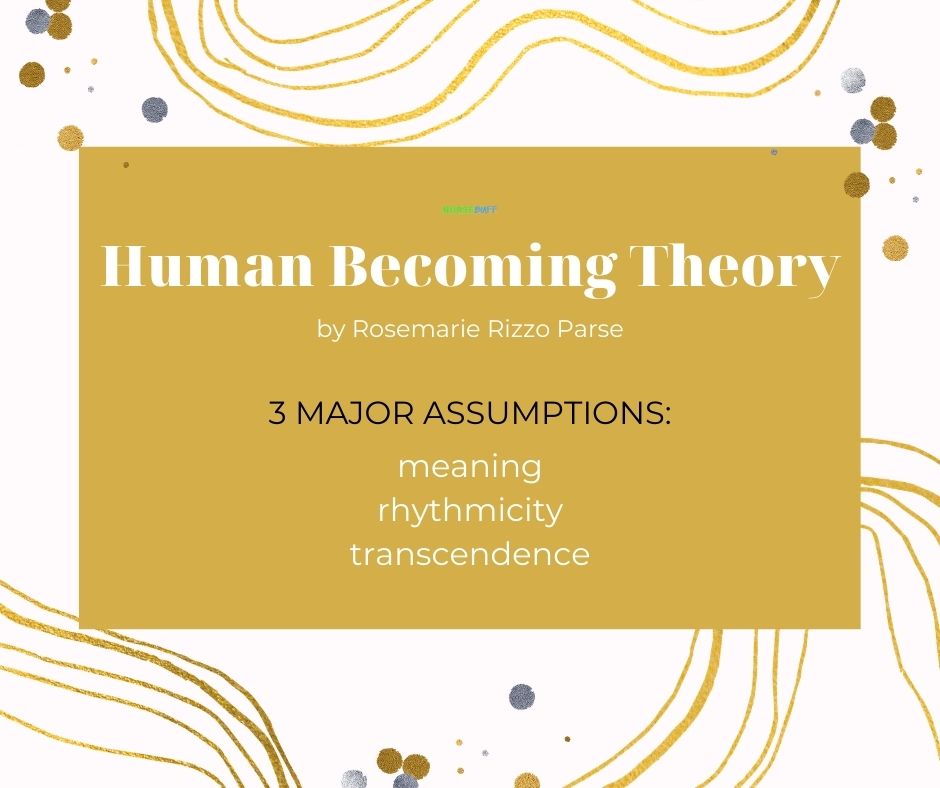 This theory presents an alternative to both the conventional bio-medical approach, as well as the bio-psycho-social-spiritual approach of other theories and nursing models. The three major assumptions about human becoming are meaning, rhythmicity, and transcendence.
Rosemarie Rizzo Parse graduated from Duquesne University in Pittsburgh, and later earned her Master's and Doctoral degrees from the University of Pittsburgh. Parse served as a faculty member at the University of Pittsburgh, as well as the Dean of the Duquesne University School of Nursing. She is the founder and the current editor of Nursing Science Quarterly, and is president of Discovery International, Inc.
During her entire career, Parse has published nine books and more than 100 articles and editorials about the nursing field.
23. Modeling and Role-Modeling Theory by Erickson, Tomlin & Swain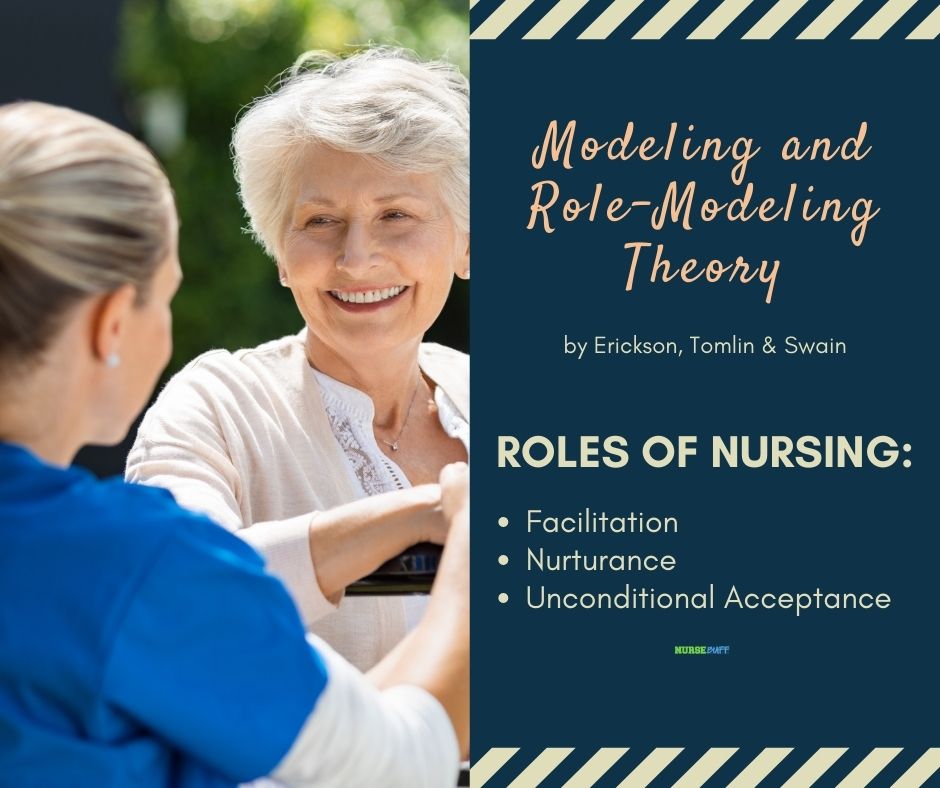 The Modeling and Role Modeling Theory draws concepts from Maslow's theory of hierarchy of needs, Erikson's theory of psychosocial stages, Piaget's theory of cognitive development, and General Adaptation Syndrome (GAS) by Selye and Lazarus.
It enables nurses to care for and nurture each client with an awareness of and respect for the individual's uniqueness which exemplifies theory-based clinical practice that focuses on the clients' needs. According to the theory, the roles of nursing are facilitation, nurturance, and unconditional acceptance. It also states five goals of nursing interventions: build trust; promote client's positive orientation; promote client's control; affirm and promote client's strengths; and set mutual, health-directed goals.
Helen Erickson was born in 1936. She graduated from Saginaw General, and worked as an emergency and medical-surgical nurse. In 1986, Erickson began serving as an Associate Dean of Academic Affairs at the University of South Carolina. She received her graduate degree from the University of Michigan, Ann Arbor in the mid-1970s. It was then that she met Evelyn M. Tomlin.
Evelyn M. Tomlin was born on March 4, 1931 in Pleasant Ridge. She attended high school in Arizona, and was First Lieutenant in ROTC. She got married on March 3, 1951 with Jack A. Tomlin. She owned and operated Stoney Point Trailer Park at Crooked Lake for 46 years.
Dr. Mary Ann Swain has many years of experience in higher education administration, having served as Binghamton University's Provost and Vice President for Academic Affairs for almost 20 years. She serves as Chair of the Department of Student Affairs Administration and holds a tenured appointment in the Decker School of Nursing where she is also Director of the Doctoral (PhD in Nursing) Program.
24. Interpersonal Theory by Harry Stalk Sullivan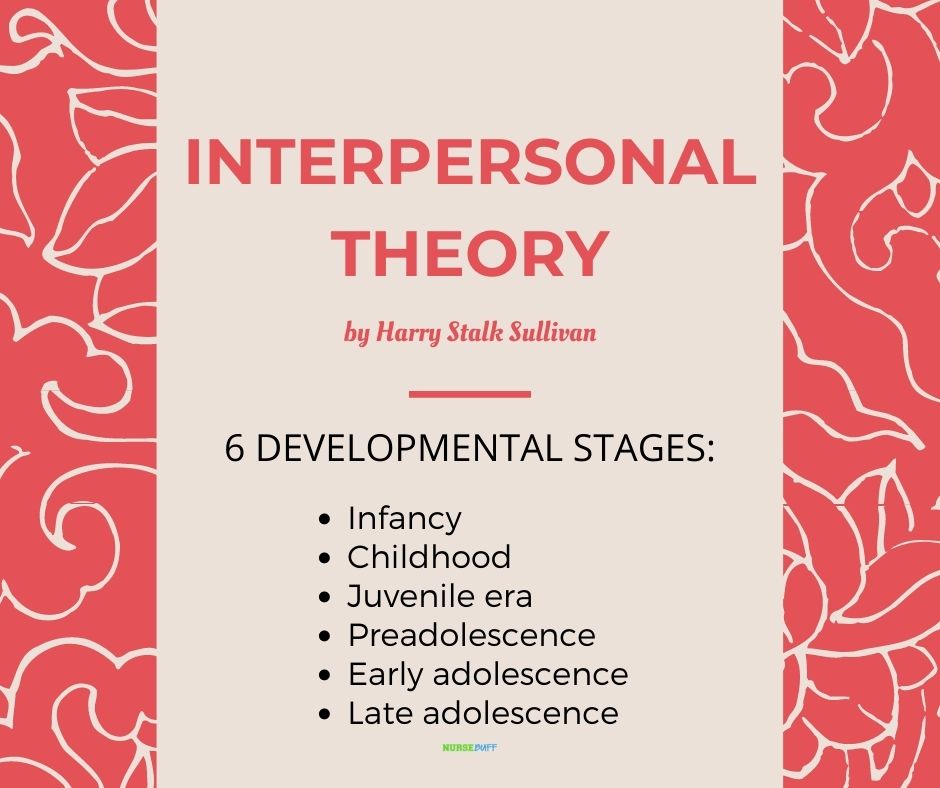 The Interpersonal Theory identifies six developmental stages called "epochs" or "heuristic stages in development." They include: infancy, childhood, juvenile era, preadolescence, early adolescence, and late adolescence. It provides the theoretical basis for interpersonal psychotherapy which treats patients with depression and schizophrenia.
The theory proposes that, most often, depression develops in the context of adverse events. Particularly, it develops in instances of interpersonal loss. The theory also addresses techniques and approaches that should be used in psychiatric interviews.
Henry (Harry) Stack-Sullivan was born on February 21, 1892 in Norwich, New York. He spent two years at Cornell University beginning in 1909, after graduating from the Smyrna Union School. He earned his medical degree from the Chicago College of Medicine and Surgery in 1917.
Between 1925 and 1929, Stack-Sullivan worked at the Sheppard Pratt Hospital, treating schizophrenic patients with experimental treatments. He was a founder of the William Alanson White Institute, as well as Journal Psychiatry in 1937.
25. Empowered Holistic Nursing Education by Dr. Katie Love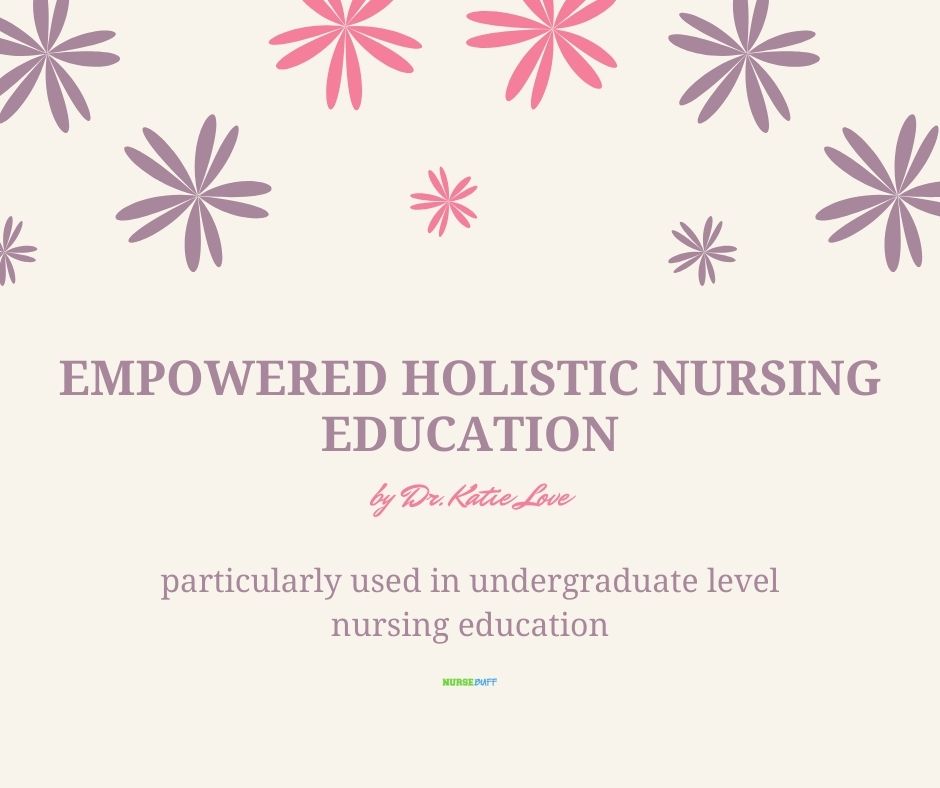 This is a middle range nursing theory that is particularly used in undergraduate level nursing education. It is based on the philosophy that students need to experience holism and empowerment in the classroom to have a positive learning experience and to help them integrate holism and empowerment in their own professional practice.
Dr. Katie Love has a BS., M.S., and Ph.D. in Nursing from the University of Connecticut. Her recent research, publications and presentations include "An Emancipatory Study with African-American Nursing Students at a Predominantly White University," a Transcultural Nursing Society Conference in Seattle, WA; "A Critical Review of Ethnocentrism and Bias in a Nursing Text Book: A Pilot Case Study,"; and "The Lived Experience of Socialization among African-American Nursing Students in a Predominantly White University", a Journal of Transcultural Nursing.
26. Science of Unitary Human Beings by Martha E. Rogers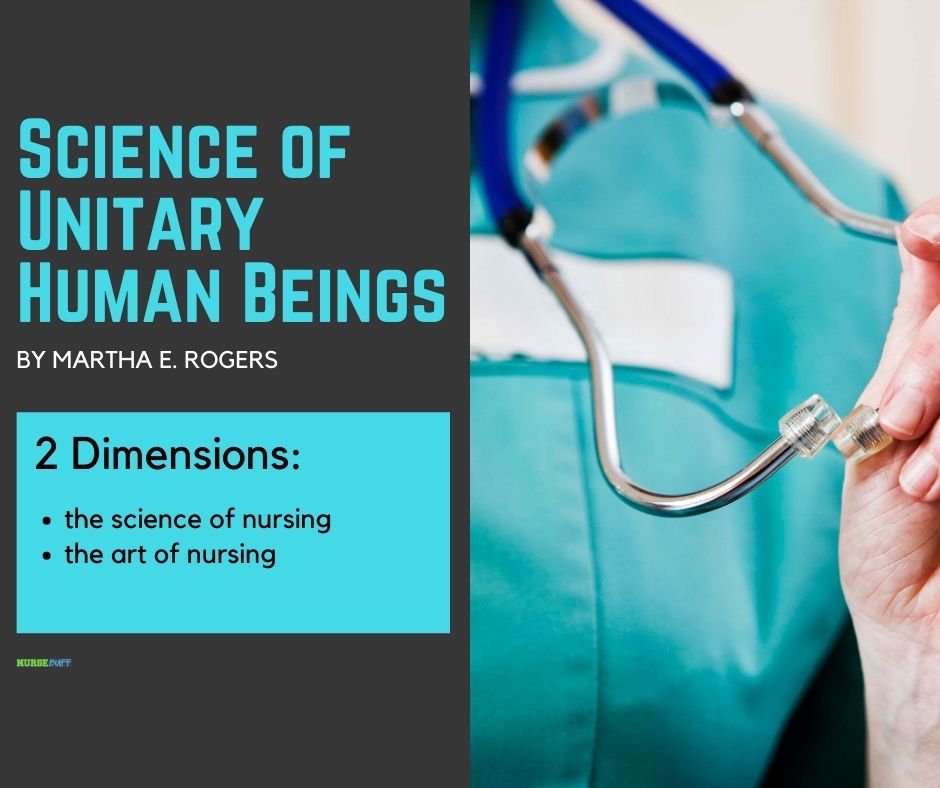 Nursing in the Science of Unitary Human Beings contains two dimensions: the science of nursing, which is the knowledge specific to the field of nursing that comes from scientific research; and the art of nursing, which involves using the science of nursing creatively to help better the life of the patient.
In this model, the role of the nurse is to serve people. The model also encourages noninvasive modalities for nursing, such as therapeutic touch, humor, music, meditation and guided imagery or the use of color. The interventions of nurses are meant to coordinate the rhythm between the human and environmental fields, help the patient in the process of change, and to help patients move toward better health.
Born in Dallas, Texas, in 1914, Martha Rogers earned her nursing diploma from the Knoxville General Hospital School of Nursing in 1936, and then received her Public Health Nursing degree from George Peabody College in Tennessee in 1937. She later earned her Master's degree in 1945 from Teachers College at Columbia University, and her Doctorate in Nursing in 1954 from John Hopkins University in Baltimore.
27. Theory of the Deliberative Nursing Process by Ida Jean Orlando
In this theory, the role of the nurse is to find out and meet the patient's immediate need for help. The patient's presenting behavior may be a plea for help. However, the help needed may not be what it appears to be. Therefore, nurses need to use their perception, thoughts about the perception, or the feeling engendered from their thoughts to explore with patients the meaning of their behavior. This process helps nurse find out the nature of the distress and what help the patient needs.
Born in 1926, Ida Jean Orlando received her nursing diploma from New York Medical College at the Lower Fifth Avenue Hospital School of Nursing in 1926. She earned her Bachelor of Science in Public Health from St. John's University in Brooklyn, and her Master of Arts Degree in Mental Health Nursing from Teachers College, Columbia University.
Orlando was an associate professor at Yale School of Nursing and served as the Director of the Graduate Program in Mental Health Psychiatric Nursing. It was also at Yale where she became a project investigator of a National Institute of Mental Health grant. She also worked as the director of a research project at McLean Hospital in Belmont, Massachusetts. This research led to the publication of The Discipline and Teaching of Nursing Process (an evaluative study) in 1972.
28. Health as Expanding Consciousness  by Margaret Newman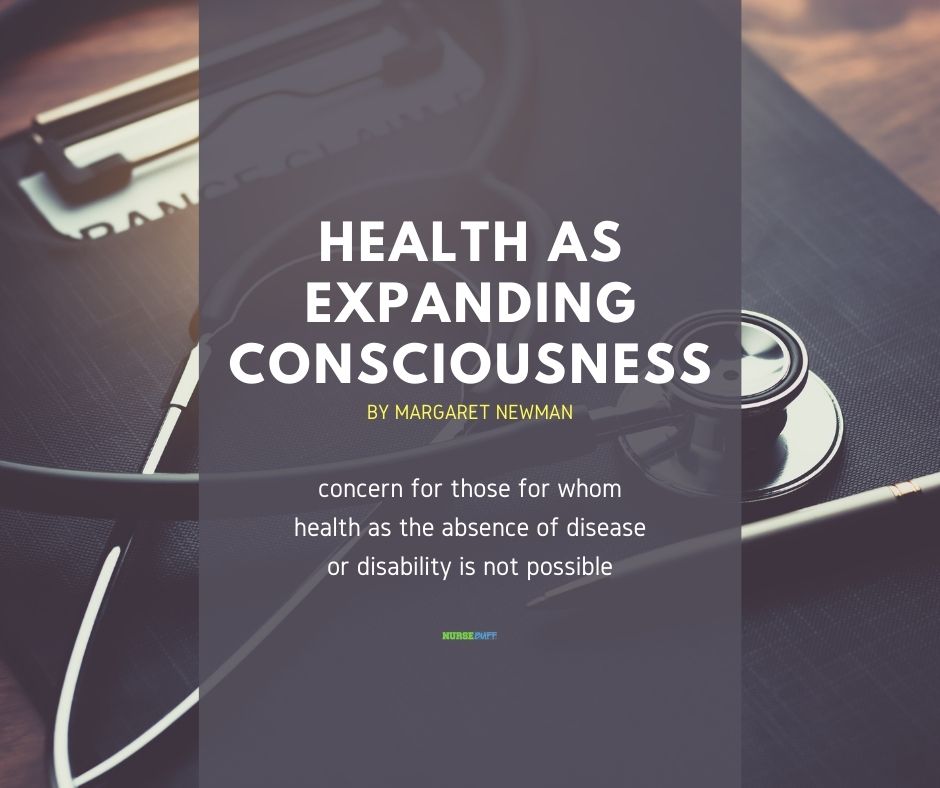 The Theory of Health as Expanding Consciousness stems from the Unitary Human Beings Theory by Rogers. It includes the health of all persons regardless of the presence or absence of disease.
"The theory of health as expanding consciousness (HEC) was stimulated by concern for those for whom health as the absence of disease or disability is not possible. Nurses often relate to such people: people facing the uncertainty, debilitation, loss and eventual death associated with chronic illness. The theory has progressed to include the health of all persons regardless of the presence or absence of disease. The theory asserts that every person in every situation, no matter how disordered and hopeless it may seem, is part of the universal process of expanding consciousness – a process of becoming more of oneself, of finding greater meaning in life, and of reaching new dimensions of connectedness with other people and the world" (Newman, 2010).
Margaret Newman was born on October 10, 1933. She earned her Bachelor's degree from the University of Tennessee in 1962 and her Doctorate from New York University in 1971. She worked in University of Tennessee, New York University, Pennsylvania State University, and University of Minnesota.
29. Nursing as Caring Theory by Boykin & Schoenhofer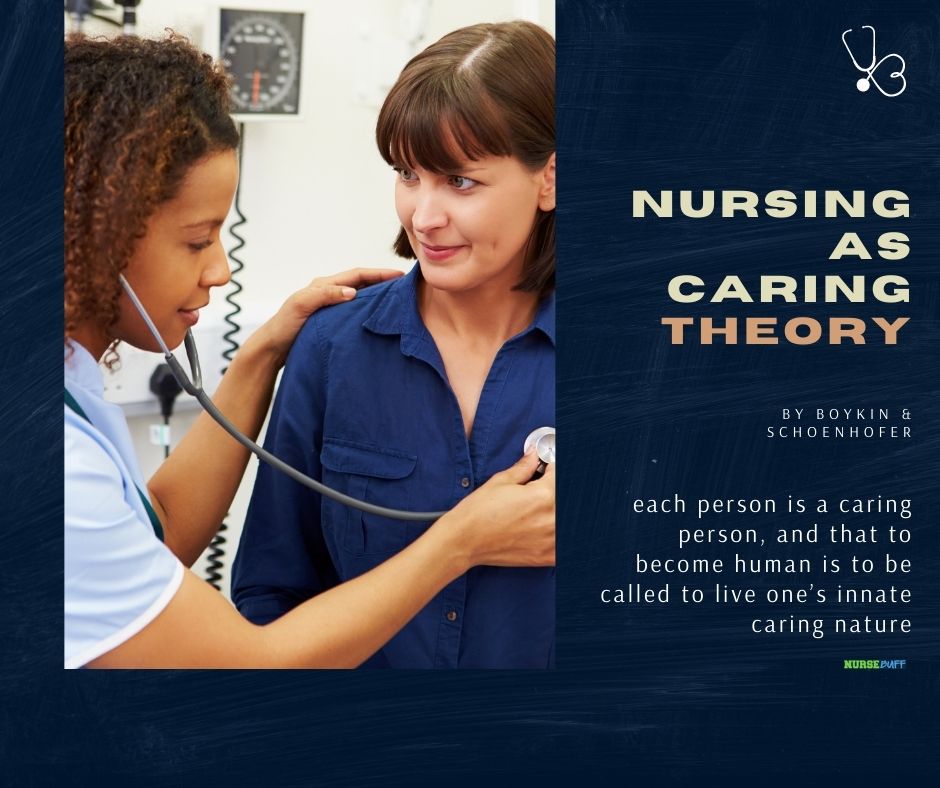 The Nursing as Caring Theory is grounded in several key assumptions: People care by virtue of their humanness; People live their caring moment to moment; People are whole or complete in the moment; Personhood is living life grounded in caring; Personhood is enhanced through nurturing relationships with others; Nursing is both a discipline and a profession.
The most basic concept of the theory is that each person is a caring person, and that to become human is to be called to live one's innate caring nature.
Anne Boykin, Ph.D, is Dean and Professor of the College of Nursing at Florida Atlantic University in Boca Raton, Florida, and is also Director of the Christine E. Lynn Center for Caring. She is a former president of the International Association for Human Caring, a member of several local boards, and is actively involved in various nursing organizations at the national, state, and local levels.
Savina O. Schoenhofer, Ph.D, is Professor of Graduate Nursing at Alcorn State University in Natchez, Mississippi. She is a co-founder of the nursing aesthetics publication, Nightingale Songs. Her research and publications are in the areas of everyday caring, outcomes of caring in nursing, nursing values, nursing home management, and affectional touch.
30. Human-To-Human Relationship Model by Joyce Travelbee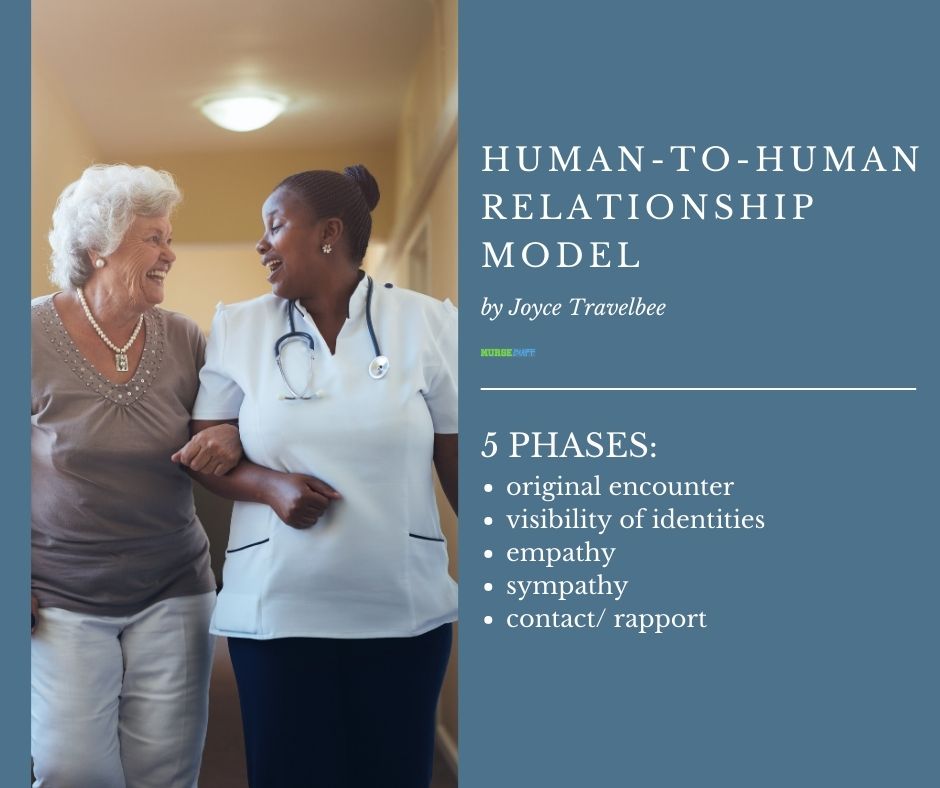 According to this theory, human-to-human relationships begin with the original encounter and then progress through stages of emerging identities, developing feelings of empathy, and later feelings of sympathy. It has five phases which include: the inaugural meeting or original encounter; visibility of personal identities/ emerging identities; empathy; sympathy; and establishing mutual understanding and contact/ rapport.
Born in 1926, Joyce Travelbee completed her BSN degree at Louisiana State University. She experienced being a psychiatric nurse, an educator, and a writer. In 1959, she completed her Master of Science Degree in Nursing at Yale University. Later, she became a Psychiatric Nursing Instructor at Depaul Hospital Affiliate School, New Orleans, and later in Charity Hospital School of Nursing in Louisiana State University, New York University and University of Mississippi.
31. Professional Advancement Model (From Novice to Expert) by Patricia Benner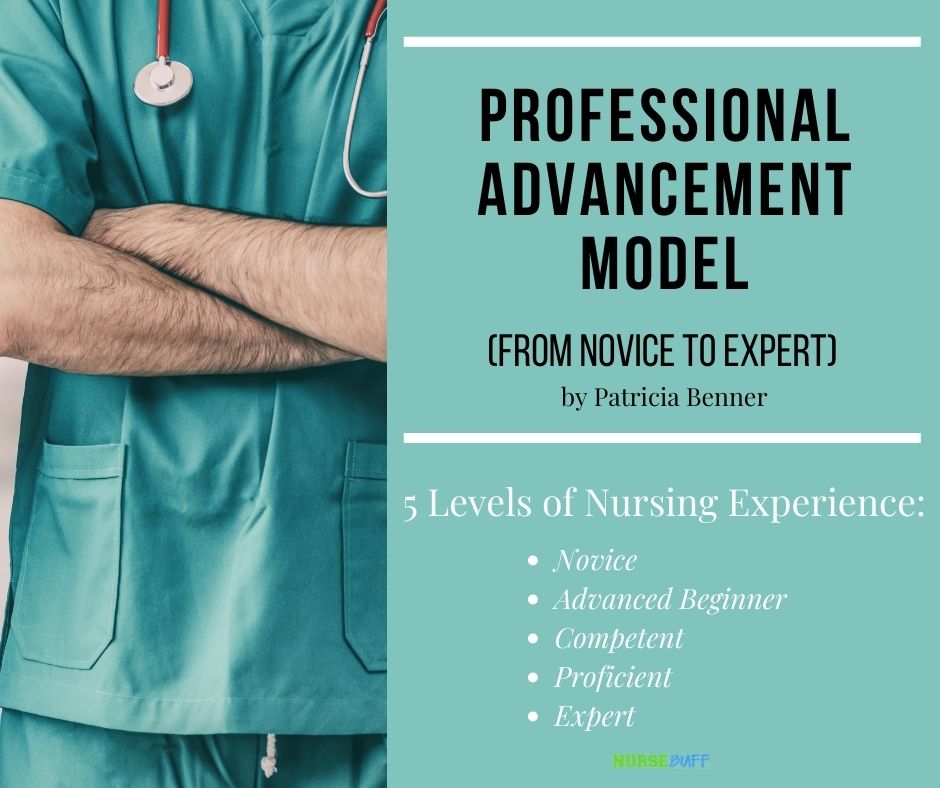 The Professional Advancement Model proposes five levels of nursing experience. They include novice, advanced beginner, competent, proficient, and expert.
The different levels of skills reflect changes in different aspects of skilled performance such as movement from relying on abstract principles to using past concrete experiences to guide actions; change in learner's perception of situations as whole parts rather than in separate pieces; and passage from a detached observer to an involved performer, no longer outside the situation but now actively engaged in participation.
Nursing practice guided by the human becoming theory live the processes of the Parse practice methodology, illuminating meaning, synchronizing rhythms, and mobilizing transcendence.
Patricia Sawyer Benner was born in 1942 in Hampton, Virginia. She earned an associate's degree in nursing from Pasadena City College simultaneously with a bachelor's degree from Pasadena College in 1964, a master's degree in nursing from UCSF in 1970, and a PhD from the University of California, Berkeley in 1982. She was named a Living Legend of the American Academy of Nursing in 2011.
32. Biopsychosocial Model by George L. Engel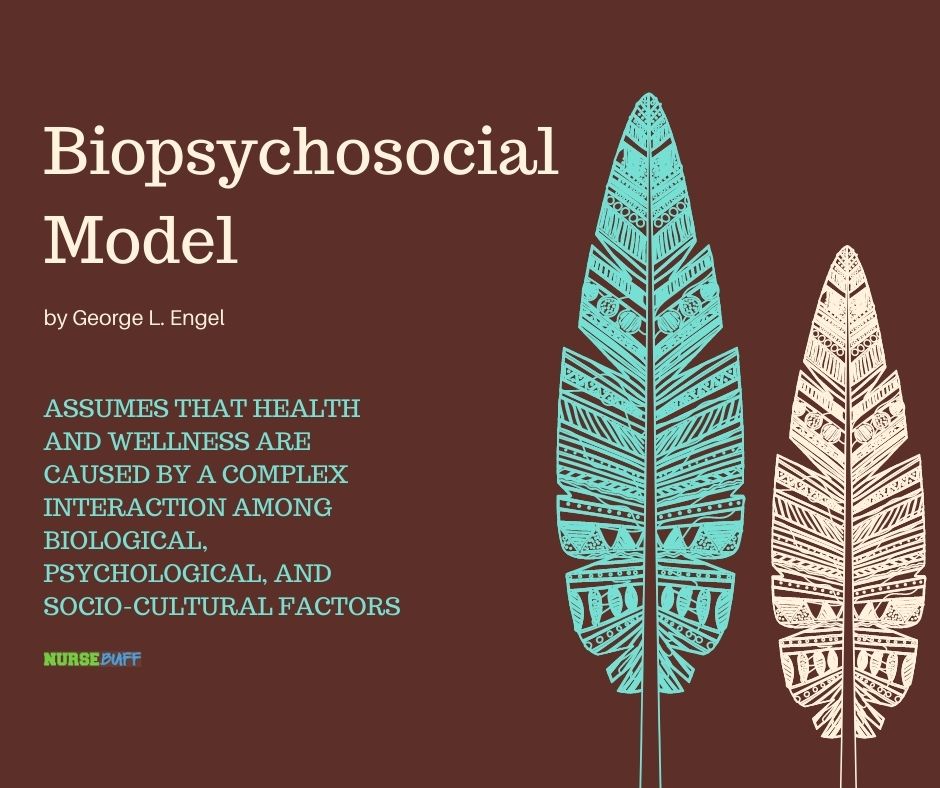 The Biopsychosocial Model is an interdisciplinary model that assumes that health and wellness are caused by a complex interaction among biological, psychological, and socio-cultural factors.
The biopsychosocial approach systematically considers biological, psychological, and social factors and their complex interactions in understanding health, illness, and health care delivery. To apply the biopsychosocial approach to clinical practice, the clinician should: Recognize that relationships are central to providing health care; use self-awareness as a diagnostic and therapeutic tool; elicit the patient's history in the context of life circumstances; decide which aspects of biological, psychological, and social domains are most important to understanding and promoting the patient's health; and provide multidimensional treatment.
Born on December 10, 1913 in New York City, George Libman Engel completed his undergraduate degree in chemistry from Dartmouth College in 1934, and then entered John Hopkins University School of Medicine in Baltimore, Maryland to study medicine that same year.
After receiving his medical degree in 1938, he began an internship at Mount Sinai Hospital in New York City. By 1941, he began a Research Fellowship in Medicine at Harvard Medical School and also Graduate Assistant in Medicine at the Peter Bent Brigham Hospital (now Brigham and Women's Hospital).
33. Open Systems Model by Imogene King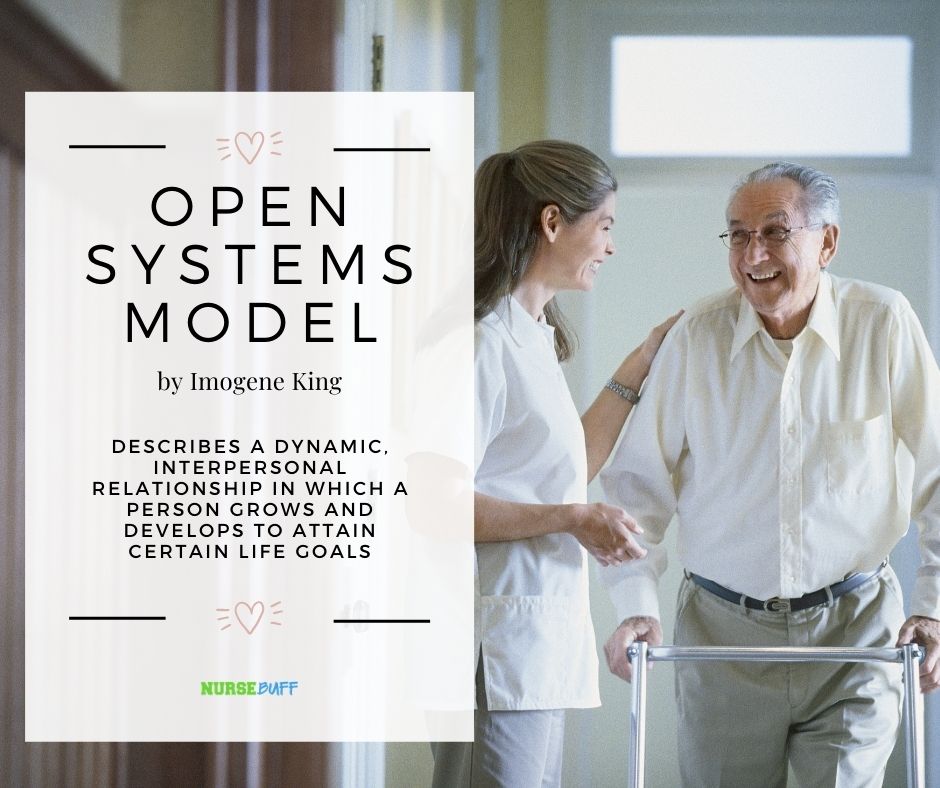 The Theory of Goal Attainment describes a dynamic, interpersonal relationship in which a person grows and develops to attain certain life goals. The interacting systems of the theory include personal, interpersonal, and social systems.
In the theory, King proposes the following: If perceptual interaction accuracy is present in nurse-client interactions, transaction will occur; if nurse and client make transaction, goal will be attained; if goal are attained, satisfaction will occur; if transactions are made in nurse-client interactions, growth & development will be enhanced; if role expectations and role performance as perceived by nurse & client are congruent, transaction will occur; if role conflict is experienced by nurse or client or both, stress in nurse-client interaction will occur; and if nurse with special knowledge skill communicate appropriate information to client, mutual goal setting and goal attainment will occur.
Born in 1923 in West Point, Iowa, Imogene King earned her Bachelor of Science in Nursing degree in 1948, and her Master of Science in Nursing in 1957 from St. Louis University. She then received her Doctorate from Teacher's College, Columbia University. She was on the faculty at Loyola University from 1961-1966 and 1972-198 and directed the nursing program at Ohio State University between 1968 and 1972. She also taught at University of South Florida from 1980 to 1990.
34. Self-Care Model by Dorothea Orem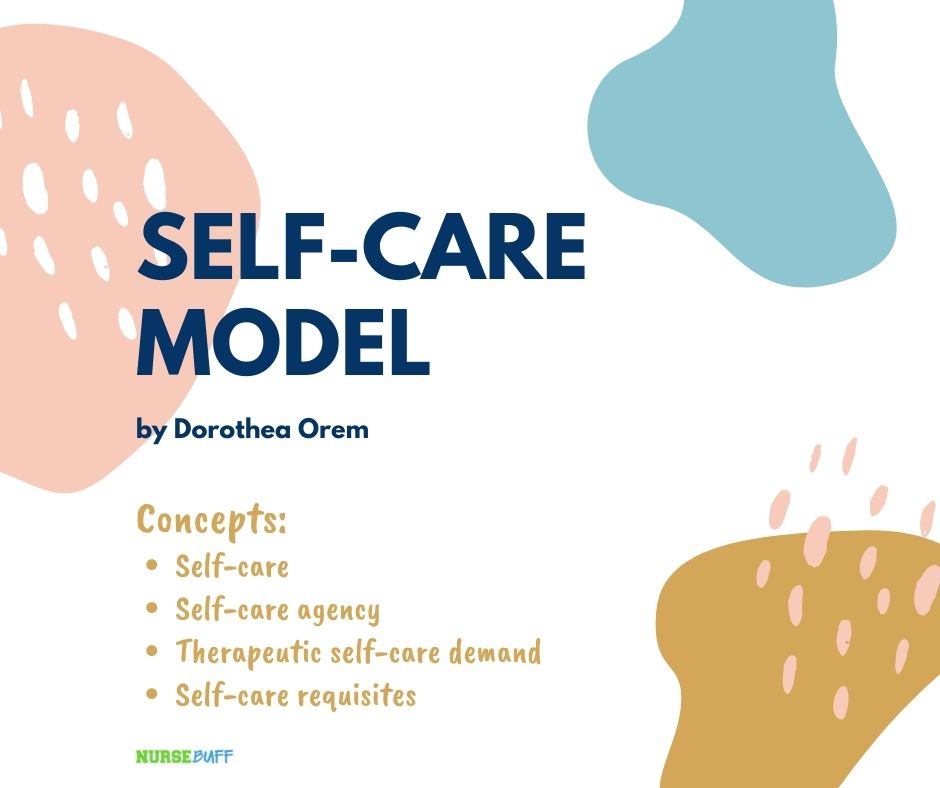 This theory includes concepts on self-care, self-care agency, therapeutic self-care demand, and self-care requisites. It is illness-oriented, but specifies when nursing is needed. The theory can be used by the practitioners in guiding and improving their practice.
Dorothea Elizabeth Orem was born in 1914 in Baltimore, Maryland. She received a nursing diploma from Providence Hospital School of Nursing in Washington, DC. In 1939, she earned her Bachelor of Science in Nursing Education from the Catholic University of America, and by 1945, she earned her Master of Science in Nursing Education.
Orem was a member of the group of nurse theorists who presented Patterns of Unitary Man (Humans), the initial framework for nursing diagnosis, to the North American Nursing Diagnosis Association in 1982.
35. Systems Model by Betty Neuman
The Systems Model is based on the individual's relationship to stress, his reaction to it, and reconstitution factors that are dynamic in nature. The purpose of the nurse is to retain this system's stability through the three levels of prevention: primary prevention to protect the normal line and strengthen the flexible line of defense; secondary prevention to strengthen internal lines of resistance, reducing the reaction; and tertiary prevention to readapt, stabilize and return to wellness following treatment.
Born in 1924 in Ohio, Betty Neuman received her Nursing diploma in 1947 from Peoples Hospital School of Nursing, Akron, Ohio. When she moved to California, she worked as a hospital staff, and head nurse; school nurse and industrial nurse; and as a clinical instructor in medical-surgical, critical care and communicable disease nursing.
In 1957, Dr. Neuman attended the University of California at Los Angeles (UCLA) with double major in psychology and public health. She received B.S. in nursing from UCLA. In 1966, she received Masters Degree in Mental Health, Public Health Consultation from UCLA.
36. Theory of Caring by Kristen M. Swanson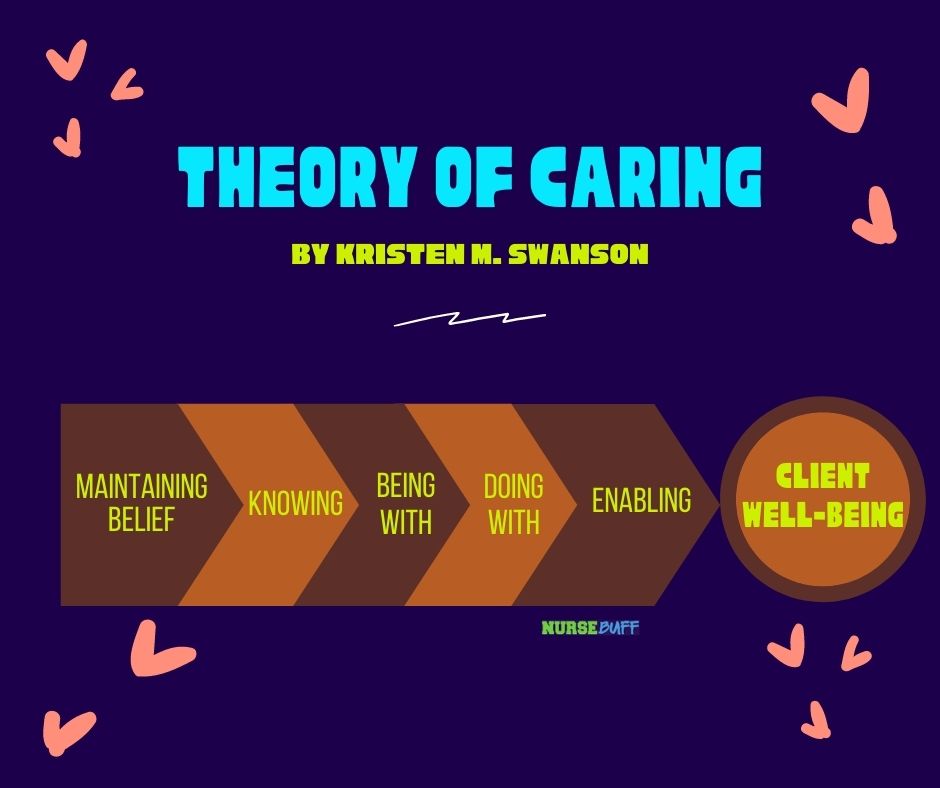 This theory has been used to define the care of patients and their family members. It outlines 5 caring processes:
Maintaining belief and sustaining faith that the patient can move forward with their lives
Knowing and understanding the experience of the patient and their family members
Being with and in the moment with the patient
Doing for patients as they would do for themselves (if possible)
Enabling the capacity of the patient to care for themselves and the family
37. Theory of Chronic Sorrow by Georgene Gaskill Eakes, Margaret A. Hainsworth, and Mary Lermann Burke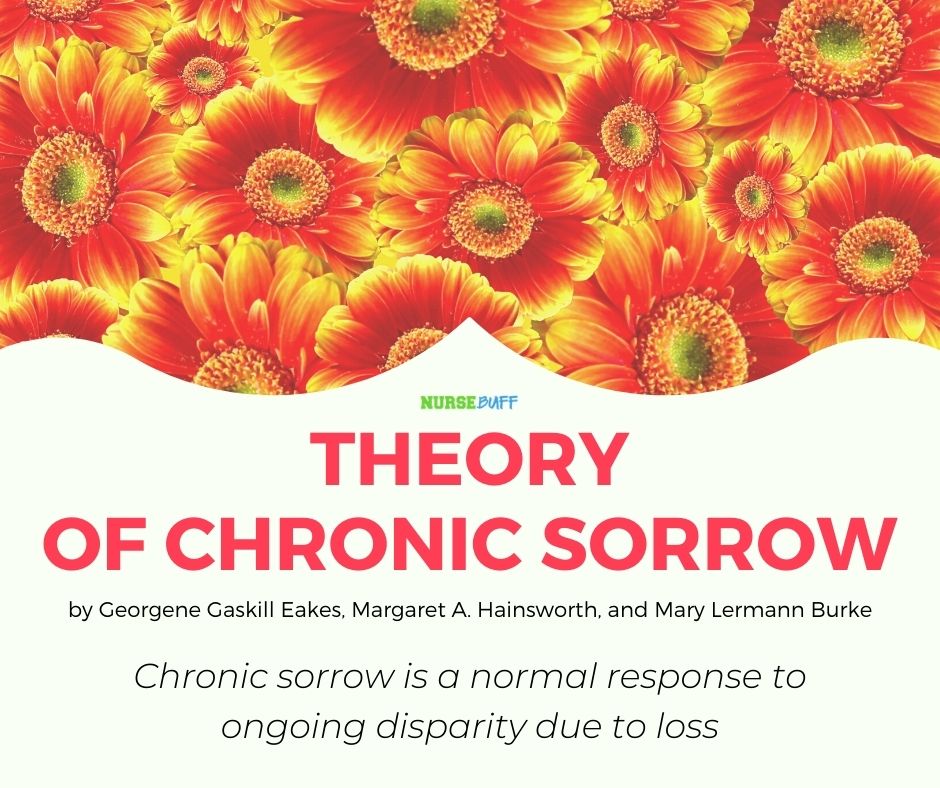 Developed in 1998, this theory is classified as a middle-range nursing theory. It gives light to the ongoing feelings of loss that come from illness, debilitation and death.
As a nurse, this theory serves as a guide when caring for people with chronic conditions as well as their caregivers. Chronic sorrow is a normal response to loss. When it's triggered, nurses should provide empathetic support and promote healthy adaptation.
38. Peaceful End-of-Life Theory by Cornelia M. Ruland and Shirley M. Moore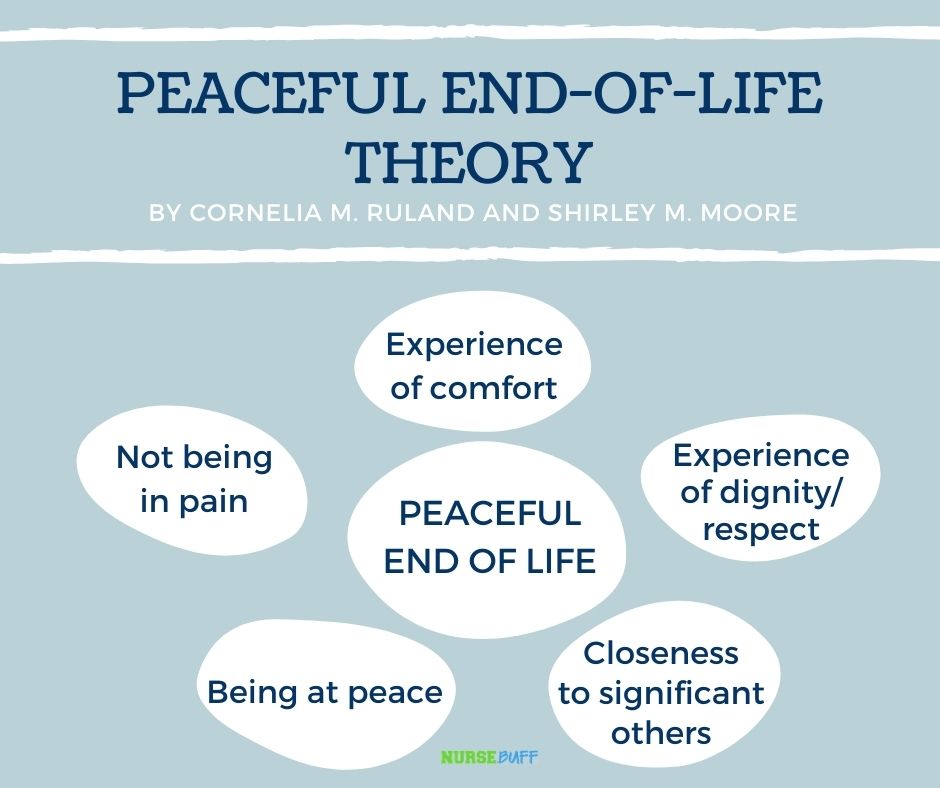 This theory doesn't focus on death. Instead, it's main concern is on providing a meaningful and peaceful living in the remaining time for the patients and their families.
The theory puts emphasis on the role of nurses in the creation of a peaceful end of life care. It involves emotional support, freedom from suffering, and treatment of both patients and their families with empathy and respect.