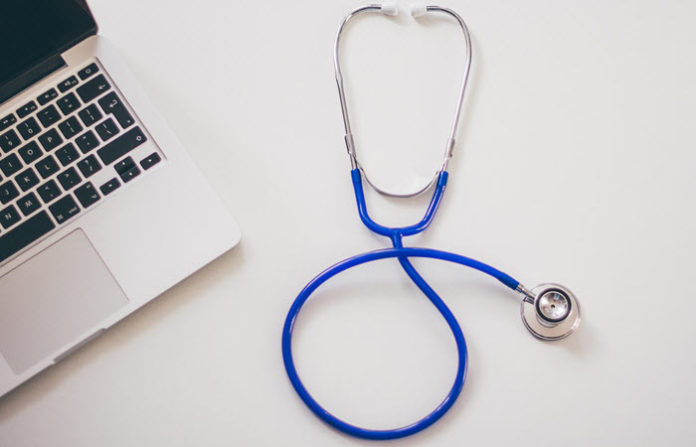 When you buy something using the links on our posts, we may earn a small commission at no additional cost to you. Learn more.
Have you ever felt naked without a reliable stethoscope hanging around your neck? You are not alone.
Stethoscopes serve as a nurses' guide when conducting physical assessments. Without a reliable stethoscope, making thorough and accurate assessments on your patients would be impossible. We've put together this awesome guide in finding the best stethoscope for nurses.
Why Should You Invest On Good Stethoscopes?
Most hospitals require nurses to have their own stethoscopes. It's one of the most frequently used medical devices in the hospital, so it's best if you invest in something that lasts.
Here are the benefits of investing in good stethoscopes:
Stethoscope serves as the extension of your senses when doing assessments. It's convenient to have a quality stethoscope around, especially when you observe that there is something wrong with your patient that needs immediate assessment.
Why buy a cheap stethoscope if you can't rely on it during actual emergencies? A quality stethoscope can last a lifetime so it's definitely worth the price. Plus, you might not be able to do proper auscultation if your stethoscope can't give you decent sound quality.
Have you ever used a low-quality stethoscope that is not yours? I bet it hurts your ears!  By getting your own quality stethoscope, you can ensure that it fits you well. Low-quality stethoscopes usually have defects that may cause discomforts in the long run.
Types of Stethoscopes for Nurses
To help you choose the best stethoscope for you, take a look at the following types of stethoscopes:
1. By Head Type
Single head stethoscopes are known for their clear and wide frequency sound output. It allows the listener to focus on high or low-frequency sounds. It is commonly recommended for general usages like taking vital signs and lung auscultation. It is also preferred for basic heart sound assessments.
A dual-head stethoscope is more versatile to use than a single head stethoscope. It is composed of two heads – the diaphragm and the bell. The diaphragm is the flat part of the head that works great for high-frequency sounds while the bell is the cup-like part of the head that works great for low-frequency sounds.
The triple-head stethoscope is designed to accurately hear and assess critical heart sounds. It is expensive and relatively heavy so it is just commonly used for critical cardiac assessments.
2. By Usage
Sprague Rappaport Stethoscope
A Sprague Rappaport stethoscope has separate chest piece tubes for each earpiece. These tubes are held together by a metal clip and connected separately to the headpiece. The double-barrel chest piece of this stethoscope is made to produce better sound quality.
Cardiology stethoscopes are designed for cardiac assessments. This type of stethoscope has superb sound quality so distinguishing different heart sounds will be easy. It is available in a single-head or a double-head chest piece.
The chest piece tubes are usually bi-lumen but it is made into a single tube design so there will be no noise created from two tubes rubbing together.
A pediatric stethoscope is similar to classic stethoscopes except for one feature – the headpiece is smaller than standard stethoscopes. The bell part of the head measures one inch in diameter and the diaphragm is specially contoured for pediatric bodies.
Just like the pediatric stethoscope, the infant stethoscope has a small headpiece as well. The bell part of the headpiece is ¾ inch in diameter. The headpiece is lightweight and contoured for ease of use on newborns and babies.
3. Special Types
Hearing-Impaired Stethoscope
Stethoscopes for hearing-impaired individuals are now available. This kind of stethoscope is capable of amplifying sounds without being affected by outside noise. It can be attached to an external PDA, earphones, or tape recorder.
Electronic stethoscopes became popular because of its noise reduction feature. It can also amplify sounds well. It is considered impractical for emergency purposes as it needs to be set and recharged for accurate sound output.
Examining the Stethoscope – What You Should Look For
In examining a stethoscope, you must ensure that the parts are made from high-quality materials. Here's a guide for this:
The earpiece of a stethoscope should feel soft and fit perfectly into the ear canal. It should also be properly angled to ensure crisp sound playback.
The chest piece should be made from stainless steel. Stainless steel is a good conductor of sound and highly durable so air leak will be prevented. Chest pieces made from aluminum and zinc alloy are also great but stainless steel tops them for the sound quality amplified.
The tube is responsible for sound transmission and the elimination of external noises. It should be made from thick material like polyvinyl chloride. It should be crack-resistant and can be conveniently folded without kinking or breaking.
The diaphragm should be made from a high-quality flexible material like resin and PE compound film. It should be air-sealed to ensure that the amplified sound is clear. If possible, having a non-chill rim within the diaphragm will be helpful especially for pediatric patients.
Top 10 Best Stethoscopes for Nurses
Here's a list of the top ten best stethoscopes for nurses as recommended by our staff and online reviews.

3M Littmann Classic III Stethoscope has tunable diaphragms which makes it a good choice for both pediatric and adult patients. It features a two-sided chest piece, too.
Compared with most stethoscopes, this one has a more durable tubing. It can resist skin oils and alcohol which means it's less likely to wear off easily. It's not prone to picking up stains as well.
Pros: 
Fantastic sound quality
Resists skin oil and alcohol
Comfortable in the ears
Cons: 
Feels heavy
Length is a bit short

The 3M Littmann Lightweight II S.E. Stethoscope also features a tunable diaphragm that is capable of capturing both low and high-frequency sounds. It has a teardrop shape, making it easy to fit under your blood pressure cuff.
Its earpieces, on the other hand, are angled to ensure a proper fit into the ear canal. This ensures that you get to hear sounds as accurately as possible.
Another impressive thing about this stethoscope is that it has a non-chill rim. It's great for keeping patients comfortable during assessments.
Pros:
Convenient diaphragm shape
Earbuds are angled
Easy to clean
Not bulky
Cons:
May not be the best for listening to cardiac sounds
Tube tends to be a bit flimsy
Not long enough

White Coat Dual Head Stethoscope is a great choice for healthcare professionals and first responders. It's made from high-quality materials which ensures not just durability but accuracy, too.
It's manufactured with thick-walled tubings to make hearing clearer. Its chest piece, on the other hand, is made from stainless steel to help pick up even the faintest sounds during an assessment. It's great for hearing both heart and lung sounds.
Pros:
Comes with a carrying case and penlight
Lightweight
Good quality
Cons: 

If you work in a unit that specifically manages patients with heart problems, this 3M Littmann Master Cardiology Stethoscope is definitely something you should buy. It has a tunable diaphragm that can let you hear a variety of frequencies just by adjusting the pressure on its chest piece. You won't have to turn it over or reposition it.
This stethoscope isn't made with rubber latex which is good news for those who have sensitive skin. It doesn't contain phthlate plasticizers, too.
Pros:
Sounds are clear
Safe for sensitive skin
Has a tunable diaphragm
Doesn't contain phthlate plasticizers
Cons:
If you are looking for a stethoscope that's reasonably priced and has excellent quality, go with ERKA Finesse 2 Stethoscope. It features a switchable chest piece which makes it great for infants, children, and adult patients. It has a unique design to ensure great resonance and sound transmission.
The stethoscope has dual-channel tubing and ergonomic ear tips to make sure that no background noises can distract you. It comes in five colors to match your uniform.
Apart from the great design, you'll also love the case it comes with. It can help keep your stethoscope in great shape when not in use.
Pros:
Has a switchable chest piece
Includes a carrying case
Has ergonomic ear tips
Washable
Dermatologically safe
Cons:
None that we found

ADC Adscope Adimals 618 Pediatric Stethoscope with Tunable AFD Technology is another great pick for pediatricians and pediatric nurses. It comes with 7 interchangeable animal faces to keep your little patients preoccupied during assessments.
Aside from the great design, this one has a non-chill bell to ensure comfort and a lightweight aluminum binaurals to make sure your ears don't get irritated during use. The stethoscope can pick up both low frequency and high-frequency sounds by altering pressure.
Pros:
Features ergonomic headset
Has silicone ear tips
Comes with 7 animal faces
Cons:
Tubing can get dirty
Not that durable

3M Littmann 6163 Cardiology IV Stethoscope is a great pick for its ability to pick up high-frequency sounds well. It's able to eliminate the rubbing noise that come with traditional stethoscopes, thanks to its dual-lumen tubing.
Its headset can be adjusted which ensures your comfort. Its angled ear tubes, on the other hand, are easy to fit into ear canals.
Pros:
Has soft-sealing ear tips
Comfortable fit
Doesn't have rubbing noises
Longer life
Cons:
Tubing isn't that flexible
Diaphragm isn't that durable

The MDF Acoustica Deluxe Lightweight Dual Head Stethoscope is a top choice for its price and quality. It's handcrafted and latex-free which makes it great for people with sensitive skin.
In addition to that, you'll love that this stethoscope isn't heavy. Since you have to work long hours, the last thing you want is a stethoscope that can add more strain to your neck.
It has a large bell that provides excellent sound amplification. Its ear tips, on the other hand, is made from soft silicone to ensure comfort and proper fit.
Pros:
Durable
Provides excellent auscultation
Lightweight
Effectively seals out ambient noise
Affordable
Cons:
Plastic tubing is stiff
Head rotates too loosely
While the 1st Eko CORE Digital Stethoscope is great, its 2nd generation is even better. This cardiology-grade stethoscope has active-noise cancellation and 40x amplification. It comes with a free mobile app that you can use to visualize and record sounds.
The issues with the 1st gen Eko CORE Digital Stethoscope are its weight and size. Now, the 2nd gen CORE is 35% lighter and 25% smaller. These changes enable you to carry the stethoscope almost everywhere in the hospital.
The 2nd gen CORE also comes as a digital attachment. It enhances auscultation and allows you to hear with less background noise.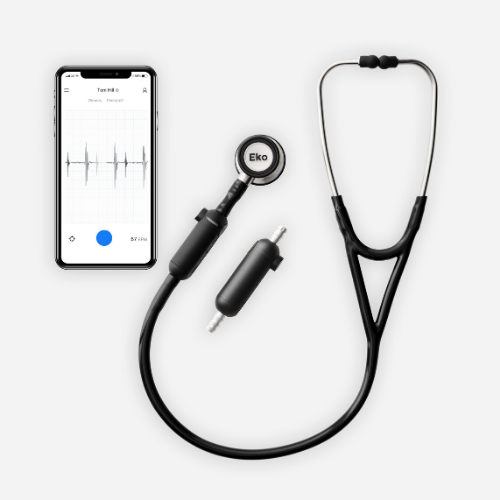 Pros:
Cardiology-grade heart sounds
Active noise cancellation
40x audio amplification
Pairs with HIPPA compliant mobile app
Comes with a digital attachment for sound enhancement
Cons:

ASATechmed Sprague Rappaport Stethoscope Dual Head Adult features a two-sided chrome-plated chest piece. With ultra-sensitive acoustics, it's designed to enable users to hear a broad spectrum of varying sound frequencies.
It has soft silicone ear tips so it won't hurt your ears. The tips also help with isolating sounds for accuracy and precision.
The stethoscope comes with a free pouch. It's a big help in making sure you don't end up damaging it in your bag. Apart from that, you'll also get trauma shears and a penlight with it.
Pros:
Latex-free tubing
Features soft ear tips
Comes with a free water-resistant pouch
Cons:
Shears and penlight aren't the best
How to Choose the Best Stethoscopes – 10 Golden Rules for Nurses
Consider the following pointers in buying your own stethoscope:
Rule # 1: Check Your Budget.
It is true – quality stethoscopes are expensive so you should consider your budget first. It will be great to opt for the expensive one if its quality meets your expectations. Many nurses invest on really high-quality stethoscopes and end up using them for years.
Rule # 2: Consider Your Area or Department.
Considering the area or department where you are working is also important when choosing the best stethoscope for your needs.
If you are working in the Cardiology Department, then the cardiology stethoscope will be great for you. If you are in a pediatric ward, getting a pediatric stethoscope would be best. Specialized stethoscopes offer unique functions that are specifically useful for the designated area it was made for.
Rule # 3: Check The Requirements In Your Institution.
Nursing students are usually required to have a single tube stethoscope with bell and diaphragm. It should also have no attached electronics. Consult your hospital about the stethoscope requirements for staff nurses in your area.
Rule # 4: Look for Quality Brands.
The popular brands of stethoscope known for their quality are 3M™ Littmann®, Adscope®, Welch Allyn and Prestige. When choosing one, try each stethoscope you prefer to determine the product you're most comfortable with. Check if there is no defect and if everything is attached well.
Rule # 5: Decide The Type Of Stethoscope You're Comfortable Working With.
Do you prefer a single-head, dual-head or triple-head stethoscope? Do you want a sprague rappaport or a cardiology stethoscope for crispier and more detailed sound quality? You should choose the type of stethoscope you are comfortable working with as a lot of your assessments will depend on it.
Rule #6: Consider The Weight of Your Desired Stethoscope.
If you will be moving a lot around your unit, it will not be convenient to carry a heavy stethoscope in your neck or pocket. This is the reason why you should consider the stethoscope's weight when getting one. Usually, a stethoscope designed to amplify even the lightest heart murmur is heavier because of its thick-walled tubing.
Rule # 7: Inspect The Stethoscope's Parts.
When buying stethoscopes, you should take time in inspecting the parts. The eartips should be soft and well-sealed when fitted. Binaurals and chestpiece made from stainless steel are considered the best option for sound conductibility. The tubing should be thick with no holes or punctures.
Rule # 8: Check If The Stethoscope's Parts Are Replaceable.
Some stethoscopes automatically have spare parts included like eartips, diaphragms and bells. For some brands, you will need to order separate parts in case you need a replacement. The most commonly replaced part of a stethoscope is the eartips and it will be great to have plenty of spare eartips available on hand.
Rule # 9: Consider Your Working Environment.
If there is a high incidence of missing stethoscopes in your area, you should first try to get a cheap to moderately priced ones. ER nurses and other nurses working outside the hospital setting usually misplace or lose their stethoscopes. This is the reason why it might not be wise to invest on high-end stethoscopes in this case. There are plenty of stethoscopes with great sound quality without the hefty price tag–you just need to look for one.
Rule # 10: Ask For Recommendations From Your Colleagues.
Because of the years of experience senior nurses have in the clinical field, you can benefit from asking them about the best type of stethoscope for nursing practice. Ask about the most effective and convenient stethoscopes to use in your assigned area as well as the brands or types of stethoscopes to avoid.
Additional Tips and Warnings:
The longer the stethoscope's tubing is, the less sensitive the amplified sound could be. A long stethoscope is convenient to use, but always remember to check for the sound quality if it's sensitive enough for assessments.
Stethoscopes with latex tubing are prone to cracks when left in a warm place for a long time. If you frequently hang your stethoscope around your neck, the tubing could easily crack as well, especially when it is often in contact with skin. There are very few brands of stethoscopes that offer spare tubing so you should take care of it well.
During the opening of the school year, some discounts are offered online for students getting their first stethoscopes. It is great to consider these discounts especially if you are planning to purchase an expensive one.