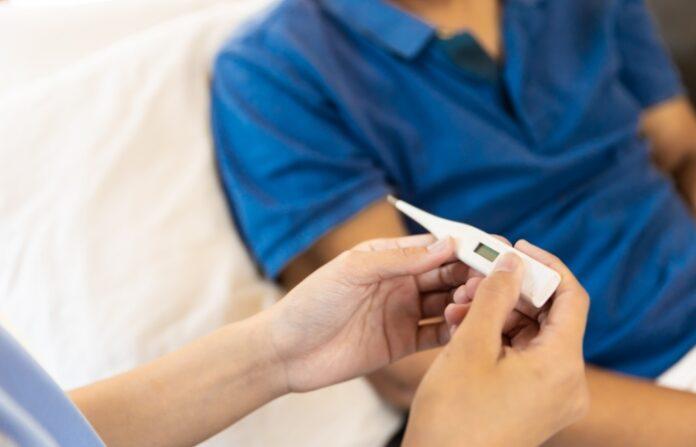 Temperature monitoring using the best thermometer for nurses is a critical aspect of healthcare, helping nurses detect and respond to changes in a patient's condition promptly. It not only facilitates early intervention for sepsis or infection but also contributes to effective treatment plans. Thus, having a thermometer that meets the demands of a nurse's dynamic environment is paramount.
Whether you're a seasoned nurse looking to upgrade your existing thermometer or a nursing student preparing for clinical rotations, here's a comprehensive guide to help you choose the best thermometer for nurses.
Best Contact Thermometers for Forehead
The Braun Forehead thermometer for adults, babies, toddlers, and kids can generate accurate results within seconds with a gentle forehead touch. When monitoring fever at home, it's essential that you're using a thermometer with reliable results, which the Braun thermometers are known for.
Pros:
Color-coded temperature guidance
Easy to use controls, takes temperature in seconds
Cons:
Expensive than most of the items on this list
Recommended by medical professionals, this forehead thermometer by Famidoc promises to deliver reliable results with its high-accuracy sensor probe technology. It's also equipped with the latest smart chip to guarantee speed and efficiency in delivering results.
Pros:
Beeps constantly when fever is detected
Offers a 90-Day Money Back Guarantee
Cons:
Display in Dark feature hard to use
Equipped with features that are easy to navigate and the most recent chip technology for generating excellent performance. Guaranteed to deliver reliable results for the entire family, this thermometer also has an elevated temperature alarm with a beeping sound and the backlit screen turning red when detecting a fever.
Pros:
You can check up to 20 past readings
Cheap and offers 100-day refund policy
Cons:
Forehead mode is not as accurate as in-ear mode
Temporal:
This Exergen temporal thermometer has a high accuracy feature that's also safe and easy to use. It uses "arterial heat balance" to generate accurate temperature, so even a mild tap off your forehead using this thermometer is already enough to capture heat.
Pros:
Accurate scan is indicated by red light and soft beep
Takes 1,000 readings per second, and chooses the most accurate
Cons:
No instructions on how to shift between scanning mode and other functions
Best Contact Thermometers for Ear
The Braun ThermoScan5 is a popular option among pediatricians. It's fast, gentle, and easy to navigate. When caring for the little ones while they're feeling under the weather, it's important that you're using a thermometer that's accurate, which is why Braun is a trusted brand. This specific model also has a pre-warmed tip, making sure that you get accurate readings for infants and young children.
Pros:
Beneficial design and easy to use controls
Well-known brand
Cons:
More expensive that most items on this list
Featuring a newer processing technology, this digital ear thermometer has a sharp sensor probe for high-accuracy scanning. Its latest smart chip also guarantees accurate results. Even better, its color-coded display makes reading and interpreting results intuitive. With its infrared tech, taking temperature is also notably quick.
Pros:
LED light display for easy reading
Features a smart fever warning system
Cons:
Less accurate when stored in cooler places
Guaranteeing results in a mere second, iProven's thermometer uses the latest sensor system for quicker and accurate readings. Results are easy to see and interpret because there's a colored fever indication display, making the entire process simple and easy. What's also great about this particular thermometer is its feature to remember and track your past 35 readings.
Pros:
Silent mode to get kids' temperature while sleeping
Switch between the 3-in-1 Forehead, Ear and Object Mode
Cons:
Need more pressure on the skin to get a reading
The Kinsa Smart Ear thermometer gets an accurate reading both in celsius and fahrenheit. This specific design is also non-invasive with its comfortable ear tip, so family members of all ages won't feel any discomfort. For more benefits, there's also a Kinsa app you can use, which answers any of your health-related questions. The app also allows you to track your family members' fever and other symptoms.
Pros:
Offers an additional app you can use
Accurate and easy to use
Cons:
The app can be a hassle for some who only wants to use it as a thermometer
Best Contact Thermometers for Oral, Rectal or Underarm
This thermometer can track your Basal Body Temperature (BBT) and ovulation test result to help with your family planning journey. Guaranteeing accuracy, delivering results may take longer than regular oral thermometer, but only because it's designed to have the ultimate precision. For comprehensive tracking, it stores and remembers 30 temperature records.
Pros:
Waterproof and flexible tip
Big screen with Backlit
Cons:
Backlight color is too bright
The Kinsa QuickCare thermometer offers fast and easy to understand results in just eight seconds or less. More than delivering quick and accurate results, this multi-functional thermometer, which you can use for oral, rectal or armpit temperature tests, also has an accompanying app for more features.
Pros:
Delivers temperature readings in eight seconds or less
There's a free Kinsa app for better usage and features
Cons:
App is required for the initial set up and for smart features
Safety 1st's nursery thermometer is just what you need to help you care for the little ones when they're feeling unwell. With an accurate reading that you can get after around 30 seconds, you'll know exactly what to do. Convenient and simple to navigate, you can also use it for oral, rectal, and underarm temperature readings. Also includes a protective storage case and battery.
Pros:
Has an over-insertion gauge for rectal use
Soft beep when reading is finalized
Cons:
Sometimes takes a while to read temperatures
Best Non-Contact Thermometers
iHealth's forehead thermometer uses the non-contact technology for getting its readings. Designed with a built-in infrared temperature sensor, it can take a person's temperature sans contact (1.18 inches from the center of the forehead). The Tri-Point Sensory tech embedded also ensures that temperatures taken are precise. Also adds a single-button control design that displays results quickly and features a large LED display.
Pros:
Easy to use and accurate non-contact thermometer
Extra-large LED display and mild vibration notification instead of loud buzzing
Cons:
A little confusing to use in the beginning
Another touchless option on this list is this non-contact thermometer from GoodBaby. Innovative and simple to use, there's only a single button for quick controls. It can read temperatures in both celsius and fahrenheit and the two are also easily switchable. Equipped with its highly sensitive sensors and the newest smart chip, you can rest assured that its readings are accurate.
Pros:
Internal memory that can save 35 readings
No need to clean after every use
Cons:
Temperature may fluctuate, although this rarely happens
The infrared technology in non-contact thermometers allows taking temperatures without having to touch, which is great because it prevents cross-infection between people. If you're looking for a non-contact design that's fast, easy to use, and accurate, look no further than HUHETA's infrared thermometer. It has a high-precision sensor and only takes a second to work and provide a reading. Designed for all ages, you can use it to measure forehead, and even a room, object, and liquid temperature.
Pros:
Auto shutdown feature for power saving
Reads temperature in one second
Cons:
Batteries are not long-lasting
Just like other non-contact selections, this particular thermometer can be used by both adults and children. It also features a dual mode that allows users to easily switch modes at any time.
With its vibrant LCD display and subtle notification, no need to wake up everyone when taking a kid's temperature.
Pros:
You can check a maximum of 32 previous readings.
Latest microchip and a high sensitivity sensor for accuracy
Cons:
Batteries are not long-lasting
Alcedo Store's forehead and ear thermometer is accurate, reliable, and easy to use. Donning a one-push button design for easier and faster readings, you'll find this 4 in 1 smart thermometer more than useful when your loved ones are feeling unwell. Its patented magnetic cover also helps ensure that the thermometer probe is clean and protected.
Pros:
Silent mode to use at night during sleep or during nap time
All-in-one package with one year warranty
Cons:
iProven Store's digital non-contact thermometer is another great option for getting one's temperature at a safe distance. Like with the other excellent selections, it also features a modern infrared tech and reliable sensor that ensures accurate readings. For straightforward reading of results, you can either opt for the audible and visual alarm or use the silent mode when your baby is asleep.
Pros:
Silent mode available
High precision sensor
Cons:
Manual a little hard to understand
A cheap alternative that doesn't compromise quality is this non-contact thermometer by hetalda. It only takes a second to get a reading, an essential feature for worried parents when taking their children's temperature. Guaranteeing instant and accurate results, the precision of temperature measurement is within ±0.4℉. Plus, there's an auto shutdown feature to save power and silent mode so it doesn't disturb your baby's sleep.
Pros:
Intelligent alert and silent mode
Can easily switch between multiple measurement modes
Cons:
Needs good batteries to work well
A well-known brand, this Braun No Touch forehead thermometer can take precise readings even from 2 inches away, so you don't disturb a sleeping child. It can also be used as a traditional forehead thermometer if you choose to. To use properly, there's an on-screen positioning system that tells you the proper distance, and guidance light helps to aim accurately. What's more, its patented technology captures twice as much body heat so this brand's accuracy is next level.
Pros:
Easy to use with great display and functionality features
High accuracy
Cons:
A little more expensive than other brands
Conclusion
Nurses play a pivotal role in monitoring and assessing patients, and accurate temperature measurement is crucial in detecting early signs of infection, monitoring vital signs, and guiding treatment decisions.
By investing in a high-quality thermometer, such as the ones we have on this list, you can be more efficient in caring for your patients while reducing the risk of cross-contamination.