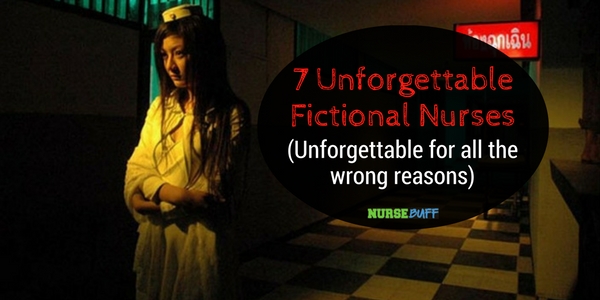 Do you know who the most unforgettable fictional nurses around are?
When we say unforgettable, we mean the ones with unusual nursing roles you cannot forget. Yes, we mean those nurses whose roles were against the norms of the nursing practice we know today.
Take a look at the following twisted nurses from movies. Will you ever forget them for their peculiar roles in these films?
1. Daisy Daws
Appeared in: Amos (1985)
Daisy Daws is the head nurse of Sunset Nursing Home. She rules the nursing home with an iron fist, just like Nurse Ratched from One Flew Over the Cuckoo's Nest.
When Amos Lasher lost his wife and home to an accident, he was left in the care of the state. He became a resident of the Sunset Nursing Home and soon enough, he started questioning the inhumane treatment suffered by his fellow residents under Daisy's supervision. His suspicions grew when he observed systematic patterns of deaths among troublesome residents. Together with other residents, he rebelled against Daisy and her staff.
Trivia: Amos is a TV movie released in 1985. The film was critically acclaimed for its amazing depiction of the sadness and horrors of residents in nursing homes.
2. Edith Mortley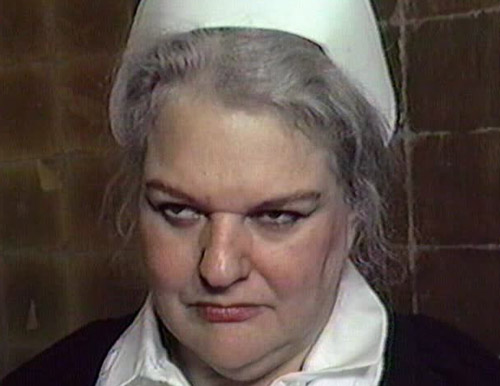 Appeared in: Death Nurse (1987)
Death Nurse is a 1987 horror film that featured murderous Doctor Gordon Mortley and his sister Nurse Edith Mortley. They run Shady Palms Clinic where indigent physically or mentally ill patients are sent by the government. The Mortleys murder their patients through unnecessary surgeries and they charge the state for subsequent healthcare bills. Nurse Edith also kills anyone who dares stand in their way like social workers and environmental inspectors.
Trivia: Death Nurse has a sequel, Death Nurse 2, released in 1988. From the second movie, it was revealed that Nurse Edith is an expelled student from a nursing school and her brother Doctor Gordon was actually a veterinarian. They faked their licenses for Shady Palms Clinic.
See Also: Nurses From Hell: 6 Evil Nurses From Hollywood Movies
3. Buck
Appeared in: Kill Bill: Volume 1 (2003)
Buck is a male nurse in charge of Beatrix when she was a comatose patient at the beginning of the movie Kill Bill: Volume 1. He took advantage of Beatrix's unconscious state and repeatedly raped her. He even pimped her to male clients inside the hospital. When a man who paid Buck was about to rape Beatrix, he was surprised to see that she was already awake. Beatrix killed him and later killed Buck as well.
Trivia: Although Buck is dressed in scrubs and presumed a nurse, his work in the hospital is unclear. Aside from being a nurse, he also appeared to work as an orderly staff in the hospital.
4. Linda
Appeared in: Widow on the Hill (2005)
Linda is a hospice care nurse hired by wealthy businessman Hank Cavanaugh for his dying wife. Hank's wife eventually died and months later, he married Linda. After a few months, Hank also dies and Linda is left with his million dollar estate. Hank's daughter, Jenny, becomes suspicious of his father's sudden death. She investigates Linda and is horrified to discover her real motives against their family.
Trivia: Even though Linda is just one of the many fictional nurses in movies, Widow on the Hill is actually based on the true-to-life case of Donna Somerville. Donna was a hospice care nurse accused of choking her husband Hamilton Somerville. Donna took care of Hamilton's mother and wife during their last days and afterwards, Hamilton married her. The circumstances surrounding Hamilton's death was suspicious to authorities especially when Donna rushed to have his body cremated immediately. She inherited a part of his vast wealth after his death.
5. Nook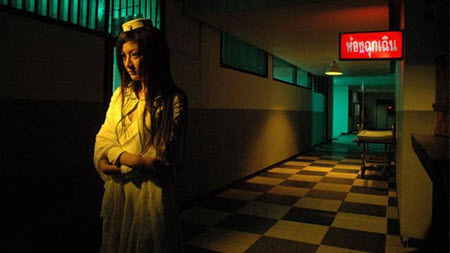 Appeared in: Sick Nurses (2007)
Nook and Tahwaan are sisters working as nurses in a suburban Bangkok hospital. Through the lead of Tahwaan's boyfriend, Dr. Tar, they ran a money-making scheme by selling dead bodies in the black market. Soon, Nook developed an affair with Dr. Tar and when Tahwaan discovered it, she threatened to call the police about their scheme. Together with six other nurses who were part of their ring, Nook killed Tahwaan. Her ghost vowed revenge and one by one, each nurse had a bloody encounter with death.
Trivia: The manner how each nurse had their unfortunate fate with Tahwaan's ghost depended on their obsessions and weaknesses. The ghost exploited their obsessions and used them in devising each nurse's horrible death.
6. Nurse Noakes
Appeared in: Cloud Atlas (2012)
Nurse Noakes of the film Cloud Atlas portrays a modern day version of Nurse Ratched from the book One Flew Over the Cuckoo's Nest. She is the authoritative figure in the corrupted home care facility Aurora House. She torments her patients instead of caring for them. She gets violent against anyone who gets in her way.
Nurse Noakes' story in Cloud Atlas is just one of the many story loops in the movie. She hunts down Timothy, the story's protagonist, as he goes against Nurse Noakes to work on his escape from the dark home care institution.
Trivia: Hugo Weaving played the role of Nurse Noakes in the movie. The character's man-like strength and physique were portrayed successfully by Weaving, leaving issues about the character's unexplored gender ambiguity.
7. Chloe
Appeared in: Nightmare Nurse (2016)
Chloe is a private duty nurse hired by Brooke for her husband Lance. Brooke and Lance had a car accident when they hit a man across the road. Brooke fully recovered from the hospital but Lance was having slow progress with his recovery.
When Brooke had to go back to work, she hired Chloe to look after her husband. Soon enough, she noticed that Lance's health deteriorated under the nurse's care. She investigated and Chloe's dark past brought light to the unraveling revenge plotted against them.
Trivia: The film premiered in Lifetime Television last March 2016. Movie critics compared the film to another nurse-themed film produced by Lifetime Television, the Widow on the Hill. They acclaimed Lifetime Television for exploring nurses' role in movies through unconventional themes.
See Also: 10 Greatest Fiction Novels Every Nurse Will Love 
While most fictional nurses in movies are the usual good-hearted lifesavers, there are also some wicked ones that will give you nightmares. Know them for fun and for reference if you need to plan a scary movie marathon with your fellow nurses.