Do you want to know how to become a critical care nurse?
Critical Care Nursing is one of the highest paid fields of nursing nowadays. Nurses skilled in critical care are considered valuable and important in the nursing workforce of hospitals and other large healthcare institutions.
Moving to critical care nursing is a good career plan for staff nurses who want to vamp up their career. The knowledge and experiences of a staff nurse in a ward care setting are a valuable foundation in shifting to more specialized field of nursing such as critical care nursing.
What Is A Critical Care Nurse?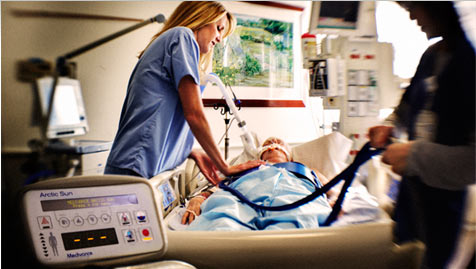 A Critical Care Nurse (CCN) is a Registered Nurse with specialized knowledge, skills and training in providing care to acutely and critically ill patients. A CCN takes care of patients who have healthcare demands that need close monitoring. CCNs usually take care of 1 – 3 critical patients at a time in Intensive Care Units (ICU).
Is There A Favorable Job Growth for Critical Care Nurses?
In general, the projected job growth for RNs until 2020 is 19%. This rate is faster than the average job growth for other professions which is just around 11%. However, considering intensive care units are never absent in a hospital, it is surprising to see that only 67,000 out of 2,600,000 RNs in the US are critical care nurses. As more healthcare institutions will be established in the next years to cater aging baby boomers, critical care nurses are always one of the most sought nurses in the nursing workforce.
What Is The Average Salary of Critical Care Nurses?
Critical Care Nurses usually have a higher salary scale than staff nurses. Registered nurses with specialized or advanced training and certification in a particular field of nursing normally have higher compensation than other nurses not practicing in specialized fields.
The average salary of CCNs differs across different states. Annual salary ranges from $50,000 to $80,000 depending on the CCN's years of experience and qualifying certifications. This range is higher than the average salary of staff nurses which is around $40,000 to $60,000 per year.
Also Read: Top 10 Highest Paying Nursing Jobs
Critical Care Nurse Requirements
In order to become a Critical Care Nurse, the aspiring nurse should have the following traits:
 Keen eye for assessment
Critical care nurses are in-charge for the care of critically ill patients. Having a keen eye for assessment is essential for early signs of health deterioration that need immediate medical attention.
 Can tolerate fast paced and stressful environment
Patients in intensive care units are in life or death situations. Every minute is vital to their health's prognosis. One minute you may be busy setting up your patient's contraptions but in the next minute you are already pumping his chest for a code! Situations in Intensive Care Units can quickly turn tides in a matter of seconds.
 Can function well in high-pressure situations
Quick thinking and sound decision-making skills during stressful situations are life-saving traits for CCNs. Nurses in Intensive Care Units should have quick presence of mind in times of time-critical healthcare needs.
 Organized especially in documentations
It is important for CCNs to be organized all the time. Critical patients usually have plenty of contraptions and IV lines that need to be organized for easy identification and access. Organized documentations are also important as critical patients usually undergo different procedures in a single shift and every detail should be documented in patient charting.
 Good communication skills
CCNs play an important role in communicating the critical patient's health status to concerned relatives. In times of crisis, the nurse will be the relatives' guide in understanding their patient's condition.
 Committed to continued training and learning
There are many variations of advanced life support equipment and monitoring devices in critical care settings. A critical care nurse should be prepared to learn using these healthcare devices as new technological equipment for easier patient care will be introduced to ICUs from time to time. CCNs also need continuous seminars and training in intensive care to update their knowledge and skills in critical care nursing.
How to Become A Certified Critical Care Registered Nurse (CCRN)
If you are considering pursuing critical care nursing, here's a step-by-step guide on how to become a critical care nurse:
Step 1: Obtain a Nursing Degree
First of all, finish your nursing studies so you can qualify to become a registered nurse. All Critical Care Nurses are Registered Nurses since it's a prerequisite requirement when entering a more specialized field of nursing. Most employers of CCRNs prefer Bachelor of Science Degree in Nursing (BSN) and don't forget to consider this factor when getting your nursing degree.
Also Read: Top 10 Cheapest RN to BSN Programs Online 
Step 2: Become A Registered Nurse
Every state has a different set of requirements to earn a registered nurse license. Visit your state's board of nursing and determine the eligibility requirements for the National Council Licensure Exam for Registered Nurse (NCLEX-RN). Once you pass the licensure examination, you will be licensed to practice the nursing profession.
Also Read: A Nurse's Ultimate Guide to NCLEX: Application, Review, and License Instructions
Step 3: Obtain Relevant Experience
To be eligible for critical care nursing certification, you must obtain experience in critical care field. While you obtain experience in intensive care settings, use this period as an opportunity to explore your desires in becoming a certified Critical Care Nurse. Experience in critical care nursing is also important since it is a prerequisite requirement for CCRN certification.
Step 4: Obtain a Critical Care Registered Nurse (CCRN) Certification
The American Association of Critical Care Nurses (AACN) provides training and certification tests to aspiring critical care nurses in adult, pediatric or neonatal field. Their requirements for CCRN certification are as follows:
– 1,750 hours experience as an RN or APRN in direct care of acute/critical patients in the past 2 years. 875 hours of those should be obtained in the most recent year prior to application OR
– 5 years of experience as an RN or APRN with a minimum of 2,000 hours experience in direct care of acute/critical patients. 144 hours of those should be obtained in the most recent year prior to application
Once determined to be eligible for the certification, you will need to pay $230 for AACN members or $335 for non-AACN members so you can take the computer-based exam. Once you passed the exam, your CCRN certification will be valid for three years.
CCRN Recertification
Three years after passing the CCRN certification, you will need to apply for recertification to maintain your CCRN certification status. To do this, you should have the following:
– current RN or APRN license
– 432 hours experience as an RN or APRN in direct care of acute/critical patients in the 3-year certification period. 144 hours of those should be obtained in the past 12 months prior to renewal date
– 100 units of Continuing Education Recognition Points (CERPs) in three categories that cover the areas of caring practices, collaboration, diversified care and clinical inquiry OR
– passing score in the Renewal Exam
With this step-by-step guide on how to become a critical care nurse, do you feel prepared in pursing this exciting but challenging field of nursing? The American Association of Critical Care Nurses (AACN) has many other sub-specialty certification exams in critical care field if you are aiming for more specific certifications. Check their candidate handbook for more details.