For some nurses, a change in career is at times necessary. It can be due to burn out, lack of professional growth or conflict at work. In some cases, nurses choose a different career path to experience better job satisfaction.
If you are currently thinking about switching careers and hanging your nursing scrubs and cap for good, you should consider applying to nurse educator jobs first.
Here are 6 awesome reasons why:
1
Influences future nurses
As a nurse educator, you'll be able to hone the skills, knowledge and attitude of future nurses. You'll act as a role model, teacher and mentor to your students so that they can achieve success in their chosen profession.
As part of your job, you'll be required to prepare demonstrations, lectures and even tests. You'll evaluate students and see if they are competitive enough to pursue nursing. Another important role of a nurse educator is in mentoring students so that they can find the right clinical specialty for them.
Other tasks you may have to fulfill include:
Supporting clinical staff in learning and applying care based on guidelines and standards
Evaluating performances
Coordinating educational activities
Taking steps to improve health care and learning
With your past experiences working in a clinical setting, you'll have lots of lessons you can share with them. A lot of students actually find real-life stories of nurses, both good and bad, motivating so make sure to include them in your lessons. Not everything about being a nurse can be learned at school.
See Also: 10 Health Care Jobs For Retired Nurses 
2
Offers continuous learning
Although you'll be teaching, it doesn't mean that your students are the only ones who'll learn along the way. As a nurse educator, it will also be your responsibility to stay updated with the latest trends and changes in healthcare and nursing. You have to take part in studies and research projects aimed at improving standards of care as well as nursing programs.
Apart from that, you'll also be required to continue practicing the profession and get other nurse educator courses.
3
Comes with predictable vacations
Unlike working as a nurse in a hospital where you don't get as much vacations as you want, nurse educators have predictable vacations. Most universities and colleges set their academic year ahead of time so you'll have a clear idea of when you can go out with your family for a trip. Some colleges also have the summer off.
There are nurse educators who don't see a nine-month school season as beneficial, especially those who have families to support. If you aren't interested in going on out-of-town trips and getaways, you can spend your free time securing another job or offering services to schools that require summer classes for their students.
4
Provides exposure to a variety of people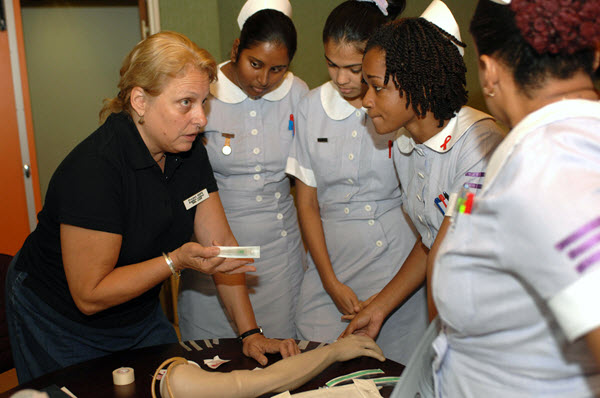 Every student has his own personality and every batch of students you meet requires a different teaching approach. This makes nurse educator jobs very interesting. In fact, it's one good way to stay young.
As most students are still in their 20s, you'll find them eager, spontaneous and enthusiastic. A lot of them are also highly inquisitive that they'll constantly prompt you to go deeper into certain topics. These characteristics are highly contagious that you won't find yourself getting bored with your job.
5
Offers change in work environment
Nurse educators aren't limited to one type of workplace. In fact, you actually have a lot of choices as you can work in any facility that offers nursing classes. You can work in health care facilities and teach in hospitals as well as long-term care facilities. If you're tired of being in the hospital, you can choose to work in a classroom setting.
With how technology works these days, you can even offer your services as an online nurse educator to students and institutions. You can go full-time or part-time depending on your availability.
Nurse educators aren't limited to teaching jobs. You also have the opportunity to work as a staff development officer or take on administrative roles.
Via online.nursing.georgetown.edu
In 2016, it is estimated that a nurse educator can earn as much as $53,000 to $98,000 annually. The rate can go higher or lower depending on your experience, but the difference isn't usually that high. Apart from experience, your clinical specialty can also dictate your salary.
Emergency room nurse educators earn 4% higher than the average salary of $75,000 while surgical nurse educators earn 3% higher. If you are a registered nurse with no specialty, you should expect your rate to be 24% lower than the average salary.
See Also: 10 Best Jobs for Older Nurses
How To Become A Nurse Educator
To start off, you need to be a registered nurse. Most employers require several years of experience in the field to make sure that you have enough knowledge and skills to share with your students. The more experience you have in taking different nursing roles, the higher your chances of getting hired.
Apart from experience, you also need to further your education. You need to be knowledgeable in the academic and clinical sides of the profession.
In minimum, a master's degree is required. However, if you want to get ahead of the competition, you should consider earning a doctoral degree in nursing. It can also help if you can get certified.
One trait that can make you successful in this job is passion for teaching. If you aren't passionate about sharing your knowledge and honing students, you'll have a hard time coping and excelling in this field. You also need to be confident in communicating your ideas in written and spoken form.
Once hired, you should be prepared to take responsibility for your students. If something goes wrong, especially in the clinical setting, there shouldn't be finger-pointing as you are accountable for teaching and guiding your students.
Getting hired for this type of job is relatively easy, if you have the experience, educational requirements and passion to mentor other people. The difficult part, however, is the accountability it requires. If you think you are brave enough to take on a nurse educator job, transitioning can be one of the best decisions you can make for your career.