If you like the idea of supporting mothers during labor and delivery and assisting in births, you may want to consider becoming a nurse midwife. This nursing specialization is getting more and more in demand these days and it's not really surprising why.
Below, we are sharing with you a helpful guide on how to become a nurse midwife. However, before that, you may want to know more about nurse midwives.
What Are Nurse Midwives?
Certified nurse midwives or CNMs are considered advanced practice registered nurses. They specialize in providing medical care to women all throughout the stages of their pregnancy. They also provide primary care to their babies.
Nurse midwives don't function the same way as physicians do. Since they are nurses, they provide patient care holistically. They don't just focus on what their patients physically need but they also take care of their patients' psychosocial and mental well-being.
Certified nurse midwives assisting in delivery and births are found to provide the following benefits:
Lower rates of labor induction and cesarean births
Less use of regional anesthesia
Increased rates of breastfeeding
Dramatically lower 3rd and 4th-degree perineal tears
Apart from that, women being cared for by certified nurse midwives are more likely to get prenatal education and less invasive interventions.
How to Become A Nurse Midwife
If those things made you feel excited and interested in pursuing a career as a nurse midwife, here's what you need to do:
Obtain a Bachelor's of Science in Nursing degree
Complete and pass the NCLEX-RN for your license
Gain a 1-year nursing experience to be admitted to a midwifery program
Enroll in an ACME-approved graduate program in midwifery
Take and pass the national certification exam offered by the American Midwifery Certification Board
Remain certified and renew certification every 5 years
The American College of Nurse-Midwives or ACNM encourages candidates to enroll themselves in a graduate program that's accredited by the Accreditation Commission for Midwifery Education. Currently, there are about 39 ACME- accredited graduate programs in the country.
Typically, you'll need to spend about 24 months to complete the program. If you have a post-baccalaureate degree, you may have accelerated options.
After graduating, you'll be eligible to sit and take the American Midwifery Certification Board exam to become a certified nurse-midwife. The exam involves 175 questions. It is computer-based and may be offered 5 days per week around the country. You'll be given 4 hours to take the test.
Once you are certified, you can keep the status for 5 years. For renewal, you can either retake the certification exam or complete 20 contact hours of continued education or 3 training modules
What Nurse Midwives Do
Below are some of the general tasks you may need to perform at work:
Provide prenatal and post-natal services
Attend births at home and hospitals
Order diagnostic tests
Educate about reproductive health
Perform routine gynecological checkups
As mentioned, your work won't be limited to caring for female patients and new mothers. You will also have to care for babies from the moment they are born and assess their condition up to the 28th day of their lives. You will need to:
Monitor feeding and weight gain
Order preventive care or screenings like hearing tests and vitamin K injections
Intervene and refer abnormal conditions like infections, poor transition to life outside the uterus, and congenital malformations
Where Can You Work
You have the freedom to choose which area to work in. Some of your options include:
Birth centers
Research
Hospitals
Primary care
Education
Community health centers
Military bases
Physician's offices
Salary
Nurse midwives get about $100,745 per year. If you are looking for the highest paying states for your chosen specialty, New York should be at the top of your list. Nurse-midwives in the said state earn about $54.55 per hour.
If you want to know more about nurse midwives and what they do at work, here's a video you can watch:
Check out our infographic!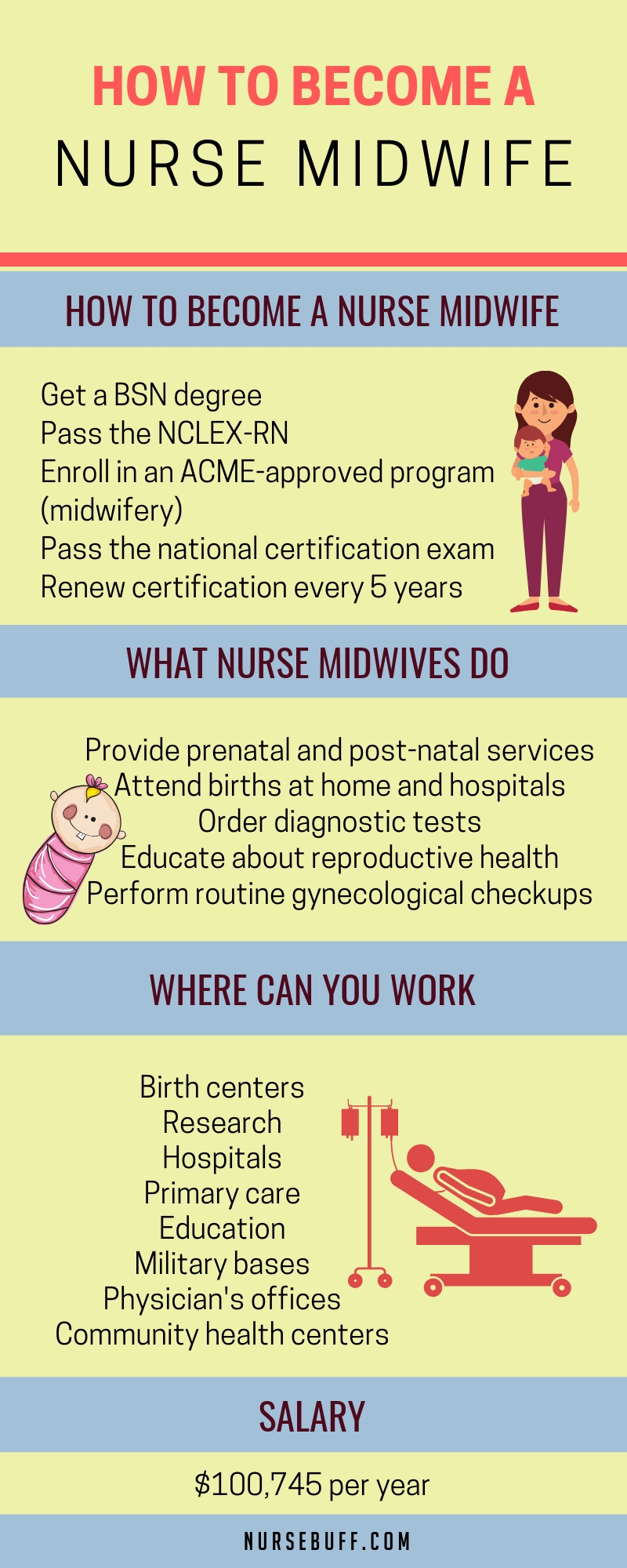 Share this Image On Your Site