Do you need a prayer for surgery? Even if nurses take care of hundreds of patients and see them being wheeled into the operating room, we can never be too tired to send out a wish and a prayer for a successful surgery.
Here are 20 short but powerful prayers for nurses, doctors, and patients.
PRAYERS FOR NURSES
1. Prayer for guidance
"Heavenly Father, please take my hands and guide them. Grant me the strength to help my patients and their families. The skill to ease their suffering the understanding to diagnose their needs. The kindness of heart to care for them and reassure their fear. Please be beside me on each and every case as I rely on you the greatest of healers. Amen."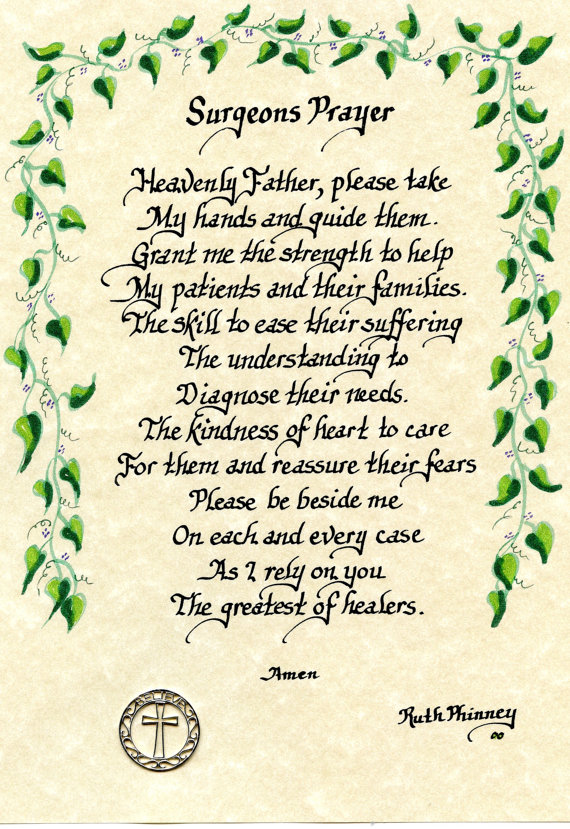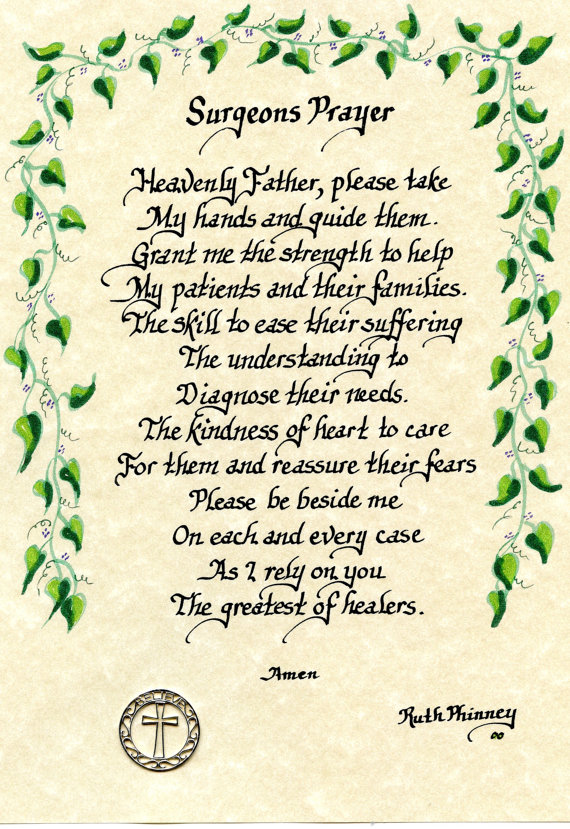 2. Prayer for righteous judgement
"God, the greatest master of healing arts, bless us and guide us. Make us your instrument in alleviating the pains of your ailing servants. Make our eyes alert, our hands skillful and sensitive, and fill our mental faculties with keenness to make righteous judgment so that others may live. Amen."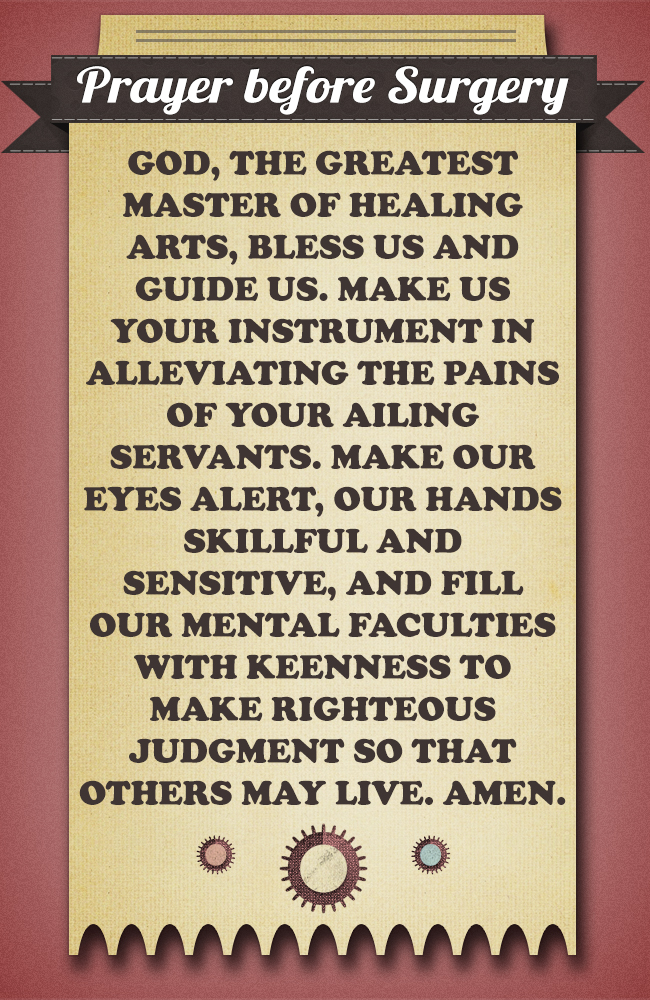 3. Prayer for a patient's recovery
"I said a prayer for you today, that God would touch you with His healing hand and give you the comfort and peace you need to get through."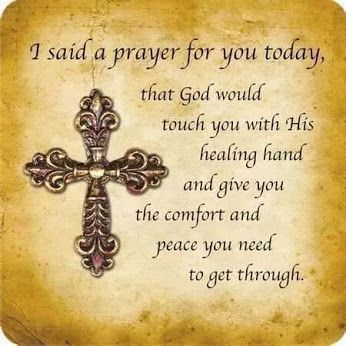 4. Prayer for a patient's continued health
"I said a prayer for you today, and know that God must have heard. I felt the answer in my heart although He spoke not a word. I didn't ask for wealth or fame (I know you wouldn't mind). I asked Him to send treasures of a far more lasting kind! I asked that He'd be near you at the start of each new day; to grant you health and blessings and friends to share your way. I asked for happiness for you in all things great and small. But it was for His loving care I prayed for most of all!"
5. Prayer for after surgery
"O merciful Father in heaven, thank You for being with (name of person) while he/she was in surgery. Thank You for blessing the surgeon with the skill and knowledge needed to do his/her work and safely bringing (name person) through this operation. O gracious Father, bring healing to (name person) and bless him/her with the best care possible as he/she recovers. Continue to bless him/her with your tender care. Grant him/her patience during his/her recuperation, help him/her grow in strength each day, and bring him/her to full recovery quickly, without any setbacks. Amen."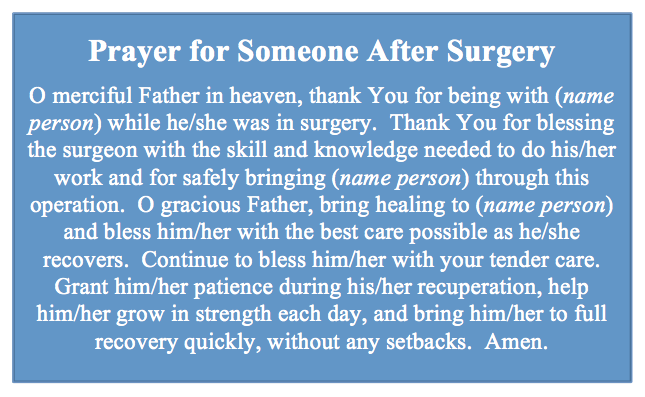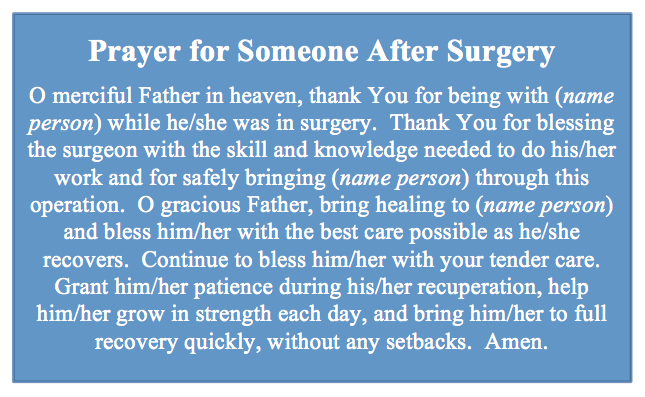 6. Prayer for strength and healing
"At every moment of our existence your are present to us God, in gentle compassion. Help us to be present to one another so that our presence may be a strength that heals the wounds of time, and gives hope that is for all persons, through Jesus our compassionate brother."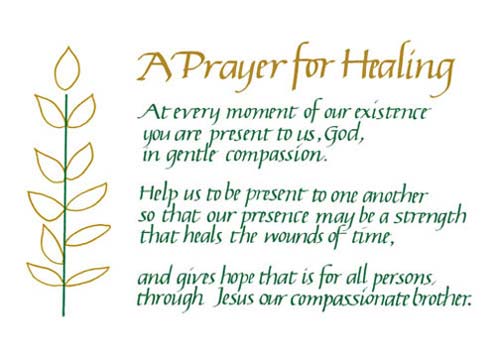 7. Prayer for Jesus' healing hands
"Heavenly Father, we pray that You will lay your healing Hands upon all those who are sick. We beg You to have compassion on all those who are suffering so that they may be delivered from their pitiful circumstances. In Jesus, we pray. Amen."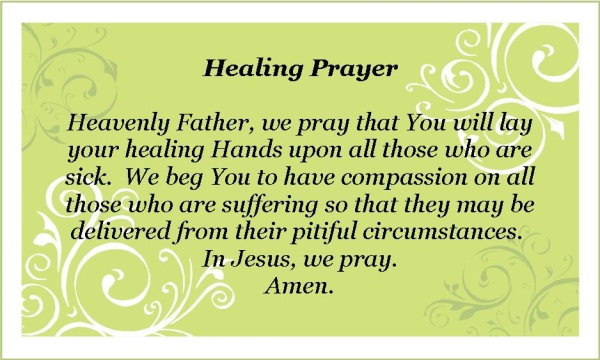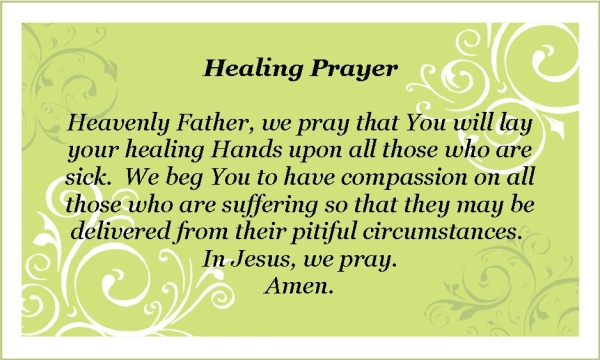 8. Prayer for quick recovery
"May the love of Jesus and His healing power touch you in a special way this very hour. May the Savior's strong arms and prayers of special friends embrace and hold you close until your body mends."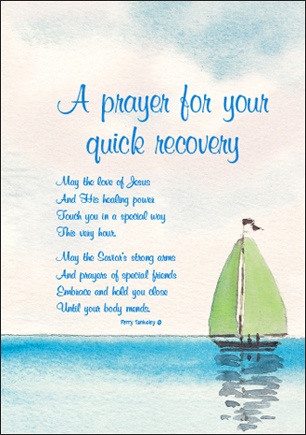 9. Prayer for recovery
"Today I lifted up your name before the Lord in prayer. I asked him to supply your needs, and keep you in his care. I pled with him to make you well, and take away your illness and pain, like the sunshine chases rain. Amen."
PRAYERS FOR DOCTORS
10. Prayer for skill
"Dear God, These strong gloved fingers which I flex, this human hand which holds the knife, sterile now and steady – need thy guiding skill to help another life. Bless now this patient – thine and mind – who, under thee entrusts to me a precious life! God of the surgeon's tireless strength, the surgeon's finite skill, grant that I may be guided to do thy will. Amen."
11. Prayer for guidance
"Dear God, These fragile hands that cut the flesh, steady them as if at rest. Bless this patient yours and mine whose very life is your design. Almighty God I do pray guide my hand as I work today! Amen."
Also Read: 35 Nurse's Prayers That Will Inspire Your Soul
12. General prayer for healing
"Pour out, thy healing Angels, thy heavenly host upon me, and upon those that I love, let me feel the beam of thy healing Angels upon me. The light of your healing hands, I will let thy healing begin, whatever way God grants it, Amen."
PATIENTS' PRAYER FOR SURGERY
13. Prayer for a successful operation
"Loving Father, I entrust myself to your care this day. Guide with wisdom and skill the minds and hands of the medical people who minister in your Name, and grant that every cause of illness be removed.  That I may be restored to soundness of health and learn to live in more perfect harmony with you and with those around me. Through Jesus Christ. Amen. Into your hands, I commend my body and my soul. Amen."
14. Prayer before surgery
"O Jesus Christ, Messiah and Lord, grant me joyful acceptance of the surgery which awaits me, and let this be the relief and cure which I seek. Make skilled the work of the surgeon and that of his team for it is unto their knowledge and skill that I give myself for healing. I pray You, O Lord, that this procedure will be without complication, and that my recovery will be speedy and complete. Amen."
15. Prayer for healing
"O God, the source of all health. Fill my heart with faith. Be near me in times of weakness and pain Although I know You are in control, I am apprehensive about what faces me. You made me, loved me, and have provided my surgeon with needed skill to perform a miracle in my behalf. Sustain me by Your grace that my strength and courage may not fail. Heal me according to Your will. Amen."
16. Prayer before surgery
"Loving Father, as I face this new experience in these different surroundings, I come to You for courage, wisdom and peace of mind. I know that Your Healing Power is here both in me and my doctor. I trust his skill and wisdom, and he tender care of the nurses. Dear Lord, take over this operation and let Your Power be felt through all these forces. Let Your Perfect Wholeness be mine, that I may live to glorify You in every area of my life. I pray all this in the Powerful Name of Jesus, my Lord and Saviour. Amen."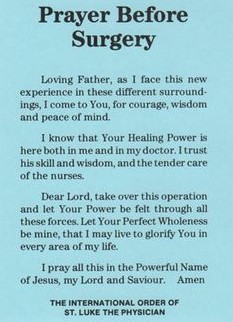 17. Prayer for preparation before a surgery
"Lord Jesus, help me as I prepare for this operation. In Your love, guard and protect me through the skills of the doctors and the care of everyone else. Bring me back to health and full recovery. Lord Jesus, I praise You forever and ever. Amen."
18. Prayer from Deuteronomy
"Lord, help me suffering to lead me to return to You with a repentant heart; ready to follow Your commands and praise Your Name for Your patience with me. In Jesus Name, Amen."
Also Read: 50 Best Bible Verses for Nurses
19. Prayer after surgery
"Blessed Savior, I thank you that this operation is safely past, and now I rest in your abiding presence, relaxing every tension, releasing every care and anxiety, receiving more and more of your healing life into every part of my being. In moments of pain, I turn to you for strength. In times of loneliness I feel your loving nearness. Grant that your life and love and joy may flow through me for the healing of others in your name. Amen."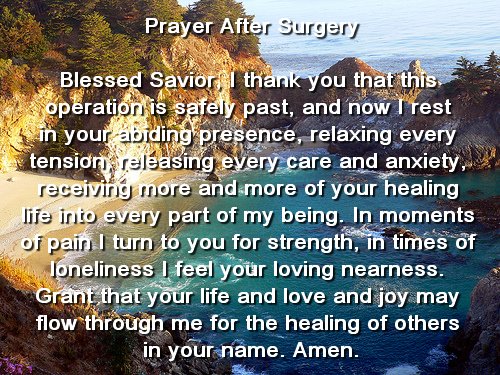 20. Healing prayer
"Lord Jesus, heal me. Heal in me whatever You see needs healing. Heal in me whatever You see needs healing. Heal me of whatever might separate me from you. Heal my memory, heal my heart, heal my body, heal my soul. Lay Your hands gently upon me and heal me through Your love for me. Amen."
We hope that you found an appropriate prayer for surgery and that your patients go home happy and healthy.
For comments and suggestions, feel free to post in our FB page!